Event serves as introduction and review of topics related to LGBTQ+ community
The Millikin University campus community recently celebrated Women's History Month throughout the month of March with a variety of events and notable speakers. The celebration honored women empowerment and reflected on the contributions women have made and continue to make.
Among the events was a Safe Zone training workshop serving as an introduction and review of topics related to the LGBTQ+ community called "LGBTQ 101."
In an interview with the Herald & Review, Alex Deeb, director of Campus Life for Inclusion at Millikin, said the idea behind LGBTQ 101 was to provide a better understanding. "It's more about seeing the diversity on our campus as a strength, rather than something that separates us," said Deeb. "It's something that we can really build on."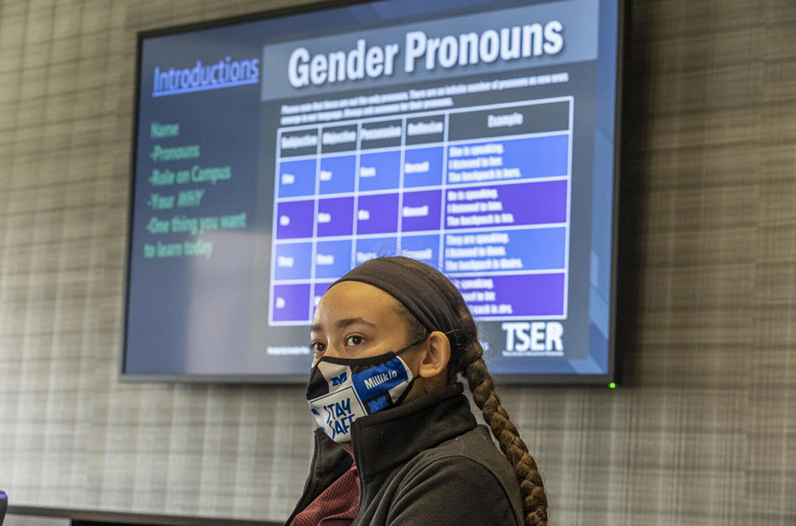 Millikin student Elexis Richardson pictured above, photo courtesy of the Herald & Review (Clay Jackson)
The event which was held at the University Commons was one of several programs that included discussions on medical advocacy, a panel of established women in the community and a discussion on racism in maternal healthcare.
LGBTQ 101 was a training session for Millikin staff, faculty and students. Activities focused on discussions and conversations regarding the journey and learning about LGBTQ topics. "Also hoping and helping to provide some sort of practical experience," Deeb said.
Deed added, "It is serving as an introductory conversation, discussion for people who have some sort of knowledge of the LGBTQ community or who want more knowledge or who have no knowledge whatsoever. They recommend and encourage a way to hold these conversations with people."
Millikin student Elexis Richardson, a junior from Carbondale, Ill., serves as president of Spectrum, a student organization that provides a safe space for LGBTQ+ students. The organization can be used to seek resources, connect with people and share stories. Richardson also serves as a teacher during the LGBTQ 101 discussions.
"For many attending the event, it is a first step in understanding. It makes it easier that they are here to learn," she said.
Discussions on the topic included the use of pronouns, such as he, she or they, when addressing an individual. "Trying to unlearn it to relearn it," Deeb said. Genders, gender-identity and gender expression were also discussed. The focus for the event was for the attendees to gain an understanding of the LGBTQ community, including identity, challenges and experiences that they face.
"Particularly by students as well as others on campus," Deeb said. "It really is something that our fellow faculty and staff can benefit from. Really it's to help build a more inclusive, more aware, more understanding community, having greater knowledge."
Deeb noted, "I'm really enthusiastic about how we can shift it and look forward as we move through this process. What I'm hoping to do is expand it a bit to move beyond the LGBTQ 101, which is an intro level."