Millikin EDGE program provides tools for success
Students making the transition from high school to college know the importance of starting on the right foot. To help make that seamless transition, a program at Millikin University called Excellence Developed through Growth and Experience, or EDGE, is teaching first-year students the best ways to achieve academic and personal success before classes start.
Those selected for the EDGE program came to Millikin's campus in early August to complete the intensive course prior to the start of First Week orientation. Close to 165 students took part in this year's EDGE program, which was held over a six-day period, Aug. 3-8.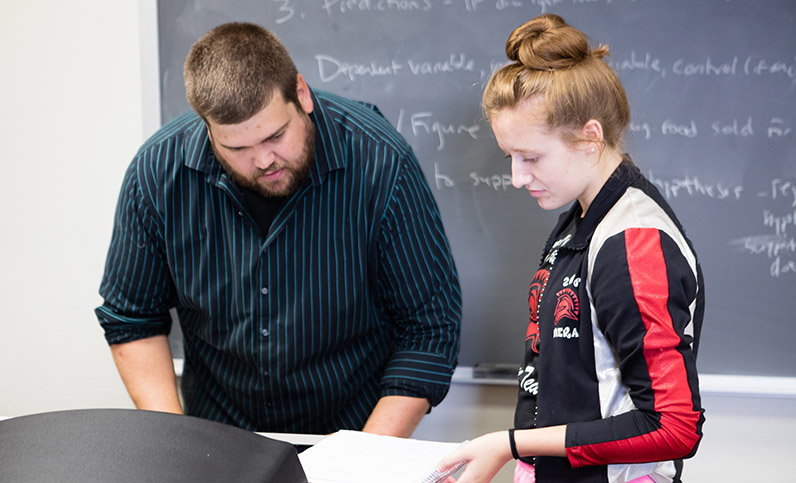 "The EDGE program works. Over the last three years we have intentionally redesigned the EDGE program to further support our students," said Blake Woodard, assistant director of Student Success at Millikin. "Increased participation rates (73 students four years ago to 165 students this year), increased persistence rates at the institution, and rising GPA's are all signs of the positive impact the EDGE program has on our incoming freshman students. This is a credit to our outstanding faculty who work directly with our EDGE students as well as the diligent work of our EDGE mentors."
During the program, Millikin faculty and staff members introduced students to the realities of the college classroom through the formal study of an academic discipline. Students experienced faculty facilitated class sessions that introduced foundational skills related to: critical thinking, reading strategies, math, science, professional communication, technology, academic integrity, research strategies and time management.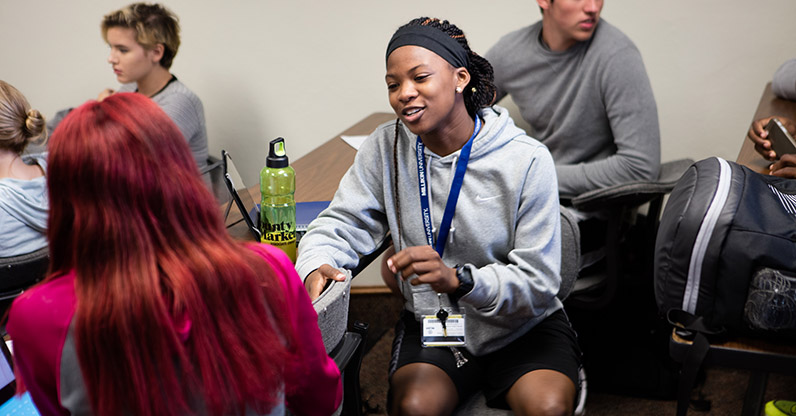 "The EDGE program gives incoming students the opportunity to be exposed to the realities of college life before entering the fall semester," said Carrie Pierson, director of Student Success at Millikin. "This includes the academic rigor they will face, differing faculty expectations, and balancing multiple assignments and due dates. The EDGE program allows students to get acclimated to campus life while being away from home for the first time."
EDGE students also receive assistance from peer mentors who serve as guides for academic success throughout the student's freshman year. The mentors are upper-class students who have proven to know what it takes to succeed in college.
"EDGE mentors are vital to the success of the EDGE program," said Woodard. "They are the first people many of these students meet and form lasting relationships that carry on well past the summer portion of EDGE. Incoming EDGE students know they can go to their EDGE mentor to answer questions they may have as it relates to getting acclimated to college."
The EDGE program gives incoming students the opportunity to be exposed to the realities of college life before entering the fall semester.
Woodard noted, "Many of our EDGE mentors have gone through EDGE themselves and can personally relate to the challenges incoming freshman face as they transition to Millikin."
Nick Perry, a senior sociology major from Bolingbrook, Ill., was previously in the EDGE program and is currently in his third year as an EDGE mentor.
"The EDGE program gave me an upper hand on my education," said Perry. "It taught me how to do the simplistic things in college. I think the best thing that the EDGE program has taught me is time management."
The EDGE program is divided into three parts. Part one involves taking a one-credit course prior to First Week orientation. EDGE students are able to move into residence halls early, and have meetings with Office of Student Success staff. Part two is a one-credit fall semester course that involves continued academic support and activities with faculty, EDGE mentors, and staff from the Office of Student Success. Part three is a one-credit spring semester course that involves continued academic support and activities.
As an EDGE mentor, Perry emphasizes to first-year students the importance of managing the highs and lows. "If you balance the highs and lows, everything will be essentially easier," said Perry. "Another thing that I tell the students is that when times get hard, it's important to keep pushing."
Perry added, "I think the reason that I keep coming back to be a mentor is that I like seeing the success of the students. I like seeing the students go out and teach other students or even become mentors the following year. It touches my heart to see that type of change."
Staff members from Millikin's Office of Student Success monitor the progress of EDGE students to address any obstacles that might get in the way of their academic success while at Millikin. Student Success staff also organize weekly study tables and follow up with EDGE students at critical times during the semester.
For more information about the Millikin EDGE program, visit millikin.edu/edge.
View Coverage