New students learn skills critical to collegiate success
Many students who begin their first year at college usually share a very similar situation … they want the best start possible. The EDGE program at Millikin University helps make that goal achievable, and then some, by helping students adjust to the realities of the college classroom.
Standing for Excellence Developed through Growth and Experience, the EDGE program is offered to first-year students who are first-generation college students or whose situation might otherwise make the adjustment to college a little more difficult. Students are exposed to the skills critical to collegiate success, including college-level reading and writing, critical thinking, classroom participation and time management.
Students selected for this year's program were on campus Aug. 8-13 before New Student Welcome Week.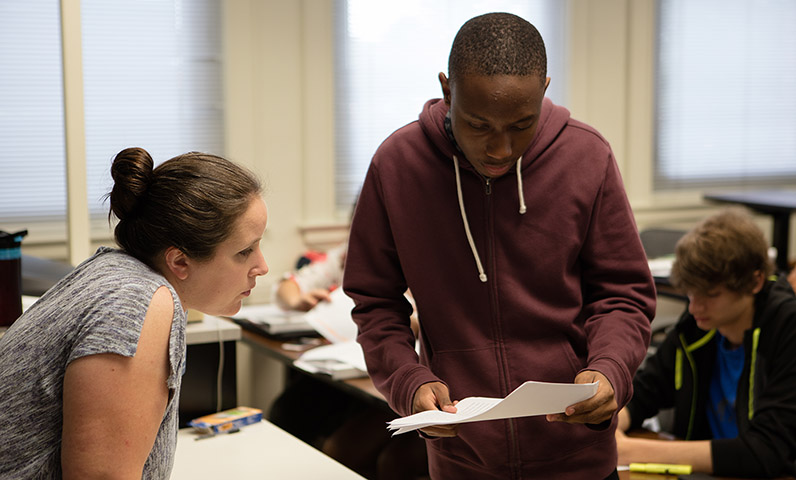 "I'm just trying to get everything started early because I'm a first-generation (college student)," Dailen Loveless said in an interview with the Herald & Review. "I'm mostly focused on time management and how things work on campus."
In addition to having real college experiences, first-year students are assigned EDGE mentors who play a vital role in helping the students develop good study habits, time management and make connections on campus.
Many of Millikin's EDGE mentors were also students in the program before transitioning to their current roles where they are paying it forward.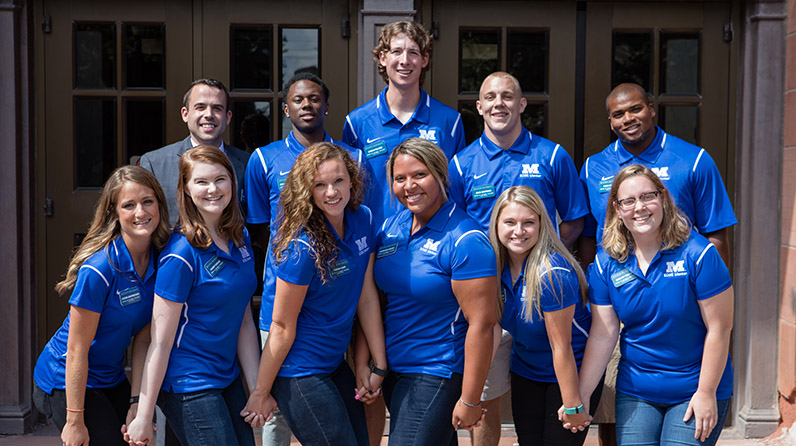 Millikin EDGE Mentors
"I make sure that the students know that they can call me at any time of the day or night if they need something, my phone is open 24/7," said EDGE mentor Ashley Estrada, a human services major from Elgin, Ill. "The first year of college can be tough and having that friend who's already been through it makes a world of difference."
Senior Patrick Cooper of Lockport, Ill., said it's easy for student-athletes, in particular, to get so focused on sports that they neglect their studies, or they don't know how to manage their time.
"The EDGE program helped me learn those skills when I was a freshman, and I wanted to pass that on to others," he said.
The EDGE program teaches first-year students the best ways to achieve academic and personal success not only through classes but through breakout group sessions led by Millikin faculty and staff members. In addition to strength activities, Millikin Adjunct Instructor Nikki Garry, Class of 2003, founder and owner of Your Money Matters LLC, hosted a life skills workshop titled "Your Money Matters" where she addressed the importance of budgeting.
The EDGE program is divided into three parts. Part one involves the one-credit course before New Student Welcome Week. EDGE students can move into residence halls early and have meetings with staff members from the Center for Academic and Professional Performance (CAPP). Part two is a one-credit fall semester course that involves continued academic support and activities with faculty, EDGE mentors and CAPP staff. Part three, a lot like part two, is a one-credit spring semester course that involves continued academic support and activities.
During the fall semester, the incoming students also take part in an advising workshop to learn what courses they need to take and attend study tables twice a week.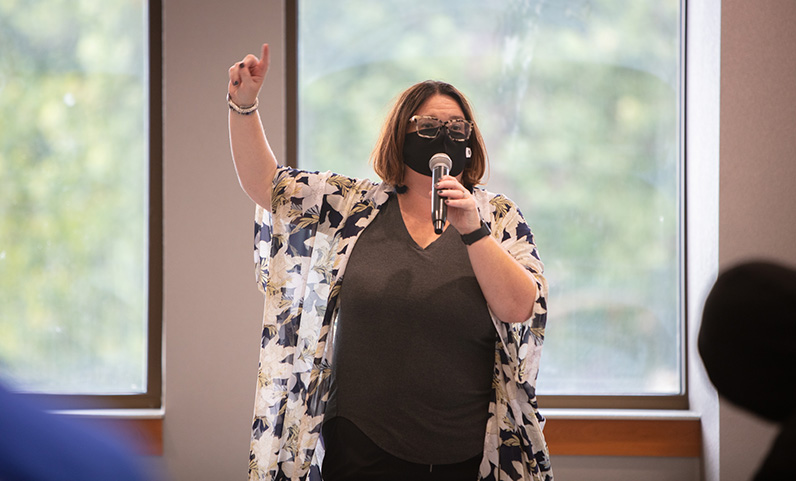 Carrie Pierson, senior director of the Center for Academic and Professional Performance
"Because I am going into the field of education, it seemed like a really good thing for me to get involved in," said Linnea Nordstrom, a Toluca, Ill., native and senior English (secondary teaching) major on why she became a mentor. "It's a really good chance for me to help students and build those relationships and be a support system for them and to get them to where they need to be."
Gary Cecil, first-generation student success coach at Millikin, will be taking over the EDGE program next year for Carrie Pierson who serves as senior director of the Center for Academic and Professional Performance.
"As a student success coach, my focus is on finding students who need a little extra support and making sure they have it," Cecil said. "They come to me for help on a paper, on how to talk to professors, they may not understand some things and need tutors. I direct them to how they can find those resources. I'm also available to talk about anything outside of school that may be affecting them, whether that's their personal life or the transition into college from high school and just things along those lines."