MDSO to be joined by special guest violinist Kinga Augustyn
The Millikin-Decatur Symphony Orchestra (MDSO) will continue its 2017-2018 performance season with a Masterworks concert featuring the music of John Williams on Sunday, Oct. 22, 2017, at 2 p.m. in Kirkland Fine Arts Center on Millikin University's campus.
Lauded for masterful scores that capture the very essence of film, John Williams is considered one of the greatest composers of our time. His themes for movies including "E.T.," "Jurassic Park," "Star Wars," and many others, have become iconic in film history. The MDSO, joined by special guest violinist, Kinga Augustyn, will perform some of the most dramatic musical moments from these movies.
Alongside the heartrending theme to "Schindler's List," the concert will feature Augustyn's "stylish and vibrant" playing in compositions by the Polish-Jewish composer, Henryk Wieniawski.
"The concert celebrates the music of John Williams and is meant for everyone, especially families with children," said Dr. Sergey Bogza, music director and conductor of the Millikin-Decatur Symphony Orchestra. "The goal was to pair the familiar with the virtuosity of MDSO's guest Polish violinist Kinga Augustyn. Sunday afternoon is an ideal time for families to gather at Kirkland Fine Arts Center and hear melodies that all have come to love through movies."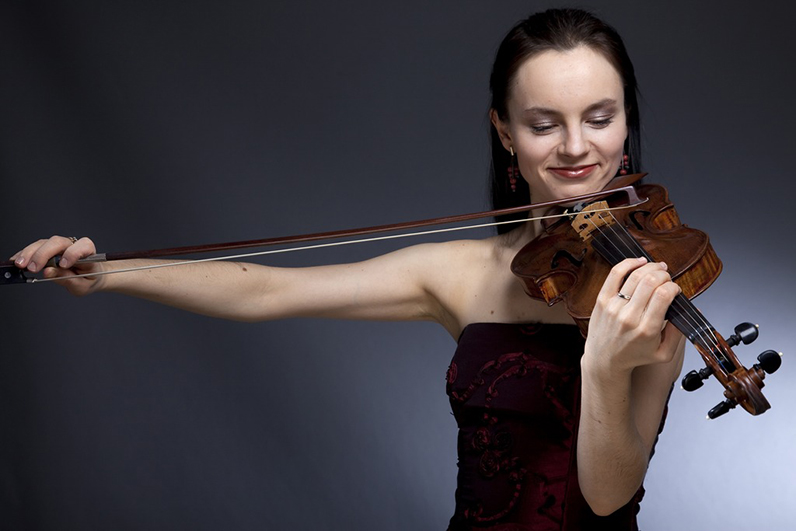 Kinga Augustyn is a Polish-born and New York City-based versatile classical concert violinist and recording artist gaining worldwide recognition through her performances as a concerto soloist, recitalist and chamber musician. She has been described as "an adventurous performer valuable to New York's scene" (NY Concert Review). Her repertoire ranges from early baroque, which she sometimes performs on a baroque violin, to modern, oftentimes written especially for her.
Augustyn has performed as a soloist with orchestras in the United States, Europe and Asia. Among them are the Magdeburg Philharmonic Orchestra, Chamber Orchestra Leopoldinum, Wrocław Philharmonic Orchestra, American Academy of Conducting Orchestra at the Aspen Music Festival, Rogue Valley Symphony, Acadiana Symphony Orchestra and the Gateway Classical Music Society Orchestra.
Augustyn has won international awards, including First Prizes at the Alexander & Buono International String Competition, Artist International Presentations, J.S. Bach String Competition, and the 2015 Outstanding Pole Competition, category "Young Pole," in the United States. Other top honors include prizes at the Johannes Brahms International Competition and the Kloster Schoental International Young Artist Competition.
Augustyn began her music studies at the age of seven in her native Poland. She continued her musical education at The Juilliard School earning both bachelor's and master's degrees. Augustyn also holds a doctorate from Stony Brook University. As a teacher, Augustyn has served on the violin faculty for The Alexander & Buono Festival of Music. She has also conducted various violin, piano and chamber music masterclasses and workshops in the United States and Poland.
The Millikin-Decatur Symphony Orchestra is an ensemble comprised of faculty, hired professionals, and is open to students who successfully audition for the Millikin University School of Music. The MDSO performs the annual Labor Day Pops concert, five Masterworks concerts, advent services, and hosts high-profile guest artists and the concerto/aria competition.
Selected students also have the opportunity to play for musical theatre productions and various community and educational events. Membership in MDSO places a high demand on students who gain hands-on experience by playing side-by-side with faculty and other professionals in a nurturing environment.
Tickets for the concert are $10-$20 and are available through the Kirkland Fine Arts Center Ticket Office by phone at 217.424.6318 or online at kirklandfinearts.com. Kirkland Ticket Office hours are Monday – Friday from 10 a.m. – 5 p.m. A $2.50 fee will be charged for credit card purchases. This is a per transaction fee, not per ticket, and applies to online and Ticket Office orders.
MDSO Upcoming Concerts
The Great Russian Nutcracker
Nov. 4, 2017, at 7:30 p.m. at Kirkland Fine Arts Center
Moscow Ballet's "Great Russian Nutcracker" ushers in the holiday season with two collaborative performances from Kirkland Fine Arts Center and the MDSO Masterworks Series. Enjoy the immersive Christmas classic with 40 professional dancers, hand-selected area young dancers, a local children's choir, and a full musical accompaniment from the Millikin-Decatur Symphony Orchestra.
Ticket prices: $35-$45-$65
K-12 student tickets: $10 with paid adult (Discount not available online)
Concerts of the Millikin-Decatur Symphony Orchestra are partially supported by a grant from the Illinois Arts Council, a state agency.
View Coverage