Millikin creates Cybersecurity major to meet ever-increasing need of employers
Millikin University senior cybersecurity major Brandon Kane, of Forsyth, Ill., says the one unique aspect about going into cybersecurity or information systems is that it's needed everywhere, from hospitals to insurance companies.
Kane is among several students majoring in Millikin's new cybersecurity major – a multidisciplinary program that provides students with a foundation of business skills along with ethical and legal elements necessary to analyze the effect of cyber threats.
Millikin created the cybersecurity program to meet the ever-increasing need of employers to keep their data out of the wrong hands.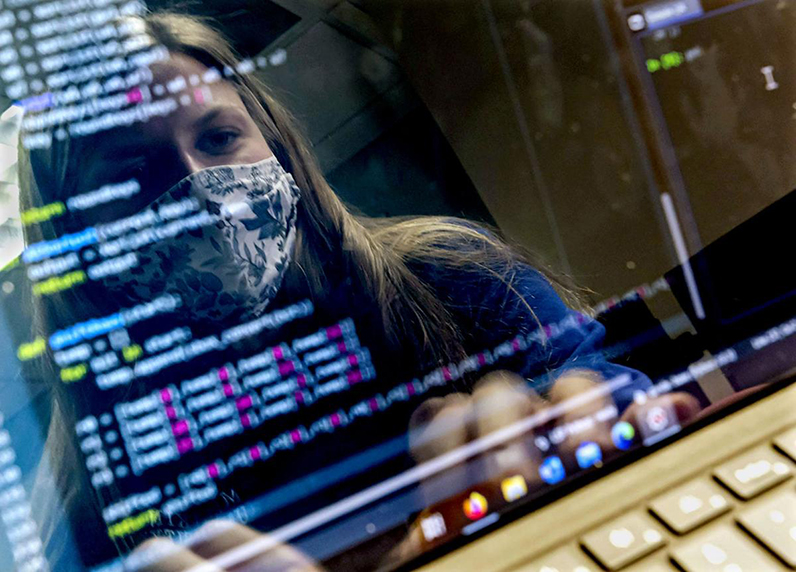 Photo courtesy of the Herald & Review (Clay Jackson)
In an interview with the Herald & Review, Kane warns against using the same password for multiple sites, which makes it easier for a hacker to get hold of it. "Don't create one that uses your name in any way, and while it should be obvious, don't use the word 'password,' either," he noted. Kane has a program that generates random and secure passwords for his own use, and another program that keeps track of them so he doesn't have to. "Don't put them on sticky notes stuck to your computer, and if you have to write them down to remember them, keep it in a very, very safe place," Kane added.
Cybersecurity is considered one of the fastest growing career fields worldwide, and Millikin's cybersecurity major is putting students right in the middle of the action when it comes to learning hard tech skills, including law and ethics.
"Students can get a deep set of technical skills in information technology, a small set of core business classes as well as courses in ethics and criminal justice," said R.J. Podeschi, chair and associate professor of information systems in Millikin's Tabor School of Business.
Podeschi added, "One of the topics in cybersecurity that has come up recently is 'death of the perimeter,' because companies used to be able to keep everyone within their own walls. Now with everyone working remotely and bringing devices to work, it's creating more challenges and making it more difficult for IT professionals to secure systems than it used to be."
While students who come into the program don't need an exhaustive knowledge of computer technology, they do need an active curiosity, and a little bit of a detective instinct that makes them want to follow clues and solve problems.
"Threats can come from inside or outside an organization," Podeschi said. "Believe it or not, employees can actually pose the biggest threat, not because they're malicious, but often because they're not well-educated in how to safeguard company data or systems."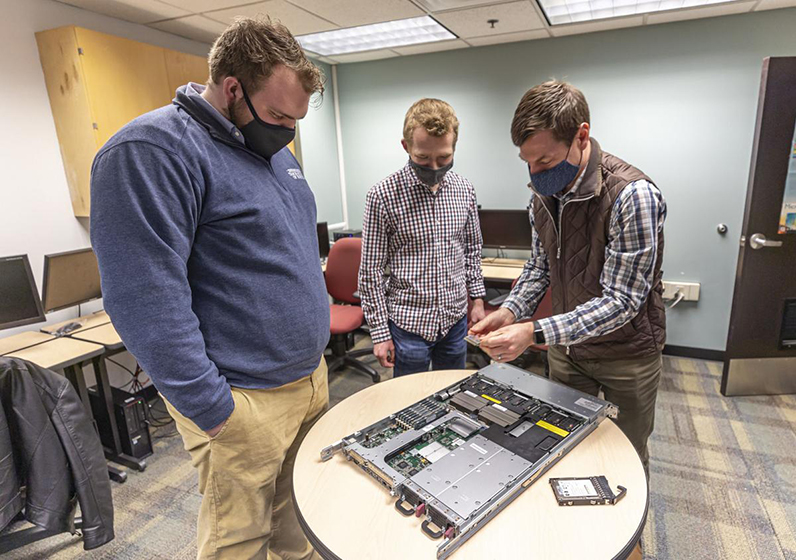 Photo courtesy of the Herald & Review (Clay Jackson)
Currently, the projection on availability of jobs in cybersecurity is massive with growing opportunities in security, network or threat analyst positions for corporations or law enforcement agencies, or as an information security auditor.
Like many programs within the Tabor School of Business curriculum, there is a sense of community where students have Performance Learning opportunities to work with people and businesses in the local area. In cybersecurity, students can work with a local organization on identifying vulnerabilities in networks, review best practices and policies, and offer recommendations on how best to secure their enterprise. Currently, the students are engaged in doing a campus internet security project, reminding the Millikin community of internet safety guidelines.
"We're just reminding students and faculty how they can be more secure with different technologies and their data," said Sydney Rudny, a senior from Orland Park, Ill. "Even for college students, who have always used technology and are comfortable with it, technology also changes constantly."
Rudny added, "There's a lot of things about how you can protect your data on your phone and web browsing that I would have never thought of before I came here that can affect your everyday life."