"We want these summits to be the first part of many conversations about important topics."
For Keyria Rodgers, director of Millikin University's Criminal Justice Department and instructor of criminal justice, few experiences are more rewarding than observing her students apply what they've learned in her classes to make the world a better place. On Nov. 3, during the second Peace Summit series event held at The Salvation Army in Decatur, Ill., Rodgers witnessed just that.
Millikin sophomore Kayla Green, of Berwyn, Ill., attended the Peace Summit, an event designed to facilitate discussion about community and police relations in Decatur and became an important part of the conversation.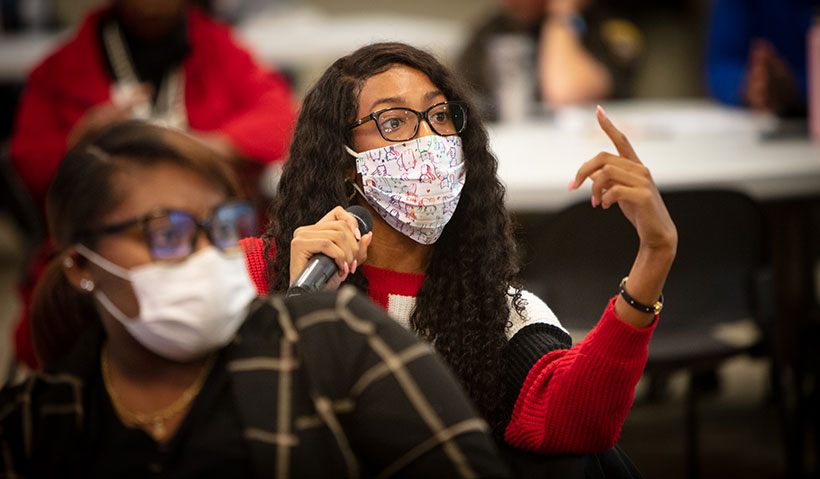 Kayla Green
"She's applying what she learned in the classroom at a community peace hub. I did not expect her to talk about something she learned in class last year," Rodgers remarked. At Millikin, Green is pursuing majors in criminal justice and psychology (pre-law), along with a minor in sociology.
Rodgers was thrilled to see her students attend and participate in a community event outside of the classroom. Her involvement with several community organizations inspires Millikin students to get involved locally as well.
"We are providing practical experience to our students, and that's what matters," she said.
Rodgers works with the Teen Justice Diversion Program, Adult Redeploy Illinois, and serves on multiple boards including the Boys and Girls Club of Decatur and Court-Appointed Special Advocates.
De'Juan Sparkman, a junior at Millikin, from Chicago, also attended the Peace Summit. He used the event as an opportunity to meet and build relationships with local community and criminal justice leaders. "He's able to network with the legislators that are here and with people on our county board. It's great that he's able to have face-to-face conversations with the people who are doing this work," Rodgers said.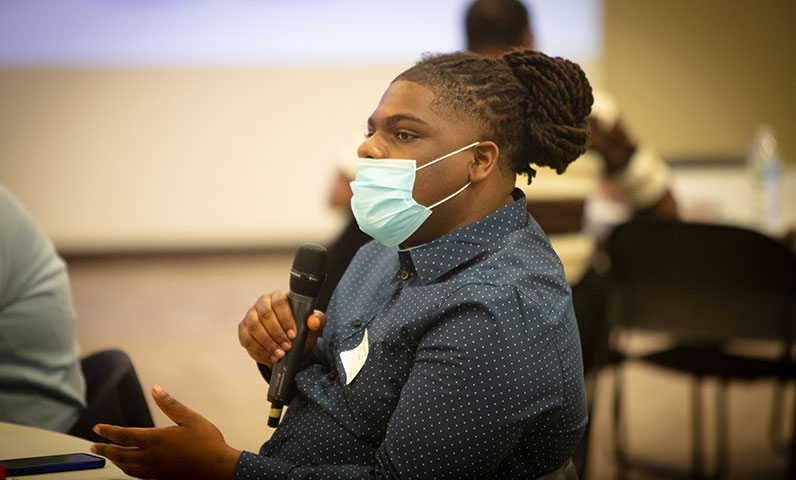 De'Juan Sparkman
Sparkman is a criminal justice major and hopes to create programming promoting peace and justice throughout the community. Making these connections and learning about restorative justice efforts are opportunities De'Juan is grateful to experience through Millikin because of how they will prepare him for the future.
The Nov. 3 event was the second in a series of Peace Summit meetings developed through a partnership between Millikin, the Global Restorative Justice Partnership and The Salvation Army and sponsored by Illinois Humanities.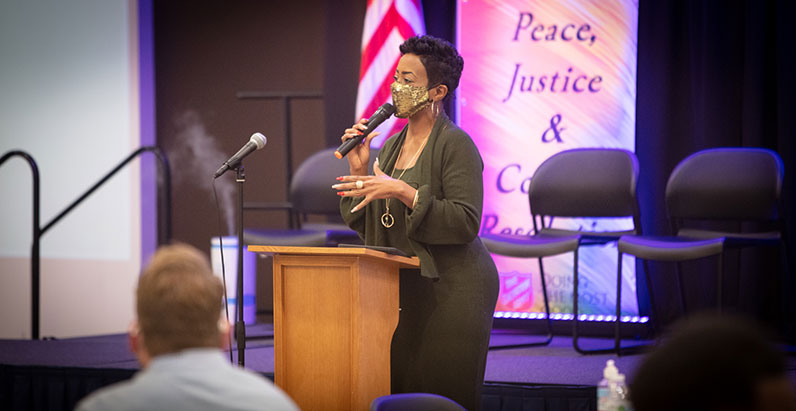 The first community Peace Summit event took place in June. During that meeting, attendees representing diverse community groups identified three areas of need within the Decatur community. Each event is dedicated to addressing one of the areas of need, setting measurable goals and creating tangible change.
"The community is at a point where a lot of us are tired. We want to actually see something change. It can be hard to actually get movement on these issues, but that's why we're having these events," Rodgers explained, discussing how the Peace Summit is meant to be an ongoing effort to benefit the Decatur community.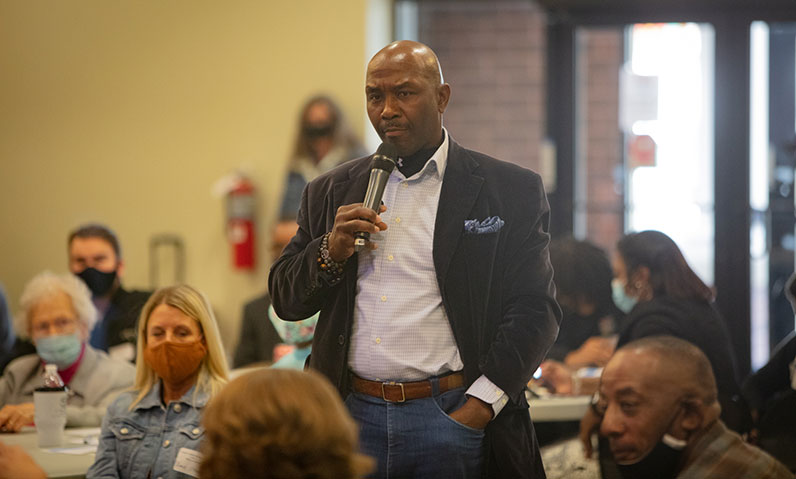 Establishing a Peace Hub in Decatur is a topic that Rodgers is passionate about and she believes that the benefits of a Peace Hub can be far-reaching. Rodgers said that, first and foremost, the events offer space for people to have conversations and to share ideas, learn and be vulnerable with one another.
"We don't really get a chance to open up and say what we're struggling with. We want these summits to be the first part of many conversations about important topics." Rodgers also mentioned that great things are already happening throughout the Decatur community. "Now we can bring these things together in a unified effort to achieve a common goal."
Looking ahead, three more Peace Summit events are planned, and Rodgers is eager to see the positive community response continue. Events in February and May 2022 plan to address youth and community resources, and in August, the first community-wide restorative justice meeting will take place.