Constitution Day panel features members of local media
The term "fake news" is something that has become widely used over the last four years and has generated many discussions about disinformation in conjunction with mainstream journalism. Millikin University's Department of History and Political Science brought this topic to the forefront as part of its annual Constitution Day event on Sept. 17.
The event, titled "Freedom of the Press in the Age of Fake News," featured a panel of four members from the local media including: 1970 Millikin alumnus Steven Hurst, retired international political correspondent; Penny Weaver, editor at the Mahomet Citizen; Allison Petty, regional editor at the Herald & Review; and Sydney Sinks, a sophomore English writing major at Millikin and news editor at the Decaturian – Millikin's student-run newspaper.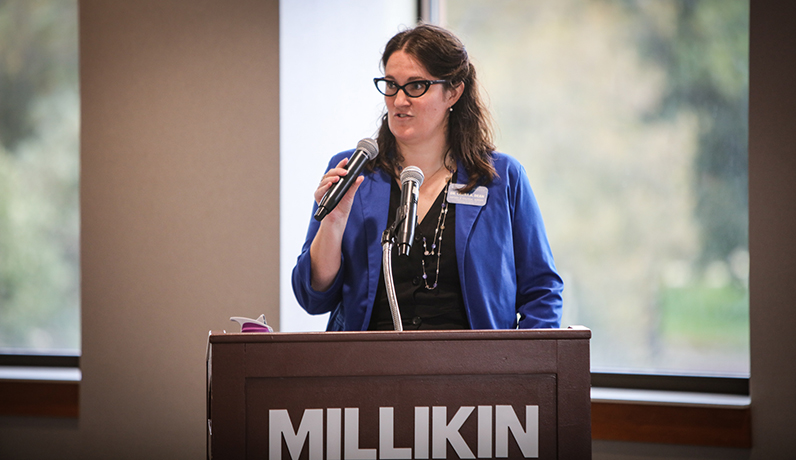 "Today we are discussing the First Amendment of the Constitution," said Dr. Laura Dean, assistant professor of political science at Millikin, who served as moderator for the event. "According to Reporters Without Borders, 2018 was the worst year on record for deadly violence and abuse towards journalists. Fake news was not a term many of us used before 2016 and it is now seen as one of the greatest threats to democracy, free debate and western democratic ideals."
In front of a packed audience in the Bob and Debi Johnston Banquet Room of the University Commons, panel members from different perspectives of journalism offered their views on the topic of fake news.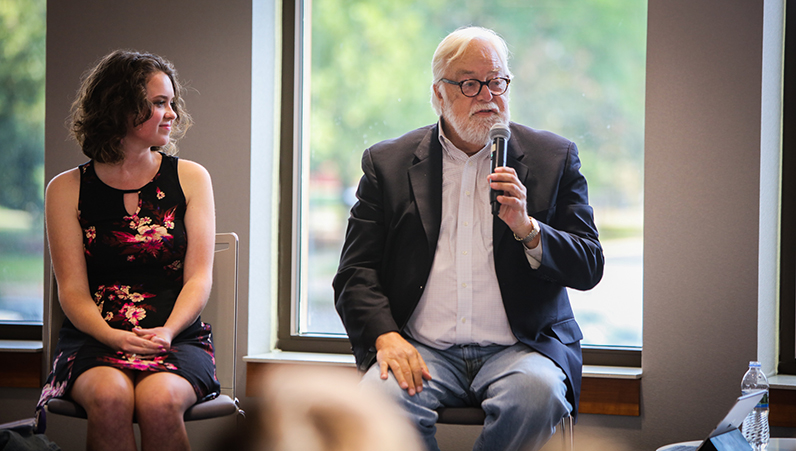 "Politicians, armies, religious leaders and community leaders are always trying to sell a story, and they want their story told to their benefit. It is our duty to tell the story as truthfully as we can and sometimes it's a very difficult thing to do," said Hurst. Throughout his career, Steven Hurst covered many newsworthy events, including the fall of the Soviet Union, the Tiananmen Square protests in China and the Soviet War in Afghanistan. Hurst began as a reporter with the Herald & Review in Decatur, Ill., in the 1970s prior to serving as head of the Associated Press Baghdad bureau.
Early on, panel members were asked to provide their thoughts on what they think the First Amendment means to them.
"As a student journalist, we work with our adviser to try to find stories that will help inform the students on campus," said Sydney Sinks. "We handle controversial issues very carefully with our adviser and the First Amendment gives us the opportunity to find information, and it's great as a student to learn and practice under the Amendment."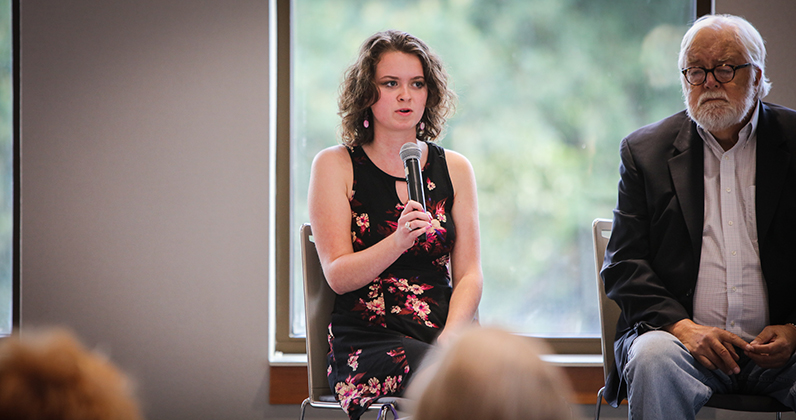 Penny Weaver says her newspaper doesn't just "regurgitate" things but that they report and dig a little bit deeper. "That's part of our responsibility and freedom of the press," she said.
When asked how her job as a journalist has changed in the current political environment, Allison Petty reflected on a time where her newspaper faced fake news issues head-on.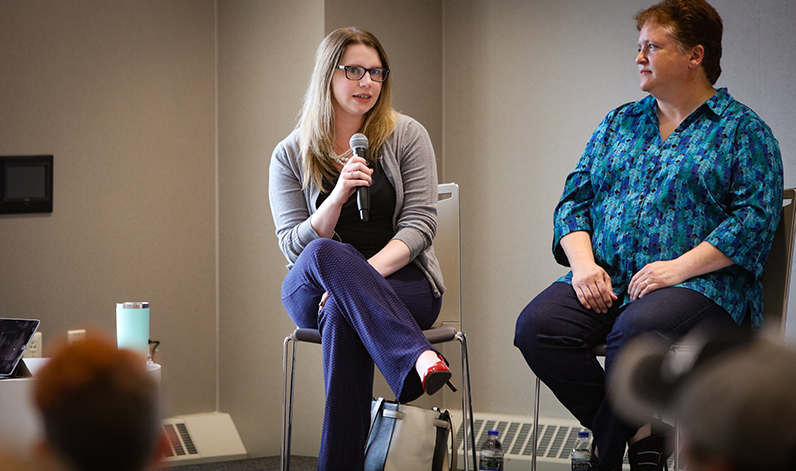 "When I started as a reporter before fake news, you still encountered people who had a mistrust in media maybe because of a bad interaction or they were misquoted by someone," said Petty. "I think it's much more pronounced now, and in general, I think we are all more polarized. One thing that is good about technology capabilities is that we can show our sources….listen to the audio, see the video – that is one way we try to combat that inherent mistrust."
Penny Weaver addressed the topic of disinformation spread on social media. "The facts are sometimes very simple and very black and white," she said. "You show readers what you reported and you show them your source. I think sourcing everything is even more important these days."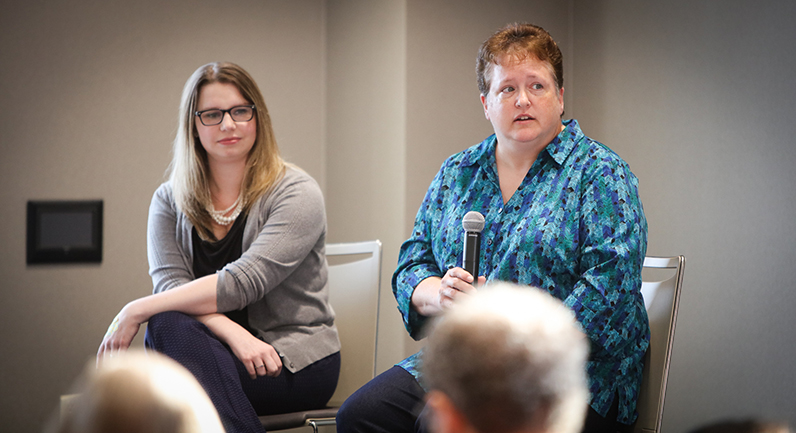 Attendees at the event received a free pocket Constitution as Millikin political science and history students were on hand to register fellow students to vote. Millikin journalism students were also in attendance to hand out different student publications. The event closed with a Q&A session with audience members.
"When you're dealing with an emotional issue, it becomes very dicey because emotion overrules reason," said Hurst. "Often times, we find the consumers of our products driven by emotion, not reason, and there's not much you can do about that. There's no way to change a person's mind if they are dealing with emotion rather than reason."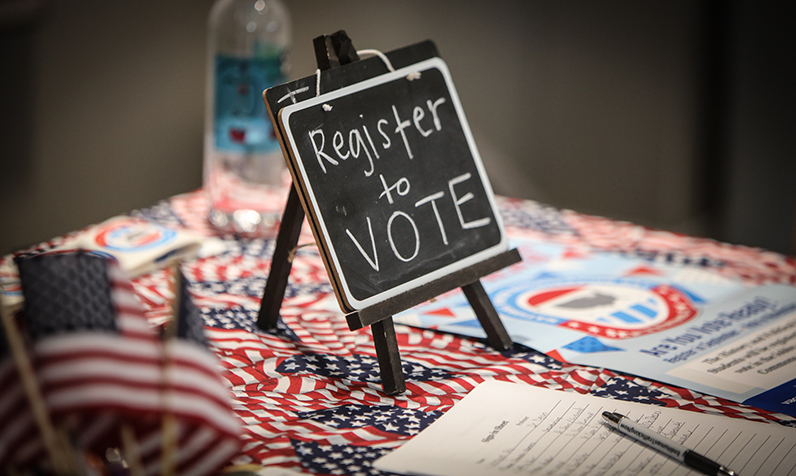 Constitution Day
Constitution Day commemorates the formation and signing of the U.S. Constitution more than 230 years ago on Sept. 17, 1787. The U.S. began celebrating Constitution Day in 1940 when Congress passed a resolution authorizing the President to publicly recognize all who had attained citizenship of the United States.
Constitution Day became an official holiday alongside Citizenship Day in 2004 when, with the help of support from Senator Robert Byrd, the "Constitution Day" amendment to the Omnibus Spending Bill passed.