MU students help raise funds for food pantry through grab-n-go soup dinner
Sometimes understanding how to adapt to unique circumstances is the best learning outcome. That is how students from Millikin University's Marketing Event Planning course described the culminating event of their fall 2020 semester.
The class, taught by Professor Marilyn Davis ['00, MBA '11, Tabor School of Business adjunct faculty member] plans a fundraising dinner where students and community members are invited to join together to support a worthy local cause. This year, the class partnered with Alpha Phi Omega Service Fraternity to support the Big Blue Food Pantry.
"On the first day of class, Professor Davis explained how the class would usually hold an in-person soup supper that would benefit a nonprofit organization. She suggested some organizations, and the class unanimously voted for the Big Blue Food Pantry," said Katie Bodlak, a junior theatre design and production major minoring in digital media marketing from Chicago. "They are not only an on-campus organization, but they also opened a new location this year, so we thought this would be a perfect opportunity to give them a great start in their new place."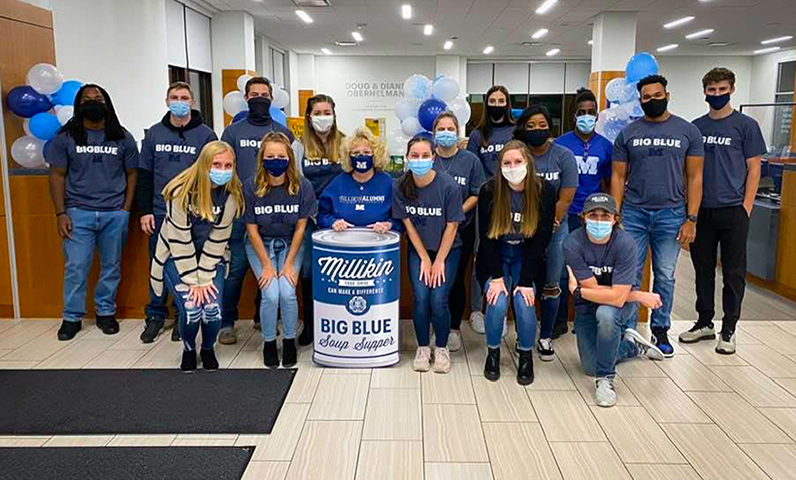 Millikin's Big Blue Food Pantry is working to end hunger on Millikin's campus. Serving 30 to 40 students weekly, the Big Blue Food Pantry provides non-perishable food items, hygiene products and school supplies to students who are food insecure. Through their work, students can spend their time focusing on academics instead of worrying about their next meal.
The goal for the class was to raise enough funds for the Big Blue Food Pantry to purchase a refrigerator and freezer for perishable items such as milk, eggs and hamburgers.
Due to the COVID-19 pandemic, the class had to be creative with the planning process. The students chose to do a grab-n-go Big Blue Soup Dinner in the University Commons.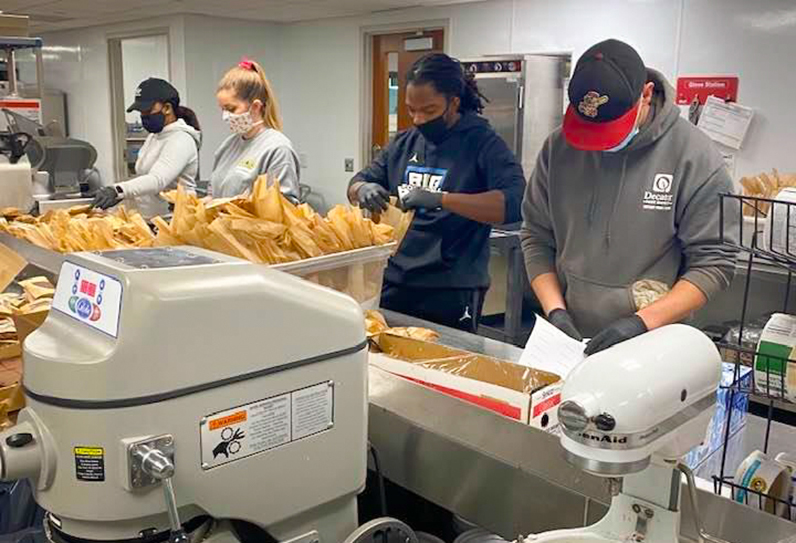 "We used social media, such as Facebook, to get the word out," said Brigid Duesterhaus, a junior communication major from Decatur, Ill. "We also used the Millikin website to reach students and faculty. As a whole, the class predominantly used word of mouth and relationships with friends and family to sell our tickets."
Tickets for the grab-n-go soup dinner were $5 each. With each ticket people received the following homemade items from Millikin Head Chef Brian Pehr and his dining services team:
Signature Soups:
Roasted Red Pepper with Smoked Gouda served with a Tuscan Dinner Roll
Broccoli Cheese served with a Brioche Dinner Roll
Chicken Noodle served with a Cheddar Chive Biscuit
Desserts:
Apple Crumb Bar
Fudge Brownie
"Chef Brian was so helpful in helping us come up with ideas of how to serve the food, and his experience in running the cafeteria in a to-go style this year inspired our to-go supper," said Bodlak. "We worked on layouts that would get guests in and out as quick as possible and had all the food packaged and ready to be picked up."
Bodlak said the biggest challenge in planning the event was the unknown of what changes the semester would bring. "As we planned this over a couple months period, we were not sure what restrictions we would have by the time of the event. We are all so grateful that we were still able to host the event in an altered format," she said.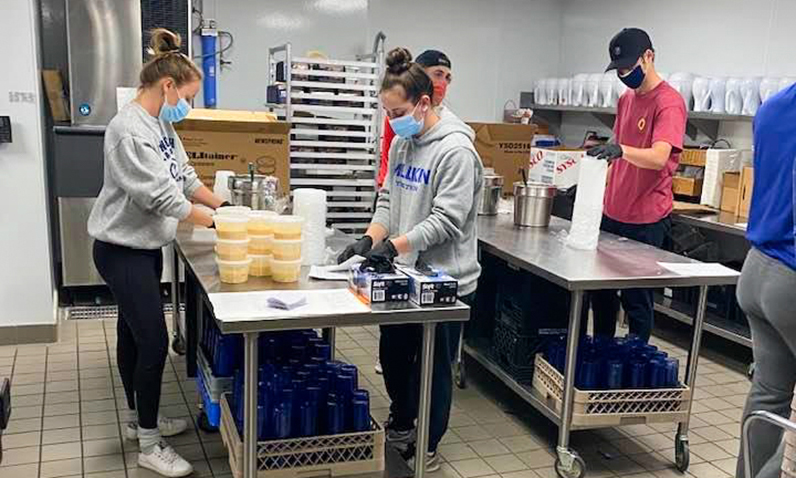 The grab-n-go soup dinner, hosted on Nov. 17, was a complete success as the class ended up raising $4,100 through both ticket sales and sponsorships. The sponsorship options included:
$25 - Friend of the Pantry
$50 - Guardian of the Pantry
$100 - Champion of the Pantry
"With the pandemic going on we really had to have fun with what we were capable of doing," Duesterhaus said. "There were a lot of changes and things that were not possible, but the class rallied around that and just tried to enjoy ourselves while making a positive experience for those attending our event."
Even though nobody knew what would happen once the event planning process began, the class made sure to prep for every scenario.
"The biggest lesson that I leaned from this experience is that even small things can have a great impact on the community," Bodlak said. "A simple event like the soup supper raised enough money to make a lasting impact on the Big Blue Food Pantry for years to come."