Millikin Chili Bowl Fundraiser supports Good Samaritan Inn
Millikin University's annual "Empty Chili Bowl" fundraiser has grown into a popular holiday event around campus and the local community. Ceramics students in Millikin University's Art Department made over 180 chili bowls for this year's event and sold them for $10 each with sales benefiting the programs of the Good Samaritan Inn of Decatur, Ill.
"The event is part of a nationwide movement to raise funds, using art, to benefit people who don't have enough to eat. It's called the 'Empty Bowls Project,'" said Natalie Zelman, a senior studio art major from Naperville, Ill. "We are raising money for the Good Samaritan Inn to help fund their projects that help feed and provide job skills training for the homeless community of Decatur."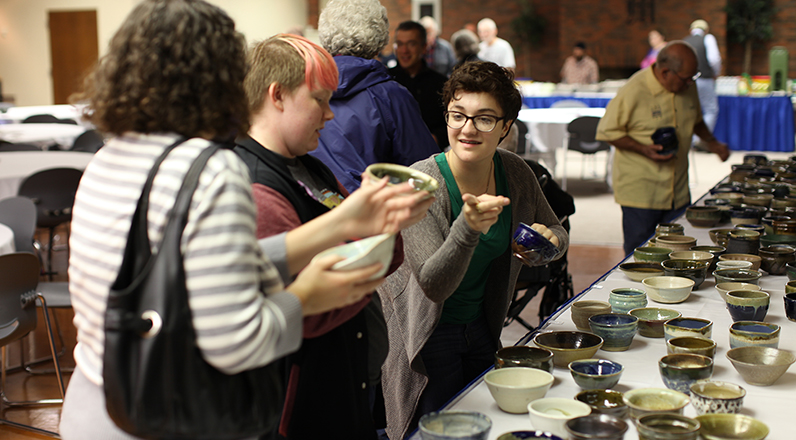 This year's fundraiser was held on Nov. 18 in Lower Richards Treat University Center. Several local community members and Millikin students, faculty and staff attended the event. Chili, regular and vegetarian, as well as drinks and desserts were served throughout the evening.
Zelman, who created some of the bowls, noted, "It's amazing that I'm able to use my art skills to help other people. It's uplifting and inspiring to see so many people come out to support a worthwhile endeavor to the community."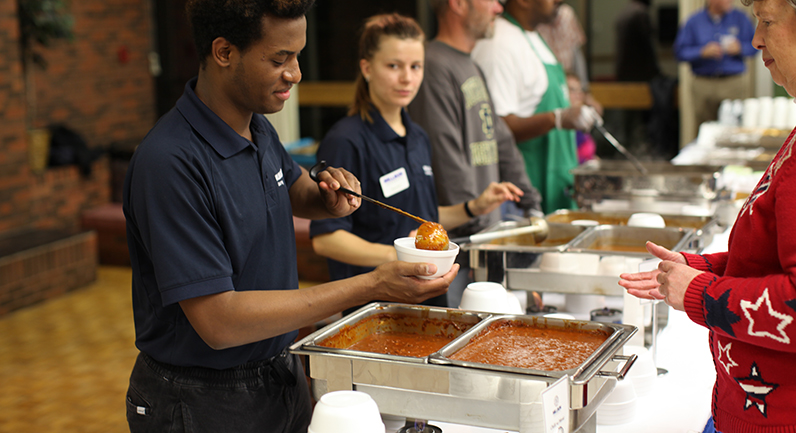 Zelman made 16 bowls for this year's event and says creating the chili bowls is a process that could take up to a few weeks to make. "It's a very time consuming process but it is worth it to see all the amazing and unique pieces of art," Zelman said.
According to Jim Schietinger, professor of art at Millikin, 10 art students made bowls for this year's fundraiser. The total amount raised on Nov. 18 was $1,219.
"We've been hosting the event for at least 15 years," Schietinger said. "This was the earliest we ever had the event because we usually have it after Thanksgiving. The students are using skills that they have to make a contribution. I'm excited that so many students, faculty and community people attended."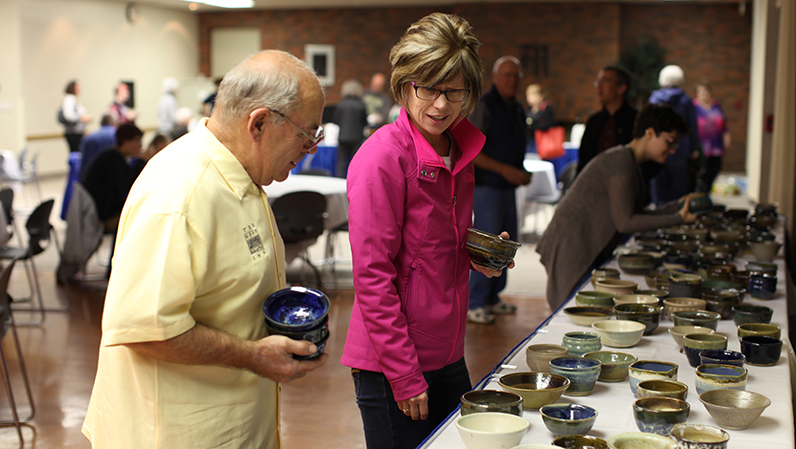 Stacey Brohard, executive director of the Good Samaritan Inn, said "This is our fifth year working with Millikin University on this event and every year it gets bigger and bigger. What's neat is that everyone comes together to have a nice casual evening. The proceeds from the event go to the training programs of the Good Samaritan Inn and we're very thankful."