Millikin Cheerleading team to compete in NCA College Cheer Nationals April 6-10
The Millikin University Cheerleading team will be appearing on the national stage by competing in the 2022 National Cheerleading Association's (NCA) College Cheer Nationals on April 6-10 in Daytona Beach, Fla. The group of 20 cheerleaders will be representing Millikin for the first time at the NCA College Cheer Nationals competing in the Division III Coed division.
In an interview with the Herald & Review, Sarah Rapp, Millikin cheer coach said, "An opportunity to compete is available only through an invitation. This is our third year getting a bid, but this is our first year being able to go because of COVID. This is the first time we've really been able to go, and this is the perfect group that I could take."
The current Millikin team includes eight seniors. "We are the team that if you saw us in public, you wouldn't think we were a cheerleading team," Rapp said. "A lot of them don't have a strong cheerleading background."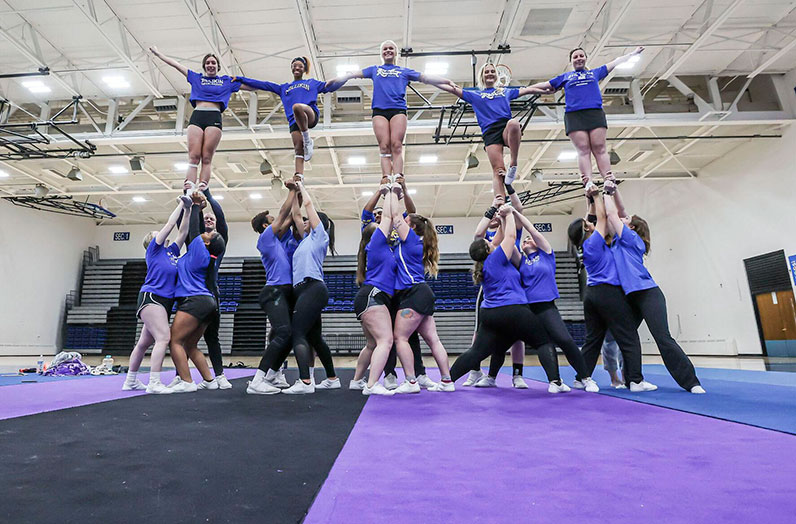 Photo courtesy of the Herald & Review (Clay Jackson)
Members of the squad came from other sports, such as basketball, football and track.
"Everyone has that natural sports background that you can integrate into throwing people up into the air," Rapp said. "They are so much more willing to work hard to get it."
Conor Reynolds, a junior from Decatur, Ill., serves as a backstop on the Millikin squad. He played baseball and football in high school. "It's still exciting and rewarding to be able to do all this stuff," he said. "We've come so far from even when we started this summer."
The NCA awards bids to Nationals based on the team's successful completion of specific requirements in the areas of participation, conduct and camp achievements. Teams must have a minimum of eight participating team members attending the same NCA and NDA Collegiate Summer Camp to be considered for a bid.
The competition has several criteria in order to earn points and win. Moves the cheerleaders will make include coed stunts, baskets, dances, running-tumbling, various jumps and a final pyramid. "It's just a lot of different, intricate details put together," Rapp said. "It's just one routine. We have two minutes and 15 seconds to cram everything in there."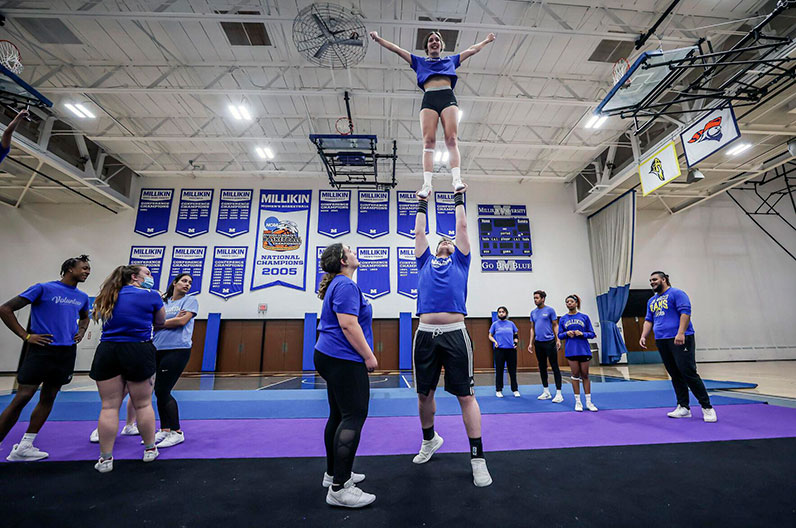 Photo courtesy of the Herald & Review (Clay Jackson)
As seniors, Emily Mitchell, of Decatur, and Alexis Reed, also from Decatur, were two of the original cheerleaders when Rapp began coaching at Millikin four years ago.
"This program could not run without her," Mitchell said. "We're a bunch of misfit people put together, but it makes our team work."
Reed noted, "It was just a matter of drawing people back in and rebuilding the program into something Millikin could be proud of."