Black History Month celebration to feature student programming and a tribute to Nina Simone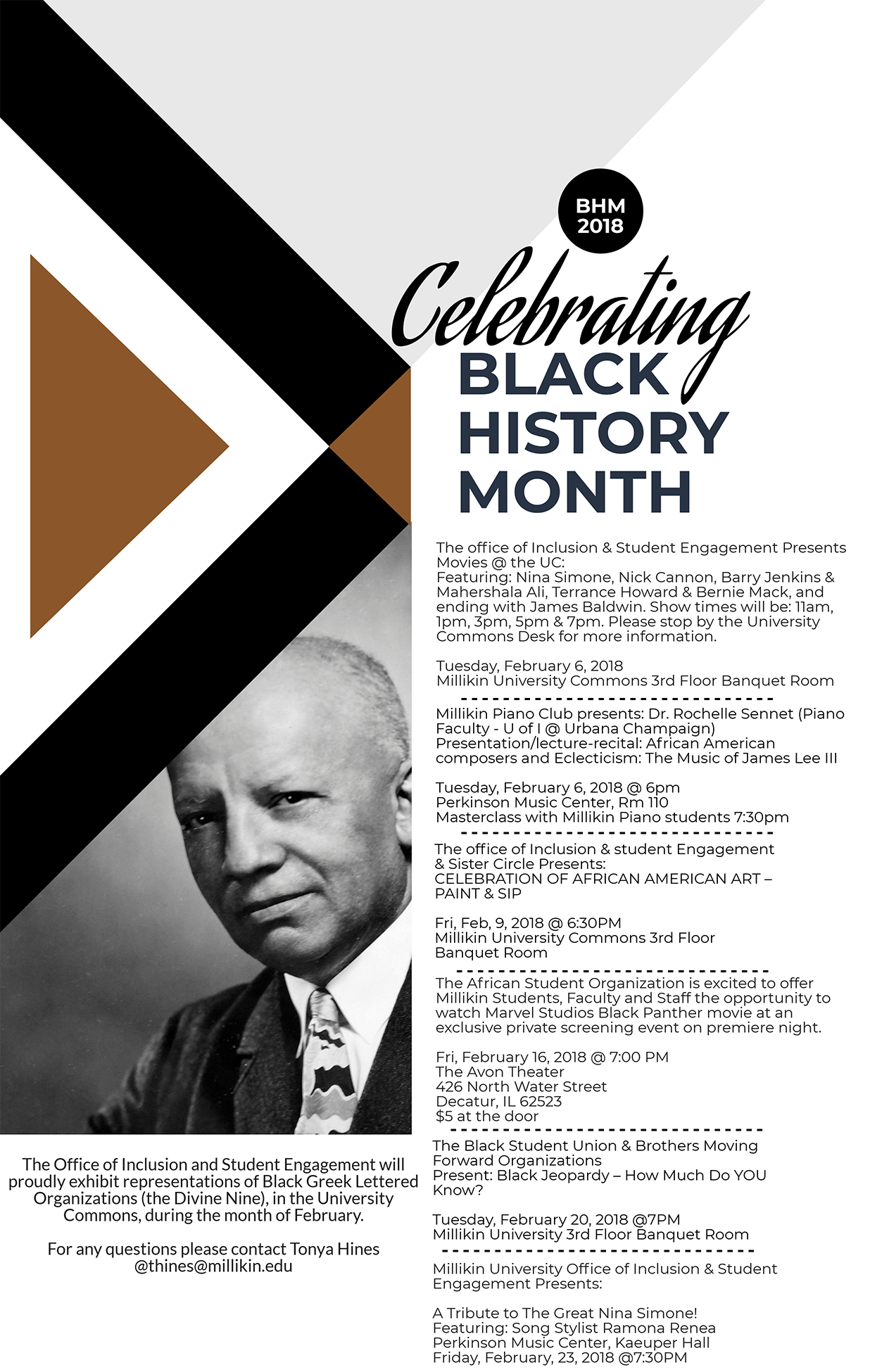 ​Millikin University will commemorate Black History Month by hosting a series of events throughout the month of February.
Black History Month originated in 1926 when historian Carter G. Woodson promoted what was known as "Negro History Week" in an effort to educate people about the accomplishments of African-Americans. In 1976, the celebration was expanded to include the entire month of February, the birth month of Abraham Lincoln and Fredrick Douglass. Black History Month is celebrated to remember important individuals and events in African-American history.
The following is a list of Black History Month 2018 events at Millikin University.
Tuesday, February 6
The Office of Inclusion & Student Engagement Presents Movies @ the UC
University Commons, 3rd Floor Banquet Room
This event will feature movies with Nina Simone, Nick Cannon, Barry Jenkins and Mahershala Ali, Terrance Howard and Bernie Mack, and James Baldwin. Show times are 11 a.m., 1 p.m., 3 p.m., 5 p.m. and 7 p.m. For more information, visit the University Commons Front Desk.
Tuesday, February 6
Millikin Piano Club presents Dr. Rochelle Sennet
6 p.m.
Perkinson Music Center, Room 110
Masterclass with Millikin piano students at 7:30 p.m.
Dr. Rochelle Sennet, associate professor of piano at the University of Illinois at Urbana-Champaign, will present a lecture-recital entitled "African-American composers and Eclecticism: The Music of James Lee III" in Perkinson Music Center, Room 110, on Millikin University's campus.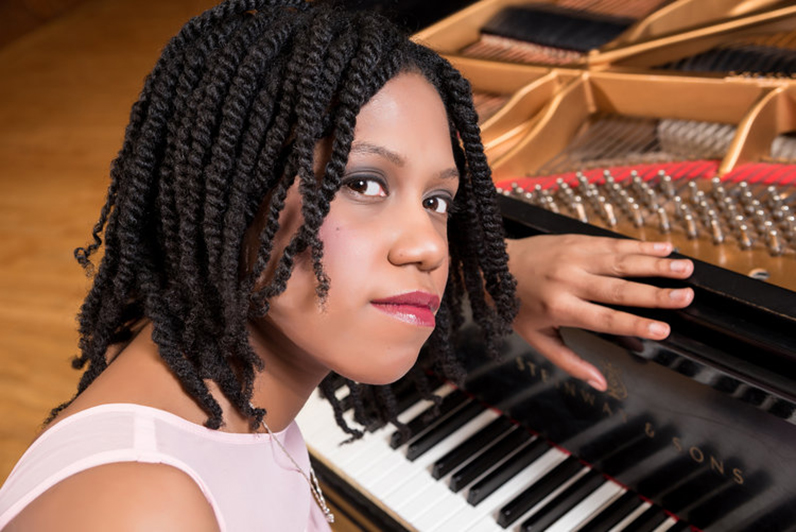 Dr. Rochelle Sennet has established herself as a well-known performer, teacher and scholar. Her recital programs showcase her versatility at the keyboard, with frequent performances of works by Bach, Beethoven and African-American composers such as H. Leslie Adams, Jeffrey Mumford, James Lee III, and Pulitzer-Prize winning composer George Walker. She was co-winner of the Krannert Center Debut Artist Competition, national finalist at the MTNA Collegiate Piano Competition, and a prize winner in numerous competitions such as the Kingsville International Piano Competition, San Antonio Tuesday Musical Club Piano Competition, and the U.S. Open Music Piano Concerto Competition.
Friday, February 9
The Office of Inclusion & Student Engagement and Sister Circle Presents: Celebration of African-American Art: Paint & Sip
6:30 p.m.
University Commons, 3rd Floor Banquet Room
Friday, February 16
Marvel Studios' Black Panther Private Screening
7 p.m.
The Avon Theater, 426 N. Water St. in Decatur, Ill.
$5 at the door
The African Student Organization is excited to offer Millikin students, faculty and staff the opportunity to watch a private screening of Marvel Studios' Black Panther on premiere night at the Avon Theater in downtown Decatur.
Tuesday, February 20
The Black Student Union and Brothers Moving Forward Present: Black Jeopardy – How Much Do You Know?
7 p.m.
University Commons, 3rd Floor Banquet Room
Friday, February 23
A Tribute to the great Nina Simone featuring song stylist Ramona Renea
7:30 p.m.
Perkinson Music Center, Kaeuper Hall
Ramona Renea's spectacular vocal talents emerged naturally while singing in a musical family. At a young age, she connected to the emotional qualities in music. Throughout her youth, she cultivated a variety of singing styles. As a result, her unique voice emerged powerful, yet subtle and controlled as a result of her musical voice training in high school and college. In Renea's voice you will hear soul, jazz, gospel and blues interwoven in ways that put her in a class all her own. Connecting with the rich emotion and subtle vocal resonance of jazz music, Renea began touring the jazz circuit internationally with contemporary jazz recording artists Pieces of a Dream.
Renea has performed nationally and internationally for such events and ensembles as Amen! A Gospel Celebration with the Cincinnati Pops Orchestra, the Joy of Jazz Festival in Johannesburg, South Africa, the first ever Capital Jazz Cruise, for the legendary Muhammad Ali's Tribute Celebration in Louisville, Ky., the BET ON JAZZ Music Festival in Durban, South Africa, and many more.
Recently, she has performed with Grammy Award winner and DJ extraordinaire Louie Vega in Johannesburg, South Africa, in 2016 and the legendary Ray Chew while providing background vocals at high profile events for various celebrity artists including: Deborah Cox, Ne-Yo, Nile Rogers of Chic, Luke James, Rosanne Cash, Donald Fagan of Steely Dan, Bebe Winans, Paul Schaffer, Leela James, Valerie Simpson, and Dionne Warwick to name a few.
In addition, the Office of Inclusion and Student Engagement at Millikin will proudly exhibit representations of Black Greek Lettered Organizations (the Divine Nine), in the University Commons throughout the month of February.
For more information about Millikin's celebration of Black History Month, please contact Tonya Hines, assistant director of inclusion and student engagement and director of the Long-Vanderburg Scholars Program, at thines@millikin.edu.