Cast uses musical to bring people together
Millikin University's School of Theatre and Dance is presenting the production of "Sister Act" at Kirkland Fine Arts Center Nov. 9-11. The music of "Sister Act" was written by Alan Menken, lyrics by Glenn Slater, and book by Cheri and Bill Steinkellner.
The story follows night club singer Deloris Van Cartier, who after witnessing a violent crime, takes refuge in a Philadelphia convent where she awaits a date in court to testify against the perpetrators. Her values, however, are put to the test when a group of Carmelite nuns unwittingly make their way into her heart and enlighten her on the power of faith and sisterhood.
The musical is based on the 1992 film of the same name starring Whoopi Goldberg. The movie was made into a musical in 2006, and although the story remained the same, a few changes were made.
"The movie pulled a lot of old popular tunes and did a remix of all of those," said Sean Morrissey, director of the Dance Department at Millikin, and director and choreographer of the production. "None of the music from the film is in this."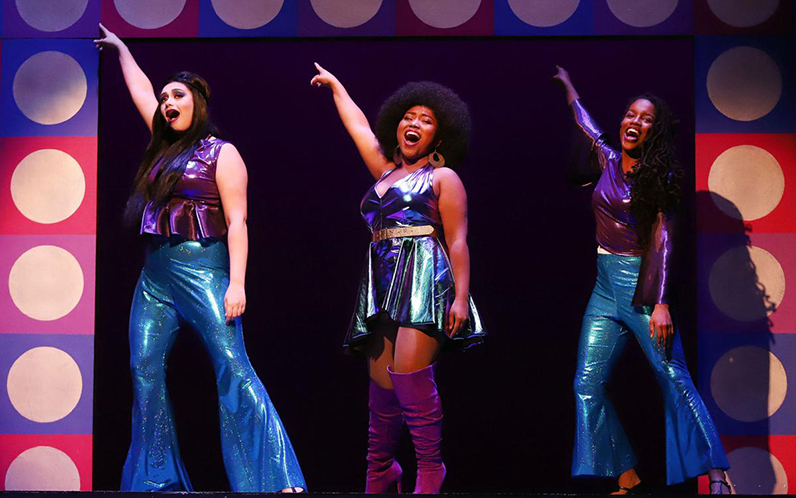 Photo courtesy of the Herald & Review/Jim Bowling
The cast performs with a full band and pit choir of five singers. In a recent interview with the Herald & Review, Morrissey says the music is energetic and catchy. "I am confident people will be walking out singing a couple of tunes," he said.
Rafael Wilson, a senior acting major from Alsip, Ill., plays the role of Curtis. "It has an empowering statement on feminism," said Wilson. "We see Deloris underneath Curtis's puppeteering, then she realizes she doesn't need him."
Sarah Obert, a sophomore theatre major from Oswego, Ill., noted, "The themes are special for this time in our lives. It is about inclusivity, transformation and the power of groups of people."
The cast wanted to use the musical as an opportunity to bring people together. "A show like this is what everybody needs right now," said Morrissey. "Where you can come in and just forget about stuff and see a show that is truly about love and acceptance."
Millikin School of Theatre and Dance
Millikin Theatre and Dance produces numerous performances in venues on and off-campus, including musicals, plays, operas, children's theatre and dance concerts, as well as productions through its student-run theatre company, Pipe Dreams Studio Theatre.
Millikin's School of Theatre and Dance is a nationally recognized program, offering conservatory-style training rooted in a liberal arts education. The School of Theatre and Dance's approach to education offers students valuable insight and hands-on experiences that will prepare them for professional success. Nationwide, Millikin's respected theatre alumni are routinely hired for projects in television, film and live theatre, including top Broadway shows.