Center for Theatre and Dance plans to open in fall 2020
Millikin University announced on Oct. 11 that it will break ground on its new Center for Theatre and Dance in 2018 with plans to open the building in fall 2020. The $25 million facility will include a convertible theatre in addition to well-equipped studios, classrooms, design labs and public spaces for the School of Theatre and Dance. The innovative facility will house all areas of study within the nationally recognized School. The architectural partner of the project will be the Decatur, Ill., firm BLDD.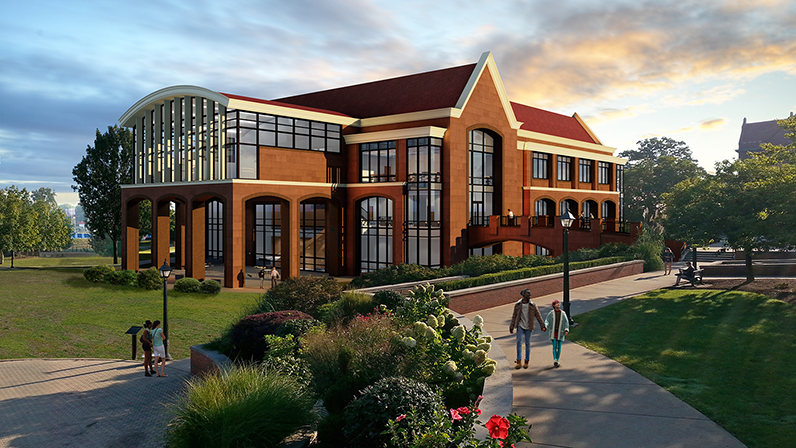 "Millikin is ranked in the top ten for musical theatre programs in the country, including universities many times our size," said Millikin President Dr. Patrick White. "To keep our students and our program at this extremely high level we need a Center for Theatre and Dance to allow room for growth, to expand what we can accomplish, not only for the actors and dancers, but also to provide growth in the rapidly developing areas of arts technology, lighting and sound and costume design."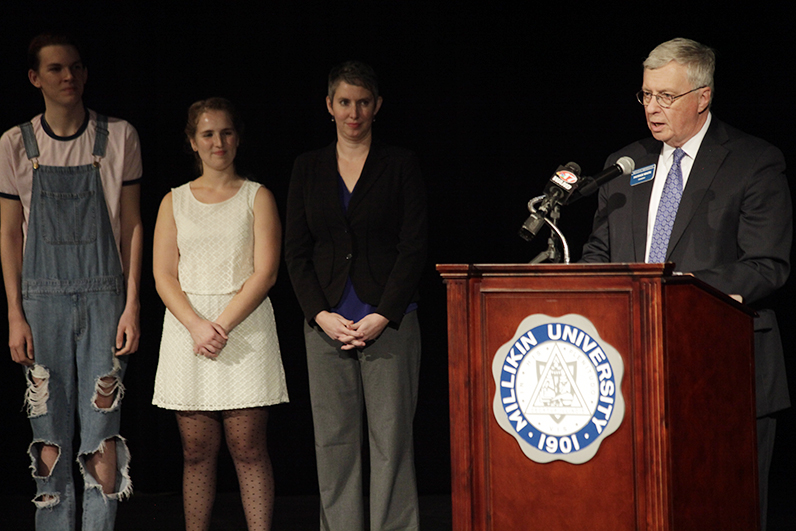 Mary Black, director of the School of Theatre and Dance at Millikin added, "We in the School of Theatre and Dance are thrilled to see this project come to fruition. Many of the faculty in the School of Theatre and Dance have hoped and planned for a building of our own for many years. Currently, our performance venues, acting and dance studios, classrooms and offices are spread across a dozen buildings on Millikin's campus."
The new building will house theatre support spaces as well as several production spaces for Millikin students to use. The center will also house faculty and staff offices, allowing faculty, staff and students to collaborate more easily.
"Our programs have recently received several different national top ten rankings, placing Millikin among the most respected theatre programs in the country," Black said. "The new Center for Theatre and Dance will provide our students, faculty and staff with the facilities necessary to build on that success."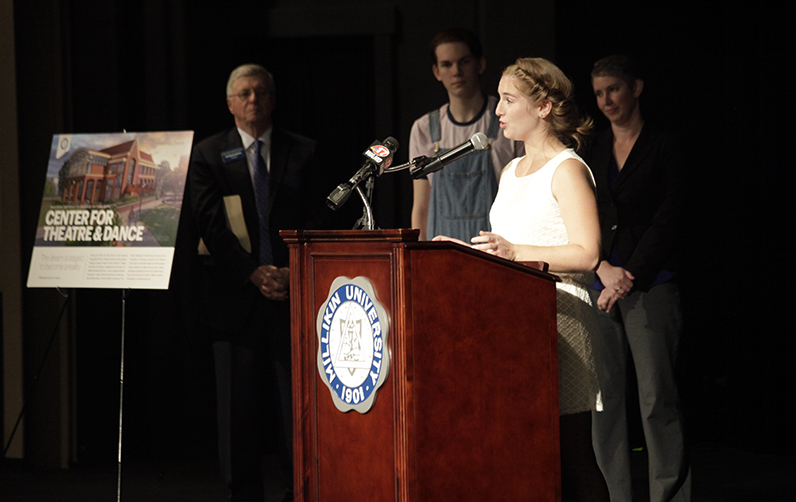 Thanks to visionary and generous alumni and community leaders, as well as the investment of University resources by Millikin's Board of Trustees, more than half of the necessary funding has been secured to complete this exciting home where imagination will flourish. Funds are still being raised to complete the vision and finish "building on dreams."
"So many people have brought us to this exciting point," President White said. "We look forward to the help of alumni and community leaders to complete the vision and finish 'building on dreams' to create a place that will enrich and enhance our lives and mean so much to Millikin, Decatur and so many of our students and alumni."
Caitlyn Garrity, a junior theatre design and production major from Decatur is looking forward to seeing what the new building will provide in terms of design and production opportunities.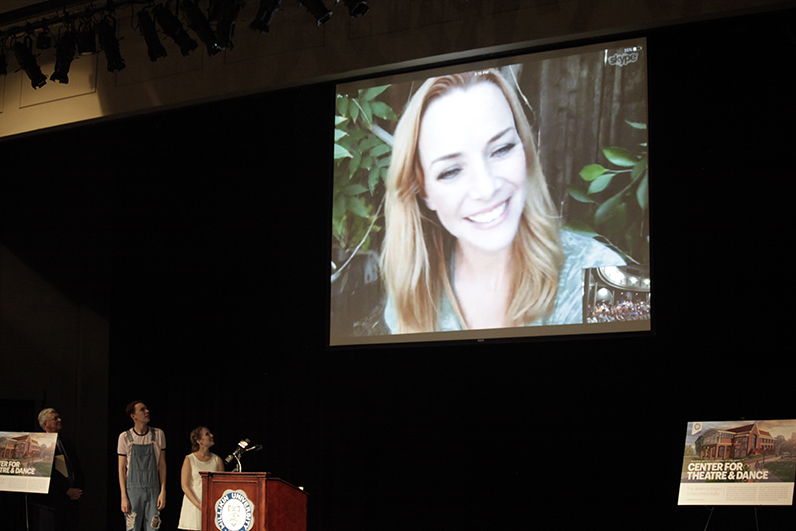 "I am thrilled for the future Center for Theatre and Dance," Garrity said. "As a design and production student, I know the improvements in our technical theatre spaces will allow students to improve their craft. The new design studios will allow us to further develop our craft and enhance our experience as we prepare for our careers in technical theatre. These improvements to our work spaces will truly give us the difference that can put us ahead in the professional world."
Mary Black noted, "The new Center for Theatre and Dance will do more than facilitate the needs of our current students and programs. It will also provide the spaces we need to continue to grow. Over the last five years, enrollment in the Millikin School of Theatre and Dance has grown by 42 percent. We are home to nearly 250 undergraduate students, including 81 first-year students who will be among the first to study in the new Center for Theatre and Dance when it opens. This new building will allow us to continue to grow and excel as we prepare students for their lives as theatre artists."
Recently, Millikin University's Bachelor of Fine Arts in Acting degree program was recognized as one of the Top 10 BFA Acting Programs in the country for 2017-2018 according to a recent survey published by the online theatre news and review blog OnStage. OnStage also named Millikin as one of the best institutions in the country to earn a Bachelor of Fine Arts in Musical Theatre, and named Millikin's School of Theatre and Dance as one of the 10 Most Underrated Theatre Colleges in the Midwest.
Millikin Theatre and Dance produces numerous performances in venues on and off-campus, including musicals, plays, operas, children's theatre and dance concerts, as well as productions through its student-run theatre company, Pipe Dreams Studio Theatre.
Millikin's School of Theatre and Dance is a nationally recognized program, offering conservatory-style training rooted in a liberal arts education. The School of Theatre and Dance's approach to education offers students valuable insight and hands-on experiences that will prepare them for professional success. Nationwide, Millikin's respected theatre alumni are routinely hired for projects in television, film and live theatre, including top Broadway shows. For more information, visit millikin.edu/theatre.
View Coverage