Millikin biology students win top awards at Tri-Beta Conference
Millikin University biology students earned the most awards at the 2017 Beta Beta Beta North Central 1 District Conference on April 22 at Bradley University in Peoria, Ill.
Led by research advisors Dr. Travis Wilcoxen, associate professor of biology, and Dr. Laura Zimmerman, assistant professor of biology, nine Millikin biology majors presented their research.
Of the nine that presented, four Millikin students won awards for their presentations. Sara Siegfried, a senior from Red Bud, Ill., won 1st Place - Oral Presentation; Mackenzie Peck, a senior from Livermore, Calif., won 3rd Place - Oral Presentation; Shelby Chesko, a senior from Wilmington, Ill., received Honorable Mention - Oral Presentation; and Elyse Schnabel, a junior from Galena, Ohio, won 2nd Place for her poster presentation.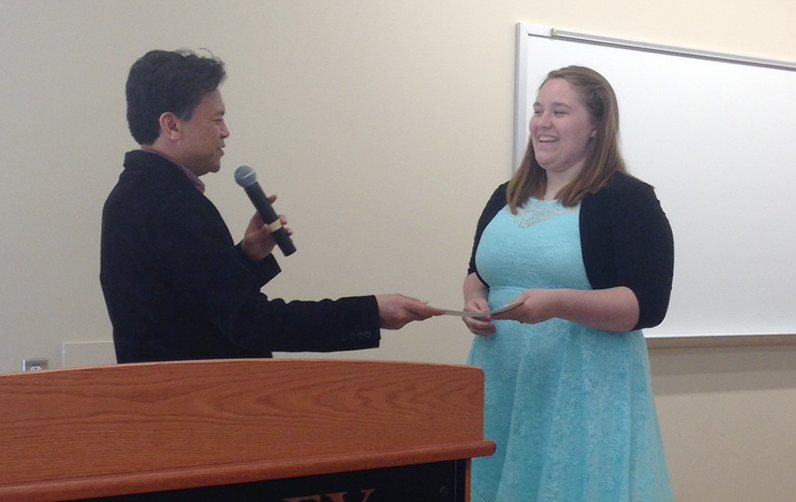 Overall, eight oral presentations and 24 poster presentations were made at the conference; the poster presentations were divided into two categories.
"The mission of Beta Beta Beta is to promote scholarship and research in biology for undergraduate students," said Dr. Wilcoxen. "The success of our students year after year at the district conference is a sign that our students truly embrace Performance Learning and that they develop strong, meaningful mentor-mentee relationships with their research advisors."
As the first place winner, Sara Siegfried will be given a fully funded trip to attend the 2018 Tri-Beta National Convention in Santa Barbara, Calif.
"I was very surprised to win the award for best oral talk," said Siegfried. "The other students that presented also had fabulous work, and represented Millikin very well. I was very happy that those in attendance recognized my work as deserving of the honor. I will be starting graduate school in the fall, where I will continue to study biology and conduct research. Recognition, such as what I received at the Tri-Beta Conference, provides encouragement for my future studies and research, and makes me feel very grateful for the time I was able to spend at Millikin."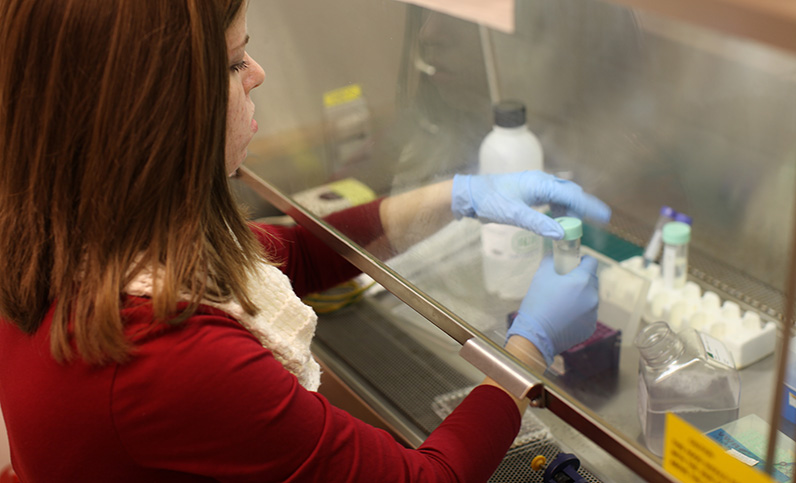 Siegfried's research focuses on testing five essential oils, the individual components of Thieves blend, and the chemical components of these oils for anti-cancer properties. The individual oils, the blended Thieves, and chemical components were all tested in two breast cancer cell lines. The results support the use of these oils and chemicals as possible anti-cancer agents.
"My study was the first known study to test Thieves essential oil for anti-cancer properties, and include the individual oils and all chemical components," said Siegfried. "My work was inspired by my Grandfather, who was diagnosed with lung cancer and chose not to take treatments such as chemo or invasive drug therapy. His choice inspired me to attempt to identify a possible alternative treatment option, and my results support this hope."
Dr. Travis Wilcoxen was also named Co-Outstanding Chapter Advisor by the District Supervisor at the conference. Millikin's Tri-Beta Chapter, Iota Epsilon, was established in 2011.
"I am again impressed with the ability of our students to disseminate their work to their peers and professors from other institutions, and to do so at an award-winning level," said Dr. Wilcoxen.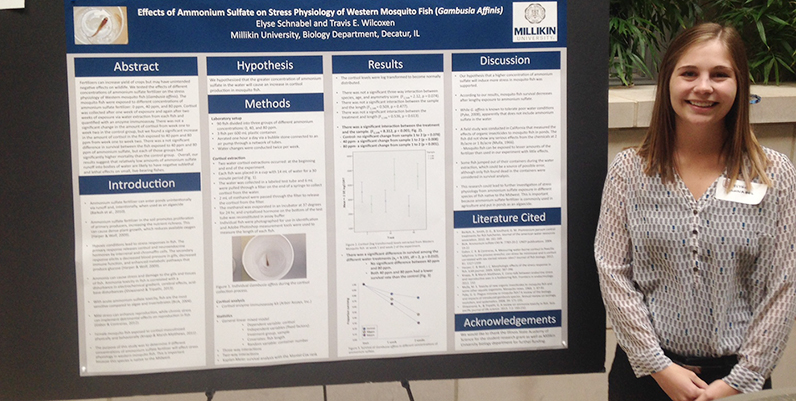 Elyse Schnabel's research focuses on the effects of ammonium sulfate on stress physiology of western mosquito fish. Schnabel says there was significant interaction between the fish and the treatment.
"We found that the ammonium sulfate significantly increased the stress from the first sample to the second sample in the 40 ppm and 80 ppm groups," said Schnabel. "Overall, this experience has made me more grateful for the help I have received from my advisor and the opportunities Millikin has presented to me."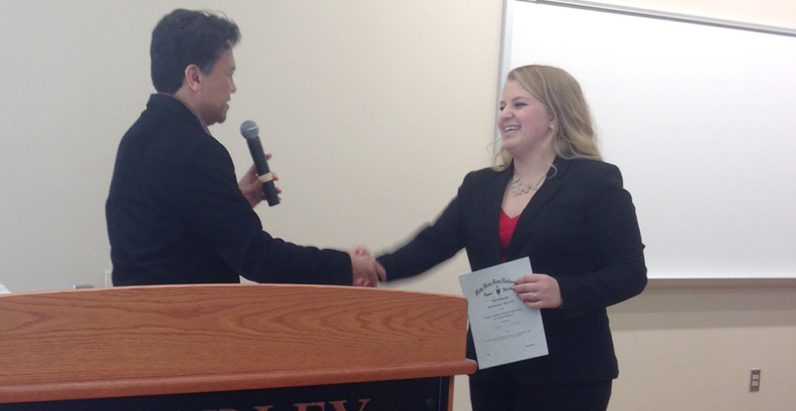 Other Millikin students who presented were Katie Stromsland, a senior from Gillespie, Ill.; Francesca Rios, a senior from Paris, Ill.; Paris Woods, a senior from Decatur, Ill.; Emily Mihalkanin, a senior from Willowbrook, Ill.; and Jessica Taul, a senior from Godfrey, Ill.
Tri-Beta is a society for students, particularly undergraduates, dedicated to improving the understanding and appreciation of biological study and extending boundaries of human knowledge through scientific research. Since its founding in 1922, more than 200,000 persons have been accepted into lifetime membership, and more than 670 chapters have been established throughout the United States and Puerto Rico. For more information on Tri-Beta, visit tri-beta.org.