Millikin Tri Beta Chapter receives Outstanding Chapter Award
Students of Millikin University's Beta Beta Beta Biology Honor Society presented their research at the North Central-1 District Convention of Tri Beta at St. Xavier University on April 7. The convention featured six oral presentations and 29 posters for a total of 35 presentations from students representing eight institutions.
Millikin biology majors won six of the 12 presentation awards while Millikin's Tri Beta Chapter, Iota Epsilon, was recognized for Most Delegates, the Spirit Award and the Outstanding Chapter Award.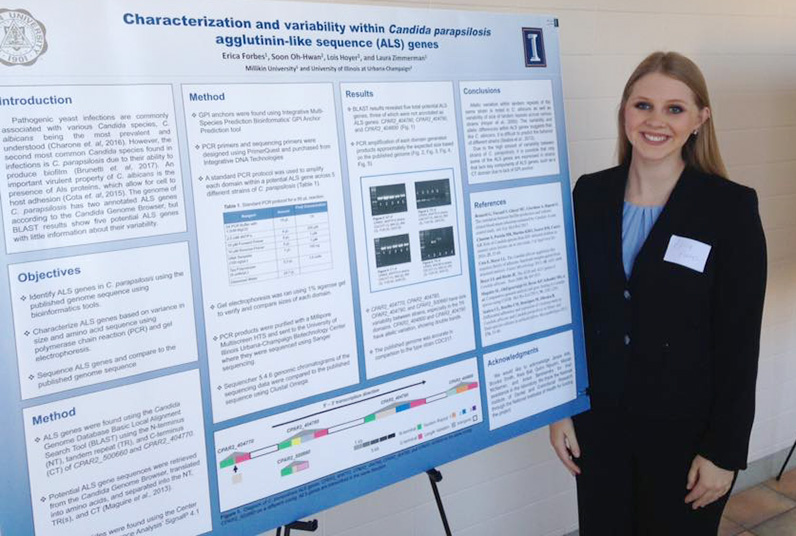 The Millikin student award winners included:
Elyse Schnabel, a senior from Galena, Ohio - 1st Place, Oral Presentation
Shelby Ulrich, a senior from Quincy, Ill. - 1st Place, Organismal Biology Poster
Cooper Collings, a senior from Mattoon, Ill. - 2nd Place, Organismal Biology Poster
Courtney Olson, a senior from Waterloo, Ill. - 3rd Place, Organismal Biology Poster
Quinn Nguyen – a senior from Lincolnwood, Ill. - 2nd Place, Cell and Molecular Poster
Erica Forbes – a senior from Bourbonnais, Ill. - 3rd Place, Cell and Molecular Poster
"It is exciting to see the hard work that the Millikin biology students put into their research translate into success at the Tri Beta District Convention," said Dr. Travis Wilcoxen, associate professor and chair of the Biology Department at Millikin. "The overall quality of the presentations, from representatives from all schools, was great, and yet, the work of Millikin students still stood out in the field."
Elyse Schnabel's research determines the effect ammonium sulfate has on stress physiology and innate immunity using cortisol as the biomarker for stress, and lysozymes as the measure for immune function.
"I was very excited to earn first place for my oral presentation," said Schnabel. "It is really encouraging to see that my research is appreciated and that I can present what I have learned to a receptive audience. I love that Millikin was able to take home so many awards because it shows our students are passionate about what we do."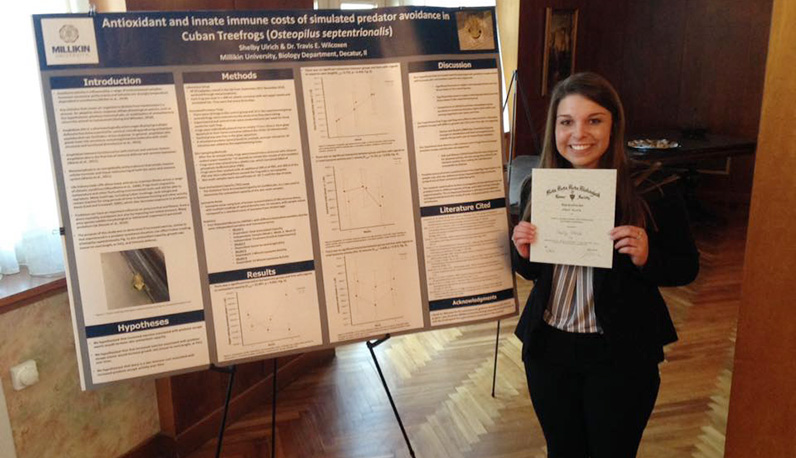 Shelby Ulrich is examining skin antioxidant capacity in Cuban tree frogs, as well as their growth rate and immune defense in response to increased exercise. To complete the study, 20 Cuban tree frog tadpoles were raised through metamorphosis and, as young frogs, divided into each a control group and experimental group. Frogs in the experimental group were exposed to a simulated predator by repeated touch to their urostyle over trials, but frogs in the control group were not given the repeated stimulation.
"I was not expecting to get first place at all because there were several other biology majors with excellent research," said Ulrich. "I was very honored that the judges thought my research was of high quality. I like presenting my research because I get to show how much time and effort I spent in the lab. It goes to show that hard work truly pays off in the end."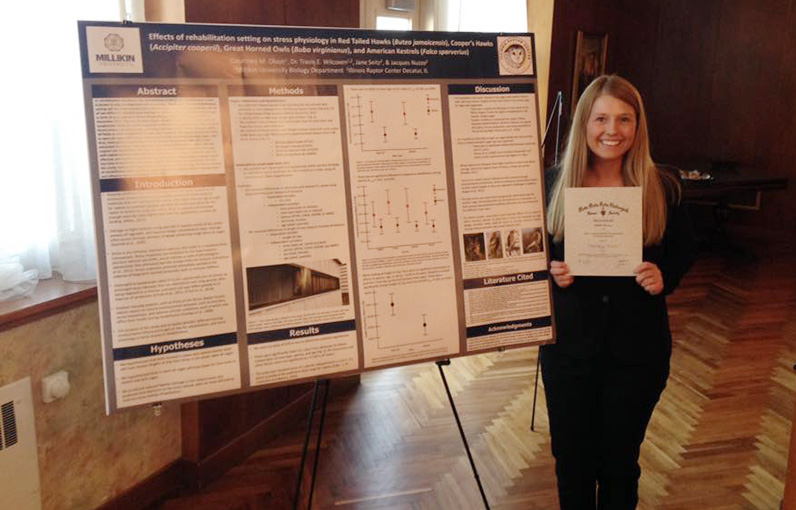 Courtney Olson's research involved looking at rehabilitation settings in birds of prey at the Illinois Raptor Center, and comparing their rehabilitation environment to their stress levels and seeing if there was any connection.
"After the conference, I realized how Millikin holds students to a very high standard for our research projects, and I'm so thankful for that," said Olson. "I think Millikin puts a special value on academics which allows for students to present at these conferences and have successful outcomes like we did. I know personally, without outstanding research advisors like Dr. Wilcoxen and other biology faculty that hold their students accountable and expect academic excellence in our projects, opportunities like this would not be possible."
Other Millikin students who presented were Paige Dorsel, a senior biology major from Fishers, Ind.; Brooke Smith, a senior biology: molecular cell track major from Franklin Grove, Ill.; and Jacob Hanes, a senior biology major from Mt. Zion, Ill.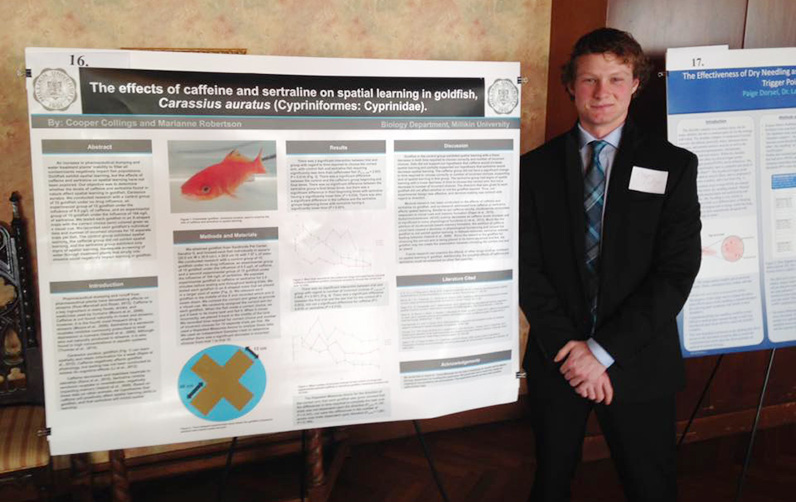 Dr. Wilcoxen noted, "Ultimately, the success of Millikin biology students at conferences such as this reflects positively on the culture that is established in the Biology Department. Research isn't something extra that some students pursue, it's at the heart of what we do."
Tri Beta is a society for students, particularly undergraduates, dedicated to improving the understanding and appreciation of biological study and extending boundaries of human knowledge through scientific research. Since its founding in 1922, more than 200,000 persons have been accepted into lifetime membership, and more than 670 chapters have been established throughout the United States and Puerto Rico.