Phi Kappa Phi grant to support professor's research on the effects of herbicides and reproductive cancers
Dr. Jennifer Schroeder, associate professor of biology and director of academic effectiveness at Millikin University, has been awarded a Love of Learning Award from the Honor Society of Phi Kappa Phi worth $500. Phi Kappa Phi is the nation's oldest and most selective all-discipline collegiate honor society. Dr. Schroeder is one of 200 recipients nationwide to receive the award.
Established in 2007, the Love of Learning Program gives 200 awards annually in support of post-baccalaureate professional development. The selection process for a Love of Learning Award is based on the applicant's academic achievement, campus and community service, intended use of award funds as it relates to academic and career goals, and a personal statement.
Dr. Schroeder plans to utilize the Love of Learning Award to expand her research that examines the potential effects of herbicides on human cells and how it relates to the growing rate of reproductive cancers in rural areas. Correlative studies have indicated that pesticide and herbicide exposure could serve as a potential contributor for reproductive cancers in rural areas.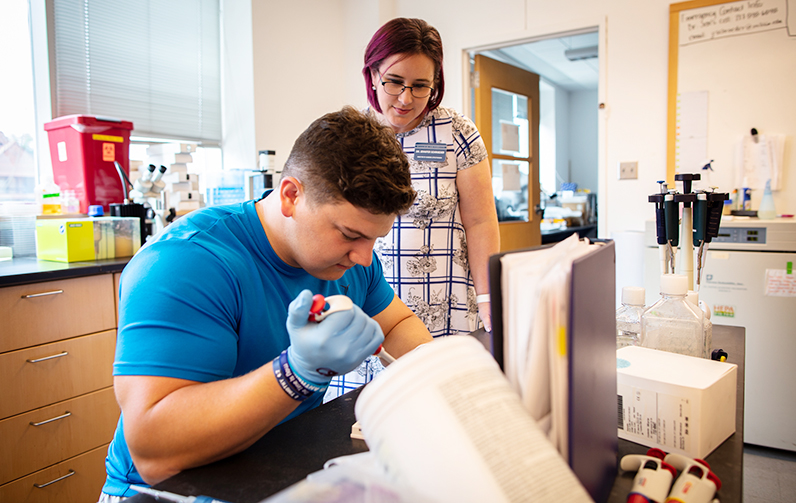 "Several years ago, a Millikin biology student worked on a project that looked at pesticides and how they impact stress response in cancer cells, and there's a tie-in particularly with high incidence rates of reproductive cancers in rural areas," said Schroeder. "There are several reasons, but one is that those species are exposed to more chemicals."
Despite several studies examining the effects of these chemicals on indicator species, Schroeder says little research has been done both on human cells and within physiological ranges of exposure.
Beginning in 2009, Schroeder and several Millikin undergraduate research students examined the potential effects of three triazine herbicides (atrazine, cyanazine, and simazine) on human cells. In 2012, they published research examining a slight increase in breast cancer cell viability after the cells were exposed to the pesticides, and in 2014, they identified that the compounds did not deter the ability of cancerous cells to migrate.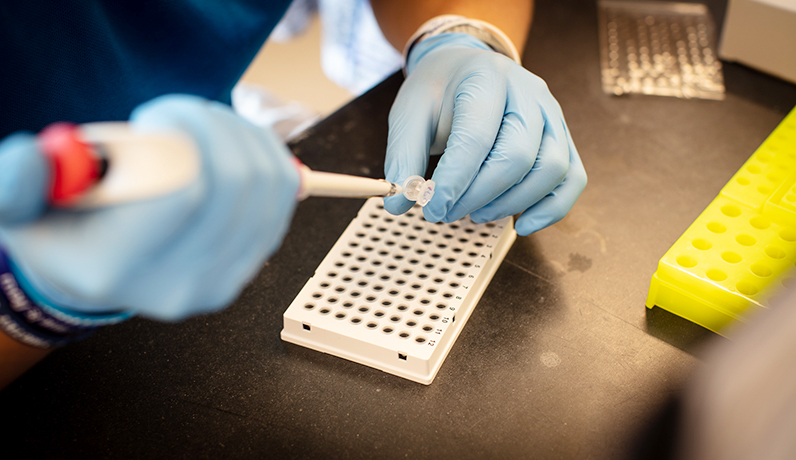 In 2016, Schroeder published a study that looked at GPR30, a G-protein coupled receptor, and its effect on three cancerous and one non-cancerous breast cell line along with three concentrations of atrazine, cyanazine or simazine herbicides. This was the first time Millikin used a technique called real-time polymerase chain reaction (PCR). "This gave me the opportunity to train students in a new avenue of research not previously done at Millikin, yet one that is critical for molecular biology and was an integral part of my published postdoctoral work," said Schroeder.
Since spring 2019 and over this past summer, Schroeder has been working Millikin biology major and Leighty Scholar Stephen DeMartini, a senior from Gillespie, Ill., to study the effects of the herbicides on different stress response mechanisms within the cells. One difference they've been studying is key oxidative stress.
"Oxidative stress is one way our cells respond to differences in the environment," said Schroeder. "Stephen (DeMartini) has been trying to identify which genes might actually be working differently because of that pesticide. He's looked through and identified several genes that are potential targets, and we've started to look at whether there's a difference in the expression of those genes when they are treated with the pesticide versus when we don't."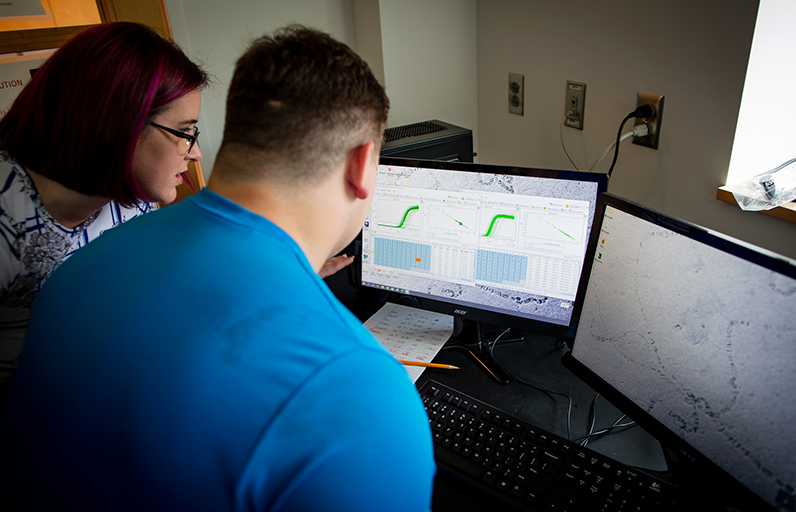 Schroeder says they hope to use real-time PCR to pinpoint the specific targets of action within the cells, and determine if there are differences in these genes between cancerous and non-cancerous cells.
"Real-time PCR is a technique that is used at a lot of larger research institutions, and it gives us a snapshot of what's going on in the cells and we can do tons of replicates," said Schroeder. "This grant is going to help Stephen expand the number of trials he can do."
Since spring 2009, Schroeder has trained and worked with 32 students in her research lab, as well as helped mentor seven students in other labs due to overlap between their research interests. Several have now gone on beyond Millikin to thrive in graduate research or medical school.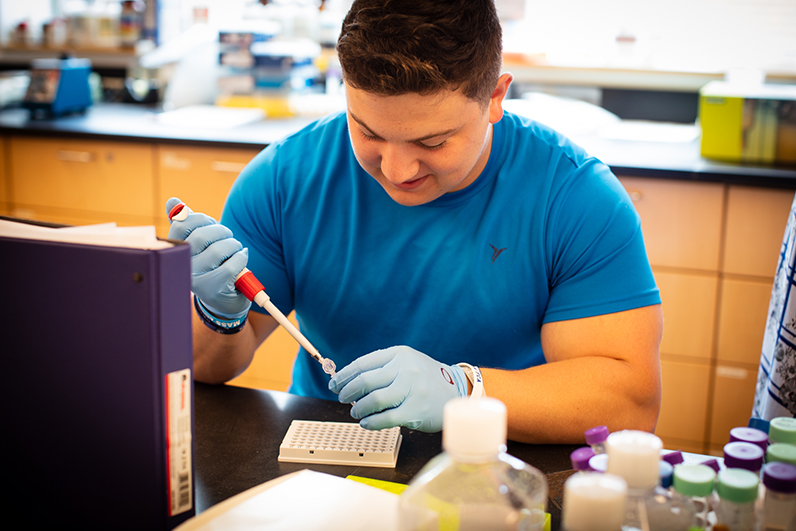 "It's great because our students get several different types of Performance Learning opportunities. At Millikin, we strongly encourage students to do the hands-on work and it gives them a chance to really see if this is what they want to do," said Schroeder. "We also give them chances to present their research off campus as well as on campus at events like Celebrations of Scholarship."
Since 1932, Phi Kappa Phi's award programs have recognized members and students on its chapter campuses for outstanding academic achievement. In addition to the Love of Learning Program, Phi Kappa Phi awards graduate and dissertation fellowships, study abroad grants, and grants for local, national and international literacy initiatives.