Dr. Zimmerman to serve fellowship with Veterans Affairs Office of Health Services Research and Development
Dr. Laura Zimmerman, Class of 2005, and associate professor of biology at Millikin University has been awarded a Science & Technology Policy Fellowship (STPF) from the American Association for the Advancement of Science (AAAS), with a placement at the Veterans Affairs Office of Health Services Research and Development.
Dr. Zimmerman is among 284 highly trained scientists and engineers who will spend a year serving professionally in federal agencies and congressional offices as a Science & Technology Policy Fellow. The U.S. government benefits from the contributions of highly trained scientists and engineers while they learn first-hand about federal policymaking and implementation.
The 2021-22 fellowship class is comprised of 284 fellows sponsored by AAAS, the Moore Foundation and partner societies. Of these, 29 will serve in Congress, one will serve at the Federal Judicial Center, and 254 – including one fellow serving a Roger Revelle Fellowship in Global Stewardship – in the executive branch among 19 federal agencies or departments.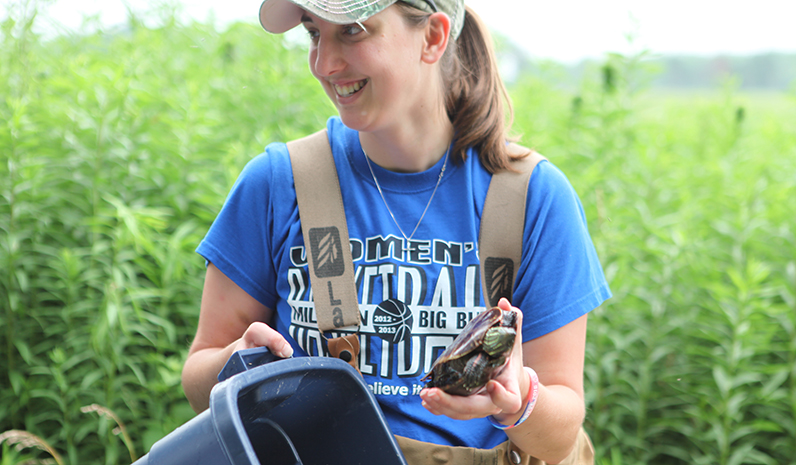 "I was very excited to find out that I received this fellowship. I actually found out about this fellowship over 10 years ago while I was still in grad school," Zimmerman said. "I set it as a goal of mine, and it feels really good to achieve that goal after all of this time."
For nearly half a century, the fellowship program has been in place as part of the American Association for the Advancement of Science mission to advance science and serve society. The program aims to support evidence-based policymaking by leveraging the knowledge and analytical mindset of science and engineering experts, and foster leaders for a strong U.S. science and technology enterprise.
As part of the fellowship, Dr. Zimmerman will help the Veterans Affairs Office of Health Services Research and Development shape research geared toward rural veterans' issues.
"The Veterans Affairs Office of Health Services Research and Development works to identify and evaluate innovative strategies that lead to accessible, high quality, cost-effective care for veterans and the nation," Zimmerman said. "I'm excited to be contributing to such important work and look forward to applying my experience on the Macon County Board of Health. It's an honor to work on improving the lives of our nation's veterans."
Zimmerman added, "My main goal in any new situation is to learn as much as I possibly can. This fellowship will allow me an opportunity to meet so many experts in a wide range of fields and get a firsthand look at how federal policy is made. When I return to Millikin and the Decatur community, there will be numerous ways for me to apply what I have learned."
As a faculty member at Millikin, Dr. Zimmerman's research interests include ecological immunology and aging of the immune system. She uses turtles to examine the effects of the environment, age and other factors on their immune responses.
In May 2019, Zimmerman was elected as chair of the Macon County Democratic Party becoming the first woman to hold the title. With a strong interest in science policy, Zimmerman is also a member of the Macon County Board serving on the Environment, Education, Health and Welfare Committees.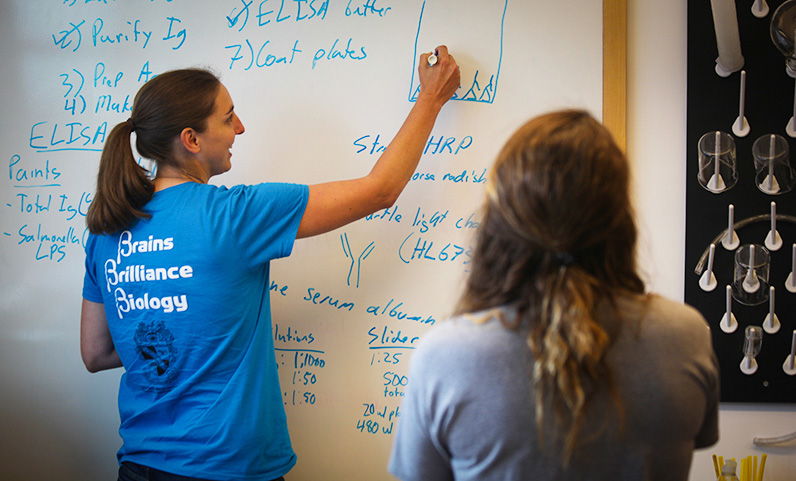 "My mom was a trustee on the village board of my hometown for over 20 years. She always taught me that you can complain, or you can do something about it. She inspired me to get involved in local policy and politics so that I can make a difference," Zimmerman said. "Science policy specifically became an interest of mine because it allows me to use my knowledge and experience as a scientist and apply it to a number of problems that impact our society."
Returning to Millikin University in 2014 as an adjunct faculty member, Zimmerman was named an assistant professor of biology in Aug. 2015 and was recently promoted to associate professor of biology effective Aug. 1, 2021. After earning a Bachelor of Science in Biology (Molecular and Cell) from Millikin in 2005, Zimmerman went on to earn a Master of Science and a Ph.D. in Biology (Immunology) from Illinois State University. While at Millikin, she was a member of the 2005 National Champion Millikin University women's basketball team.
Since the program's inception in 1973, nearly 4,000 AAAS fellows have supported the executive, judicial and legislative branches of the U.S. government. The American Association for the Advancement of Science is the world's largest general scientific society and publisher of the journal Science, as well as Science Translational Medicine; Science Signaling; a digital, open-access journal, Science Advances; Science Immunology; and Science Robotics. AAAS was founded in 1848 and includes more than 250 affiliated societies and academies of science, serving 10 million individuals.