Project Wildbird puts Millikin on bird feeding research map
Since 2005, Millikin University has been making a name for itself with its wild bird feeding research. It all started with a previous study called Project Wildbird, a scientific study of the effects of backyard feeders on birds' health and well-being. Project Wildbird was a three-year, $1 million study on bird seed and bird feeder preferences across the United States and Canada.
Led by Dr. David Horn, professor of biology, and Dr. Travis Wilcoxen, associate professor and chair of the Biology Department, Millikin is also home to a Wild Bird Feeding Research Center in partnership with the Wild Bird Feeding Industry (WBFI) Research Foundation. Beginning in September 2015, Millikin students and faculty have been performing tests of bird feed or bird feeder products. As part of the research process, the teams simultaneously test feed products or feeders to determine how products compared to one another in their ability to attract birds.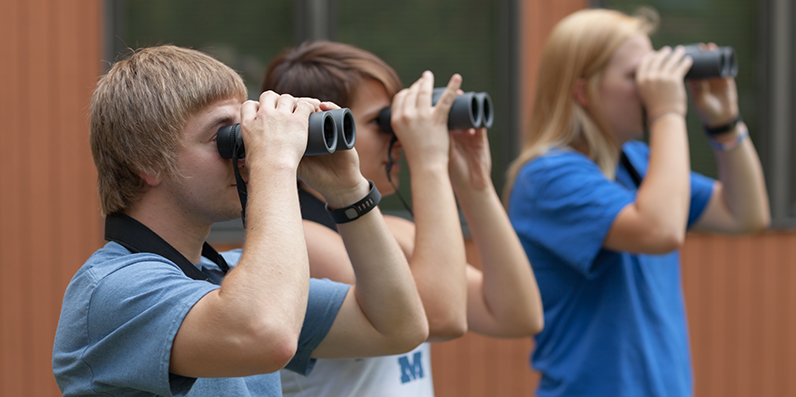 "We now serve as a research and development center for companies in the bird-feeding industry throughout the United States and Canada," Dr. Horn said in a recent interview with the Herald & Review. "They will send us product, primarily seed blends, but also feeders, and we will test those seed blends and feeders before they go to market. Through this research, Millikin is playing a small role in the types of seed blends that you see in retail stores and some of the largest seed packers in the U.S. and Canada have gone through this testing process at Millikin."
The launch of the center was the third large-scale research project that Millikin University has done over the past 10 years with the Wild Bird Feeding Industry. Dr. Horn and Dr. Wilcoxen have gained a national reputation for knowledge about the feeding habits of backyard birds. From April 2011 to June 2014, Dr. Wilcoxen and 12 students studied the health of wild birds who were fed and compared them to birds who had to find their own food.
The study compared three forested sites, where supplemental food was provided, with three forested sites where no supplemental food was provided and observed changes in the individual health of birds.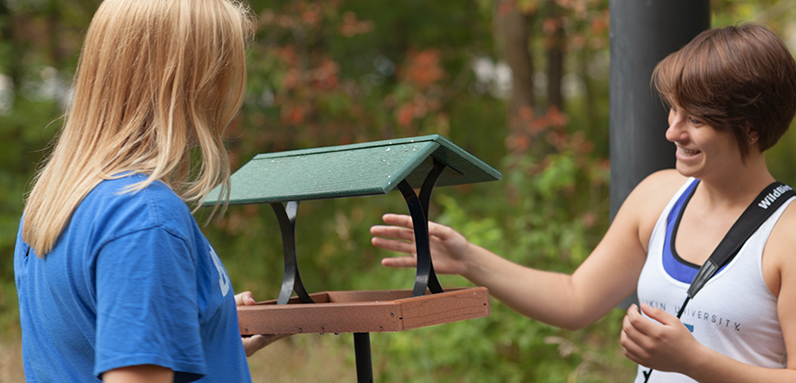 "The students have a passion and a pride in the hours they logged on that," Dr. Wilcoxen said. "They have all presented at conferences and a lot have degrees now in health care."
Results from the research conducted from 2011-2014 determined that the individual health of birds improved with supplemental feeding, including reduced stress and rapid feather growth. Both positive and negative impacts of wild bird feeding were found, and birds that had access to supplemental food were in better physical condition.
Additionally, the negative effects that were found, such as increased disease among birds, may be lessened by hobbyists engaging in safer bird feeding practices.
"Most of the studies in the past had focused on a single species at a time and have oftentimes simply focused on over-winter components," Dr. Wilcoxen said. "They tracked the health metrics related to survival over winter because one of the common beliefs among people in the hobby is that birds need the food more in the winter than in other seasons."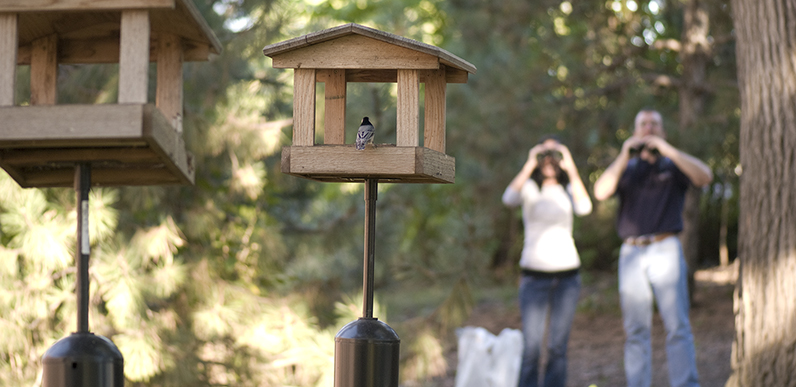 Dr. Horn says more than 50 million Americans feed wild birds.
"People talk about how they just feed birds in the winter, but at this point in time, from a bird-watching perspective, you're going to see the most colorful birds in central Illinois at your feeders right now," said Dr. Horn.
Dr. Horn recommends using black oil sunflower seeds for the widest variety of birds. Tube feeders and platform feeders are most readily accepted by the birds. Avoid mixes with cracked corn if you want to discourage squirrels, but if you like squirrels, then mixes with cracked corn are exactly what you want.
"The results of our studies will benefit the people who feed birds and it will let them know that feeding birds can help the birds," said Dr. Horn. "Based on our previous study, 'Project Wildbird,' one of the reasons that people fed birds is that they wanted to help birds. We can now demonstrate that bird feeding is helping. This solidifies Millikin University's position as a national leader in the study of one of the most popular hobbies in the United States."