Soderberg dedicated to changing the culture of the program
Back in April 2021, Millikin University Director of Athletics Dr. Craig White announced that former Big Blue assistant coach Kramer Soderberg was named Millikin's new Head Men's Basketball Coach.
Soderberg has been on the Millikin staff since 2015 serving as the program's top assistant coach. Now as head coach, Soderberg is dedicated to changing the culture of the program.
"Kramer Soderberg is first and foremost a quality person who will create a culture that molds young men," said White. "He knows the game and can communicate that knowledge to our players. He comes from a basketball family and has basketball in his blood and is committed to providing our student-athletes with a positive experience on and off the court."
Kramer is the son of longtime college coach Brad Soderberg who is currently the director of scouting at the University of Virginia. Brad's most notable stints, both as an assistant and head coach, took place at South Dakota State University, the University of Wisconsin-Madison and Lindenwood University in St. Charles, Mo., where Kramer grew up.
"For the last six years Millikin University and Decatur have become our family's home—we are so grateful to continue to be a part of such wonderful communities," Soderberg said back in April 2021. "Becoming a head coach has been a lifelong dream of mine, and I cannot think of a better place to begin my career than as the leader of the Millikin University basketball program."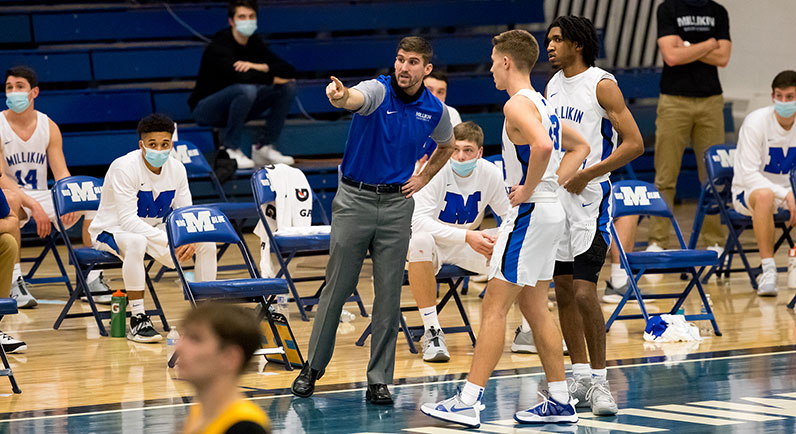 Kramer Soderberg
Millikin is off to a 4-3 start this season as the team gets ready for College Conference of Illinois & Wisconsin (CCIW) play.
"Any time you take over a program you have to start with a foundation, you have to start with the culture you are trying to build and that was my main focus, and we've really taken steps in that direction," Soderberg said in an interview with WAND-TV. "Culture starts first and that's what I'm most pleased with."
Influenced by his father's profession, Kramer grew up around the game of basketball working tirelessly to excel at the game which translated to his successful high school career at St. Charles West. Kramer led the Warriors to four conference titles, two district championships and was named Gatorade Player of the Year in 2008. He had arguably his best year as a senior, averaging 24.6 points and 4.2 assists per game while also shooting 46 percent from three-point range. Kramer's jersey was retired after helping the team to a 100-18 record in his four years with the program and is recognized as one of the best players ever to suit up for the squad.
After graduating, Kramer would commit to the University of Miami-Ohio where he would play two seasons before transferring to Lindenwood University, where he had the opportunity to play under his father.
In his two seasons at Lindenwood, Kramer averaged 17 points a game and started in all 66 games he played in. He was named first-team All-HAAC in 2010-11, the HAAC Newcomer of the Year and was a member of the NAIA All-American Third-Team. After his senior season, he was named a Capital One Division II Academic All-American. In his two years at Lindenwood, Soderberg scored 1,148 points, ending his career seventh on the all-time leading scorers list. In 2017, Soderberg was inducted into the Lindenwood Athletic Hall of Fame.
Soderberg graduated from Lindenwood University in 2012 with his bachelor's degree in mass communication and earned his master's in mass communication in 2014.