Big Blue wins CCIW Tournament
The Millikin University baseball team defeated North Central College 4-3 on May 22 to win the College Conference of Illinois & Wisconsin (CCIW) Tournament and earn the school's first trip to the NCAA Tournament. Millikin had already been selected as an NCAA Regional host so the Big Blue will get to stay home for the NCAA Tournament.
Millikin and North Central faced off at Wheaton College's field in Carol Stream, Ill., on May 22 with the Cardinals needing to beat the Big Blue twice to win the tournament. The Cardinals won the first game 6-5, which forced the playing of the necessary second game that went to Millikin 4-3.
Millikin was among 48 teams selected to the 2021 NCAA Division III Baseball Tournament announced on May 24.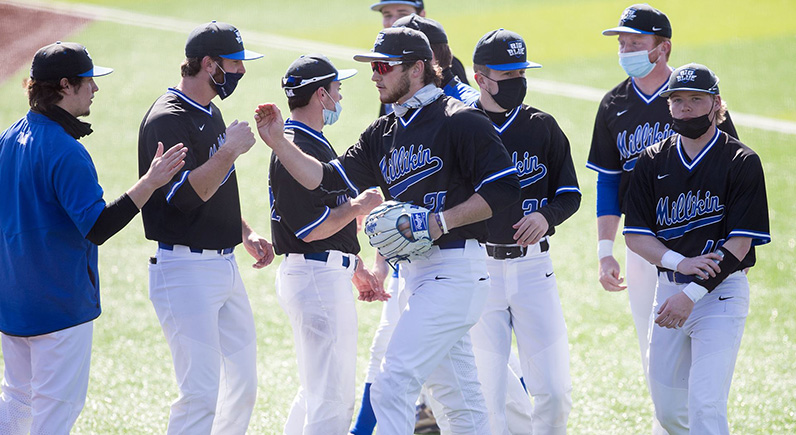 Millikin was selected as an NCAA Regional site and the Workman Family Baseball Field will play host to Washington University-St. Louis, Illinois College, Webster University, Denison, Transylvania and the Big Blue.
Millikin (31-14) will face Denison (23-11), the automatic qualifier from the North Coast Athletic Conference on Thursday, May 27, at 6 p.m. Thursday's 11 a.m. game will feature at-large qualifier Washington University-St. Louis (28-3) against Illinois College (21-17), representing the Midwest Conference. Webster University (35-6), out of the St. Louis Intercollegiate Athletic Conference, will face Transylvania University (31-10), the automatic qualifier from the Heartland Collegiate Athletic Conference.
All games will be open to the public with details on ticket prices and sales to be announced soon.