"We are all banding together"
During a typical workday, Alyssa Voegele serves as a certified athletic trainer for Decatur Memorial Hospital's (DMH) Sports Medicine program, providing services for the Sullivan-Okaw Valley High School District.
But with the recent COVID-19 pandemic putting a halt to high school athletics across the state of Illinois, many athletic trainers are now going above and beyond to help on the frontlines of the outbreak in central Illinois. Several of the trainers are Millikin University graduates, including Voegele, who graduated in 2018.
In addition to being a board-certified athletic trainer, Voegele is also dual trained as a safety monitor and patient transporter. She works inside the Emergency Care Center of Decatur Memorial Hospital (Decatur, Ill.) making sure that proper guidelines are being followed to ensure the safety of patients and staff members.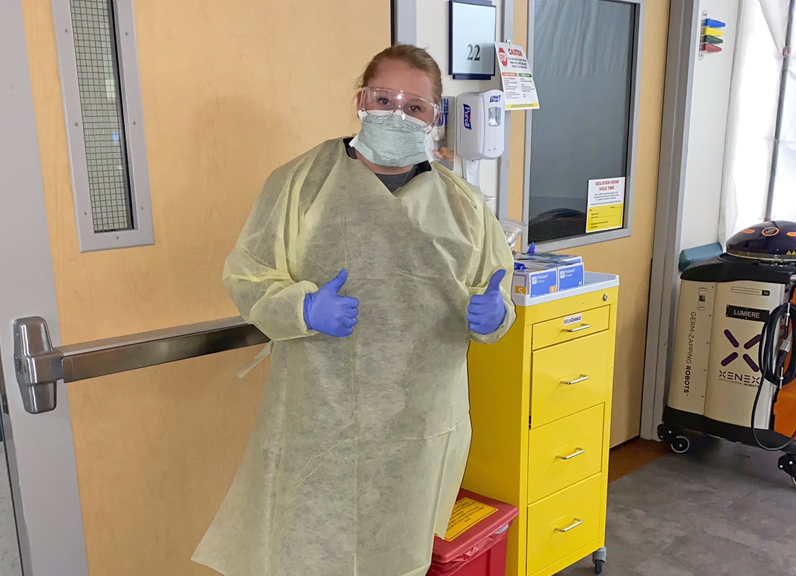 Alyssa Voegele '18
"My job is to transport either COVID-positive patients or patients under investigation to and from our respiratory clinic, or what we call our ER-2," Voegele said. "We put the patients in a screening tent and if they show any respiratory issues they go to ER-2 for further assessment. If the patient is deemed to be admitted to a COVID unit then I, as a transporter, will transport that patient from the ER to our COVID unit."
As distressing as the pandemic has been around the world, Voegele says her experience on the frontline has been unique. "I'm proud to be part of something, knowing that I'm helping anyway I can. It's nice to know that I'm making a difference," she said.
Among other Millikin athletic training graduates helping on the front lines include DMH athletic trainers Michael Guddendorf '18 and Paige Willenborg '16.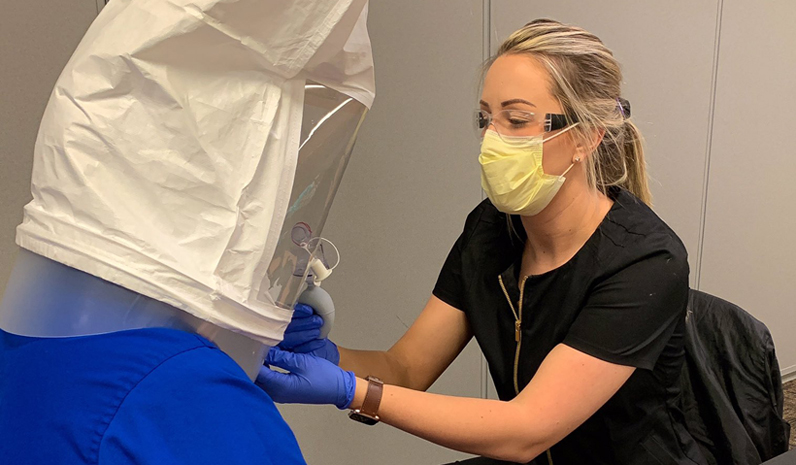 Paige Willenborg '16
Willenborg has been providing fit testing services to hospital colleagues who are being fitted for N95 masks so clinicians can wear proper personal protective equipment (PPE) for appropriate patient care.
In her new role, Voegele started doing patient screening but eventually got involved working exclusively in the ER. She says one of the most important parts of her job is patient interaction.
"With the patients we are transporting, we still talk with them about their lives and we try to keep them comfortable and happy," Voegele said.
Voegele noted, "It's been a frustrating time, but we are all banding together. The community support has been great – there have been many times where people have donated food to the ER while we're working, as well as clothed masks. Everything has come together nicely."