Millikin Assistant Professor of Political Science receives prestigious AAUW Award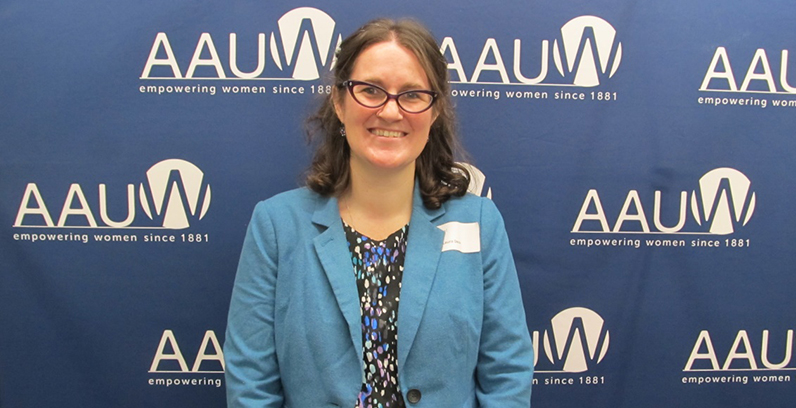 The American Association of University Women (AAUW) has awarded a 2016-17 AAUW American Fellowship to Dr. Laura A. Dean, assistant professor of political science and the Williams Professor in Global Studies at Millikin University.
American Fellowships, AAUW's oldest and largest funding program, date back to 1888, making them one of the oldest and most prestigious fellowships in the world exclusively for women. AAUW American Fellowships support women scholars who are completing doctoral dissertations, conducting postdoctoral research, or finishing research for publication.
The AAUW Fellowship will support Dr. Dean in May and June 2017 as she works on her book manuscript entitled "Beyond the Natasha Effect: Determinants of Human Trafficking Policy Variation in the Post-Soviet Region." The book examines how human trafficking policies diffused in the post-Soviet region, a significant source region for female victims of sex trafficking dubbed Natashas. Dr. Dean examines why some countries adopted policies while others did not and why some countries are more effective at implementing trafficking policy. With data from 15 months of research in Russia, Latvia and Ukraine, and statistical models from 2003-2012 of all 15 countries of the former Soviet Union, Dr. Dean examines the situation with policy adoption and implementation.
"As an AAUW American Fellow Short-Term Research Publication Grantee, I am honored to receive this award and join the ranks of many prestigious alumni," Dr. Dean said. "This award means a lot to me because it not only recognizes the importance of my research but also the activism work I have done advocating for women and girls around the world."
Dr. Laura Dean has been a researcher and advocate of human trafficking policy for over a decade, has given numerous lectures on this topic around the world and consulted for the BBC World Service and Dutch Radio. In 2015, she was appointed to the Governor's Office for Children and Families' Commercial Sexual Exploitation of Children Task Force in Georgia. She received her Ph.D. in political science from the University of Kansas in 2014. She was a Title VIII Summer Research Scholar at the Kennan Institute, part of the Woodrow Wilson International Center for Scholars, in the summer of 2016 and came to Millikin University in August 2016.
"We have a long and proud history of supporting exceptional women scholars through our American Fellowship program. This year's group includes women who are leaders in their institutions and their fields working on issues related to sexual violence, race and other topics of importance to women and girls. They aren't just brilliant, they are agents of change," said Gloria Blackwell, AAUW vice president of fellowships, grants, and global programs.
For the 2016-17 academic year, AAUW awarded a total of $3.7 million to more than 230 scholars, research projects and programs promoting education and equity for women and girls through six fellowships and grants programs. AAUW is one of the world's leading supporters of graduate women's education, having awarded more than $100 million in fellowships, grants and awards to 12,000 women from more than 140 countries since 1888.
The American Association of University Women empowers women and girls through advocacy, education, philanthropy and research. The nonpartisan, nonprofit organization has more than 170,000 members and supporters across the United States, as well as 1,000 local branches and more than 800 college and university partners. Since AAUW's founding in 1881, its members have examined and taken positions on the fundamental issues of the day — educational, social, economic and political. For more information, visit aauw.org.