Students earn ADDY Awards for third consecutive year
Millikin University Arts Technology and Digital Media Marketing students Kade Nylen, Zach Cook, Elsa Rotramel, Taylor Isaia, Conner Cloney and Anne Longman each won 2020 regional-level American Advertising Awards (ADDY) from the American Advertising Federation this past February. Their wins mark the third consecutive year that Millikin students have won ADDY awards for their creative excellence.
The American Advertising Awards is one of the industry's largest creative competitions, attracting nearly 35,000 professional and student entries each year through local club competitions. The mission of the American Advertising Awards is to recognize and reward the spirit of creative excellence in advertising.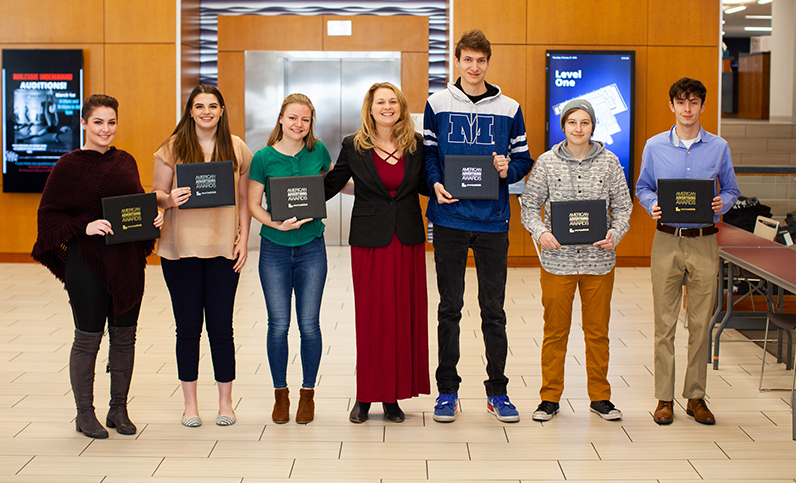 The Millikin students submitted their work in the central Illinois regional competition based in Peoria, Ill. Millikin received three Gold ADDY awards along with three Silver ADDYs and a Judge's Choice Award. A Gold ADDY recognizes the highest level of creative excellence. Entries that are also considered outstanding and worthy of recognition receive a Silver ADDY. This was the first year that Millikin submitted video entries for the competition.
Kade Nylen, a sophomore arts technology major from Naperville, Ill., won a Gold ADDY and a Judge's Choice Award for a stamp design series titled "LGBT Stamps."
Zach Cook, an arts technology major from Taylorville, Ill., earned a Gold ADDY in the category of Film, Video & Sound: Television Advertising for his video titled "The Countryside."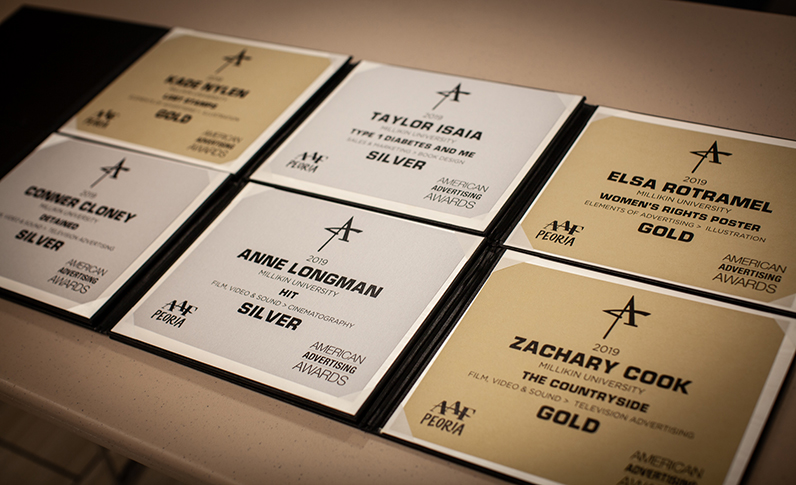 For the second consecutive year, Elsa Rotramel, a junior arts technology major from Decatur, Ill., received a Gold ADDY for her "Women's Rights Poster" illustration.
For the category of Sales & Marketing, Taylor Isaia, a senior digital media marketing major from Mapleton, Ill., earned a Silver ADDY for an informational piece designed for hospitals titled "Type 1 Diabetes and Me."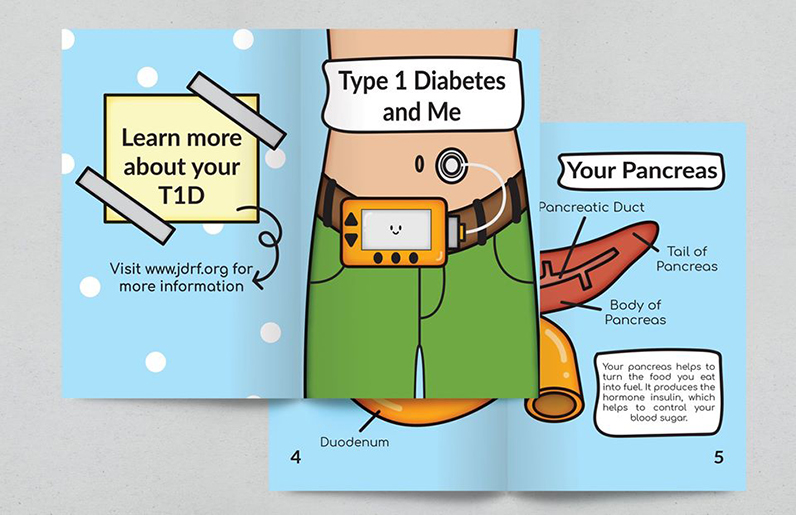 ("Type 1 Diabetes and Me" by Taylor Isaia)
Arts Technology major Conner Cloney, of Decatur, earned a Silver ADDY for his video titled "Detained."
Anne Longman, a sophomore arts technology major from Park Ridge, Ill., earned a Silver ADDY in the category of Film, Video & Sound: Cinematography for her video "HIT."
"This is our third year entering in the American Advertising Awards and each year we have a few more entries. At this point we've won a total of 16 awards over three years," said Jessa Wilcoxen, associate professor and chair of the Arts Technology and Administration Department at Millikin. "This was our best year yet and that's exciting because it shows the involvement of our students in the award process, and also the professionals acknowledging our work."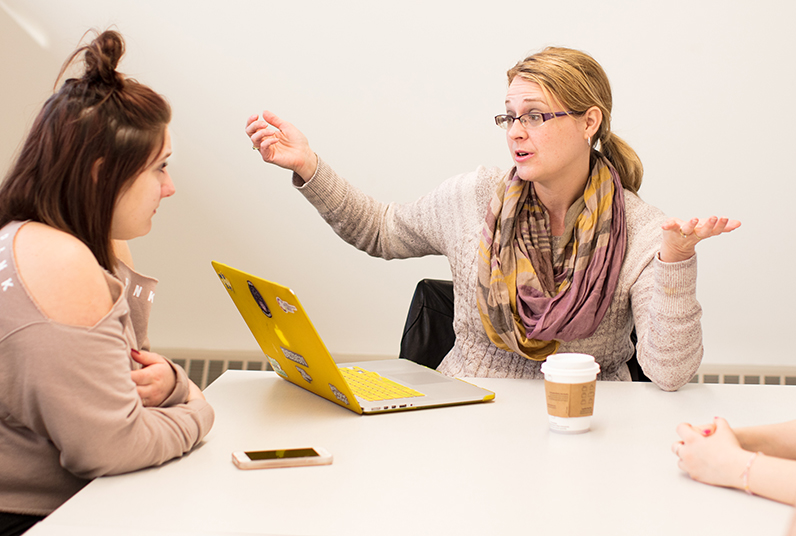 Works submitted for ADDY Awards are judged first at regional competitions and are scored by outside judges on a rubric. Because they received Gold ADDY Awards, the work of Kade Nylen, Zach Cook and Elsa Rotramel automatically moves on to the district competition where they will compete among students from Illinois, Indiana and Michigan. District ADDY winners compete in the national stage of the American Advertising Awards.
After transferring to Millikin, Elsa Rotramel says her skills as a designer have flourished. "I know so much more now than I ever did before. It's exciting to understand all the different design programs and how to work in a professional setting."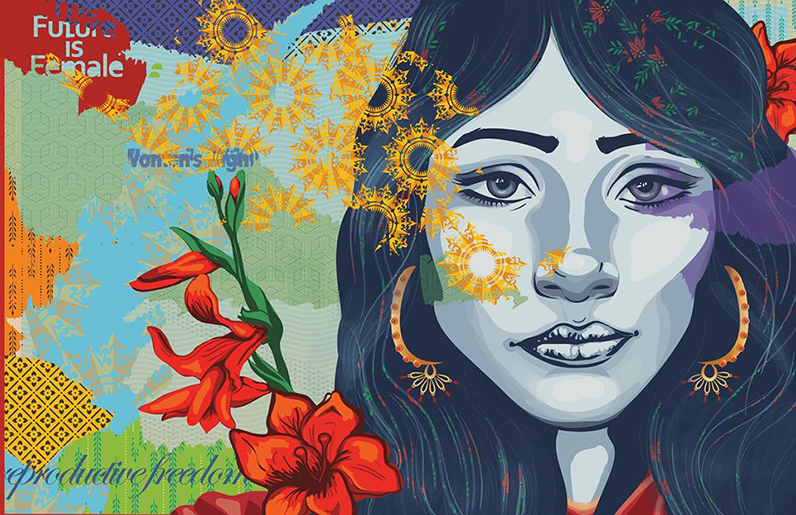 ("Women's Rights Poster" by Elsa Rotramel)
For Taylor Isaia, she was surprised by the impact of her design. "As someone who wants to go into health care marketing, I never thought I would design something that was so impactful for children," she said.
Wilcoxen added, "I think our program has started to showcase the quality of the students we have at Millikin. Our students are detailed-driven. They do wonderful work for clients in the classroom as well as creative artistic pieces and I think the outside world is seeing that."
Students in Millikin University's Arts Technology and Administration Department learn the creative skills and technology to make digital media or perform in one or more of the arts disciplines. Students also learn business tools such as management, marketing and entrepreneurship in preparing to become a creative partner or administrator in an arts business.