Big Blue baseball program to have new home by Spring 2019
Millikin University has announced plans to build an on-campus baseball field which will become the new home to the Big Blue baseball program in Spring 2019.
The new facility was made possible by a generous $4 million contribution from Millikin University Emeritus Trustee Gary Workman '65 and his family, as well as $500,000 gifts from Millikin Emeriti Trustees Mark and Bob Staley, and Millikin Trustee Tom Harrington '70 and his wife, Cordia.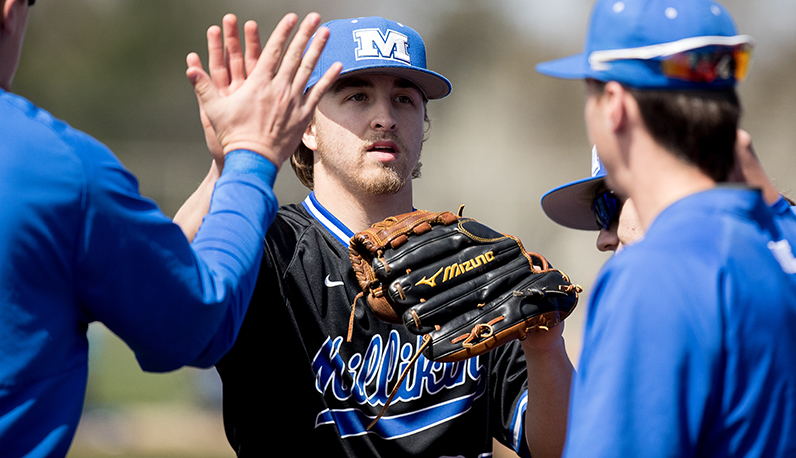 "The Millikin community is absolutely thrilled by these gifts," said Millikin University President Dr. Patrick White. "The generosity from these three families marks a transformative stage for Millikin. Their enormous loyalty and confidence in the vision we have for growth at Millikin and their positive leadership are great blessings to the University, and offer the acceleration of purpose and energy which will further enhance the positive momentum at Millikin."
The new baseball facility will be located south of the Decatur Indoor Sports Center (DISC) with plans to include an all-artificial turf field, stadium seating (including some seat back chairs), clubhouse, lights, press box, concessions and batting cages. Millikin University will be the only school in the College Conference of Illinois and Wisconsin (CCIW) with an on-campus baseball-only facility with a full turf field and a clubhouse.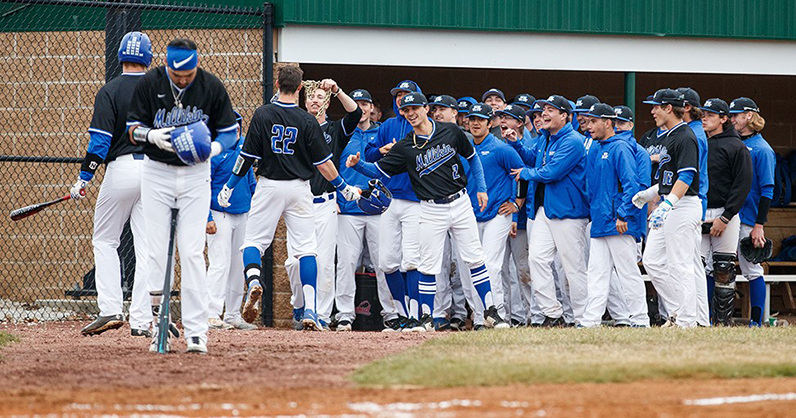 "Baseball is a great sport and due to do the kindness of three great Millikin families we will be playing this sport on Millikin's campus," said Millikin Director of Athletics Dr. Craig White. "I am humbled by these kind gifts and I am excited for all the joy it will bring to the future baseball teams at Millikin University."
Millikin Head Baseball Coach Brandon Townsend added, "This is an unbelievable moment for the program. Being on campus with a facility of this caliber takes us to another level. I want to thank all of the baseball alums that have helped build the program to this point. I send special recognition to all of the donors, especially the Workman family, for making this a reality. This is a very exciting time for Millikin baseball."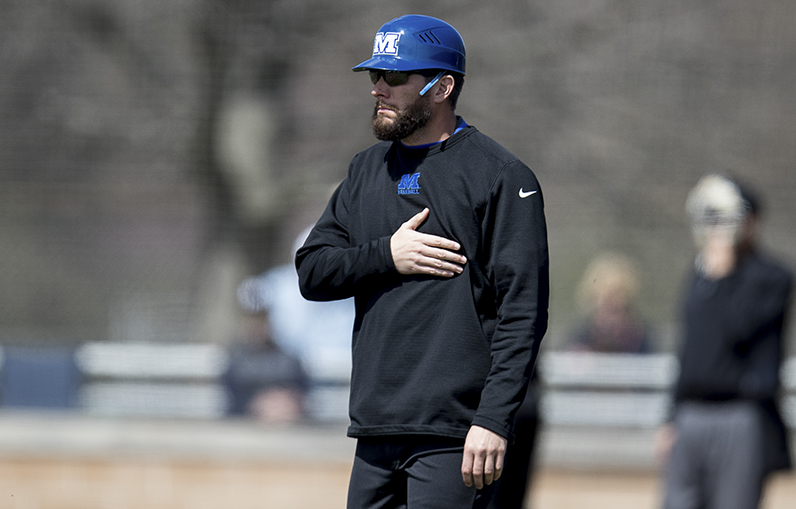 Decatur, Ill., native Gary Workman is a retired senior internal auditor for United Parcel Service (UPS). He began working with UPS as a part-time package handler while he was still a Millikin student. After graduating from Millikin in 1965, he began working for the company on a full-time basis, eventually becoming a senior internal auditor. Workman retired from UPS in 1995 after spending 33 years in a variety of jobs in industrial engineering, human resources, accounting, and auditing.
In addition to the family's recent generous commitment, the Workman family made a $2 million contribution to Millikin's new softball field, the Workman Family Softball Field, which opened in March 2017. Workman also made a lead gift in support of the 2014 addition of artificial turf and other significant enhancements to Frank M. Lindsay Field through the "Transform MU" capital campaign.
"Judy and I are pleased to be able to help fund the planned new baseball field on the campus of Millikin University," said Workman. "We believe that the addition of on-campus athletic facilities aids in the recruitment of student-athletes and also increases the enjoyment of campus life for all students. We were pleased with how well the new softball field turned out and look forward to construction of the baseball field."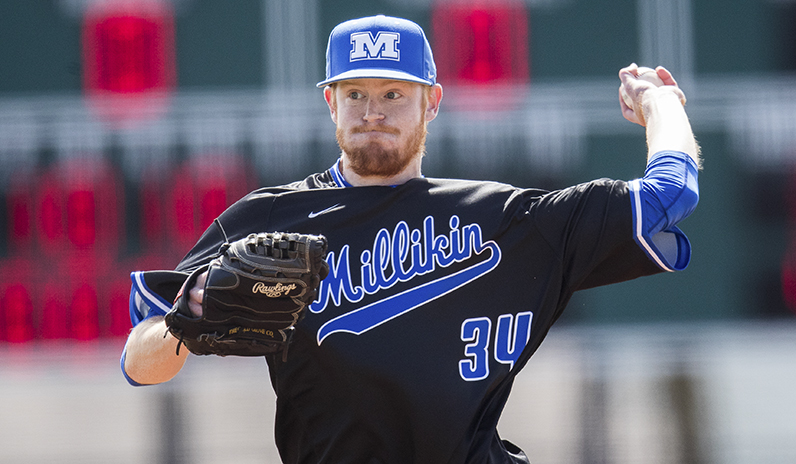 Tom Harrington was born, raised, and educated in Decatur. After graduating from Millikin in 1970, Harrington started his working career with a local public accounting firm in Decatur. Later, Harrington moved to south central Illinois at first as an employee of a regional CPA firm and, in 1976, he was promoted to partner. In 1982, Harrington established Thomas Harrington & Company, a regional accounting firm serving clients from St. Louis to Chicago, until its eventual sale in December 1997.
After his firm's sale in 1998, Tom, in partnership with his wife Cordia, established a wholesale bakery manufacturing company originally located in Dickson, Tenn. Tennessee Bun Company is one of the most automated bakeries in the world, serving over 35 million dozen buns annually. Harrington serves as chief operating officer and chief financial officer and is involved in the strategic leadership of the company.
"Millikin means a lot to me," said Harrington. "My time at MU not only educated me but my experiences helped prepare me for life. Since I love baseball, and a baseball field needs to be returned to our campus, it seems logical to be a part of it."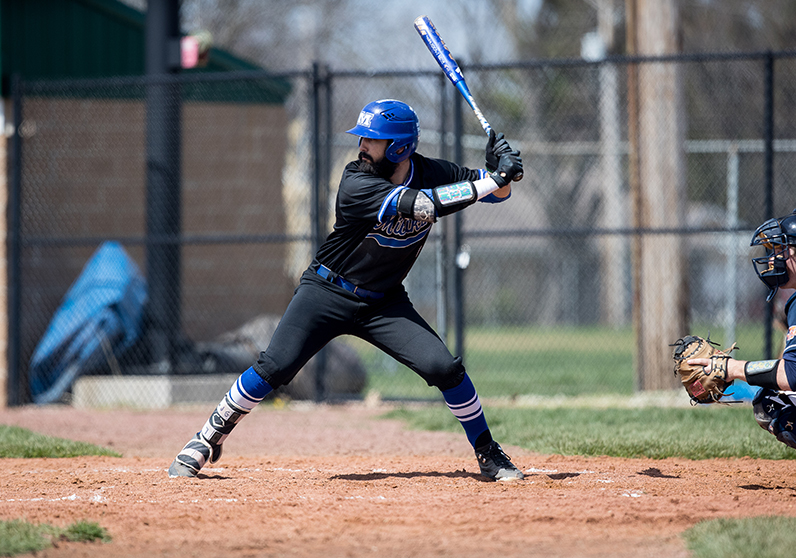 The Staley family's long-standing tradition of generosity to Millikin University stretches back more than 40 years. Staley family members have been among the university's most faithful and generous supporters, providing significant individual and foundation gifts to both the university's "Design for Leadership" and "Advancing the Vision: Millikin's Second Century" capital campaigns as well as annual operating funds. Millikin's Staley Library, completed in 1978, stands as a living tribute to the generosity of three generations of Staley family members beginning with A.E. Staley, Sr.
"It was indeed great news when I heard that the baseball field was going to become a reality," said Mark Staley. "On behalf of the Staley Family, we are thrilled that we could be an integral part of bringing baseball to the Millikin campus. It was long overdue, and now that Millikin Baseball will finally be playing on campus, we feel it will enhance campus life and help bring more quality student-athletes to Millikin. I would like to thank the Harringtons and especially the Workmans; whose extremely generous donations made this facility become a reality for Millikin. Again we are thrilled to be a part of this new athletic facility, and look forward to seeing baseball played on campus in the near future."
The Millikin baseball team currently plays its home games off campus at Sunnyside Park's Lou Renner Field. The Millikin baseball program has been in existence since 1903 with an overall record prior to the start of this year of 1,060-1,306-23 (.444) with eight CCIW titles.
In his fourth season at Millikin in 2017, Brandon Townsend led the Big Blue to a 22-18 overall record and an 11-13 record in conference play. The 22 overall wins and the 11 conference victories were the most by a Big Blue team since 2004. Under Townsend's guidance, the Big Blue baseball program has excelled in the classroom. In 2014-15 and 2015-16, the baseball team had the highest grade point average of any male sports team at Millikin. Eighteen baseball players earned CCIW Academic All-Conference honors in 2017.