Greater Decatur Youth Band celebrates a summer of musical experiences
For over 25 years, the Greater Decatur Youth Band, in partnership with the Decatur Park District, has been an important component of music education in the Decatur (Ill.) community, and the program is coming off one of its most successful summers to date in 2019.
The Youth Band, under the direction of Dr. Neal Smith, coordinator of instrumental music education at Millikin University, gives young musicians opportunities to have fun and rewarding musical experiences over the summer months, and to build on the musical opportunities they have during the school year.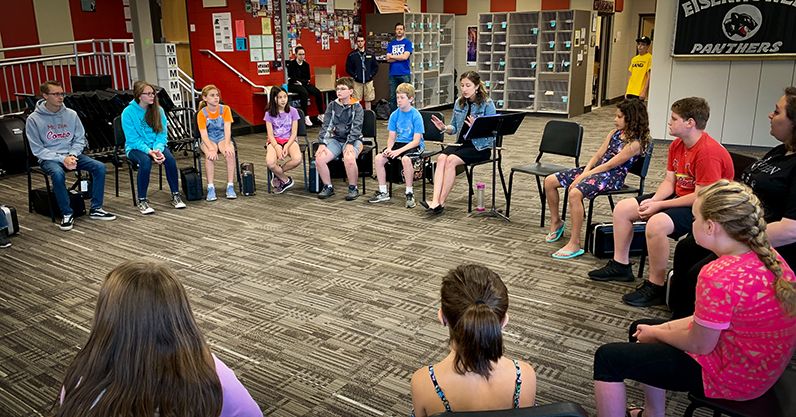 This year, 80 students participated in the Youth Band, including 20 who took part in the Band's Jump Start program. The Jump Start program is designed for students who want to start learning to play an instrument in the summer. Millikin teachers provide individualized instruction using musical activities designed to help students understand their instrument and to develop their musicianship.
The Jump Start program was directed by Alexandra Rodriguez, adjunct faculty member at Millikin and music director at St. Teresa High School in Decatur.
"Alexandra and I were very impressed by what the students were able to accomplish over two months and we're looking forward to seeing this program develop in the future," said Neal Smith. "We also had nine area high school students who served as interns and two assistant conductors coaching students, running sectionals, playing along, and many of them had a chance to conduct the band in performance."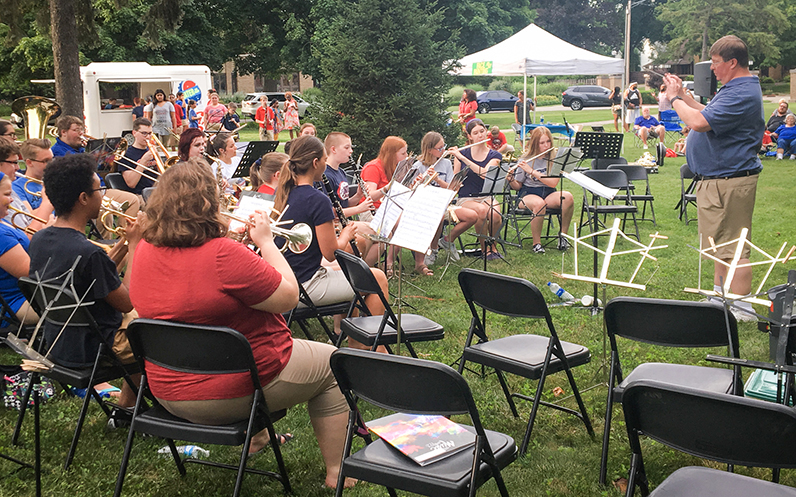 The Youth Band held three concerts over the summer: July 10 at the James Millikin Homestead; July 17 at the Miller Quad on Millikin's campus along with the Decatur Municipal Band; and July 24 at the Pavilion at Fairview Park in Decatur.
The band finished its season by performing in the Decatur Celebration parade on Aug. 3. "It's always fun to watch these young students as they respond to the great reception they get from the crowd," said Smith.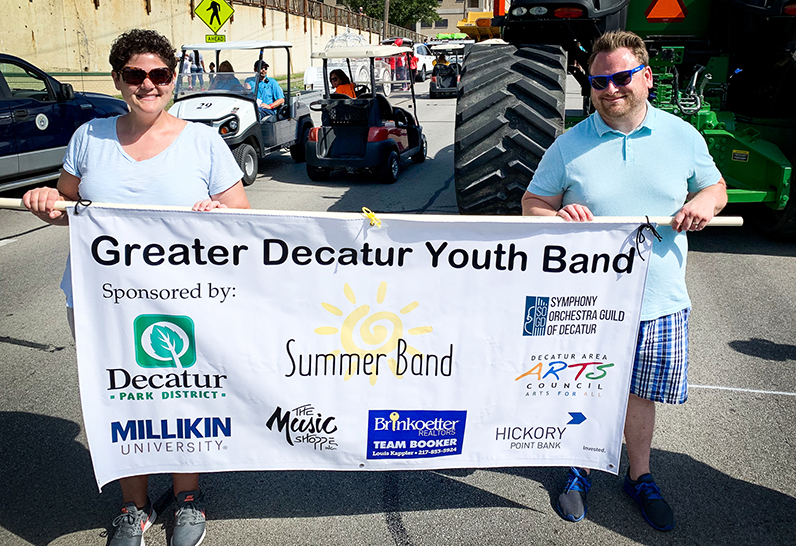 The Youth Band program includes three bands – beginning (Jump Start), intermediate and advanced.
"We want to keep them playing in the summer," said Smith. "For a lot of the kids, this is a much bigger group to perform with and they get to do a lot more. They're also able to get more performing experiences."
Smith notes that the program was a great opportunity for the interns, especially for those who expressed interest in becoming music teachers. Among those was Millikin student Riley McDorman, a senior music education major from Lisle, Ill.
For McDorman, he helped organize the concerts, picked the music, rehearsed the music and had a chance to conduct all three bands. McDorman, as he describes, was "fully immersed in the music teaching world."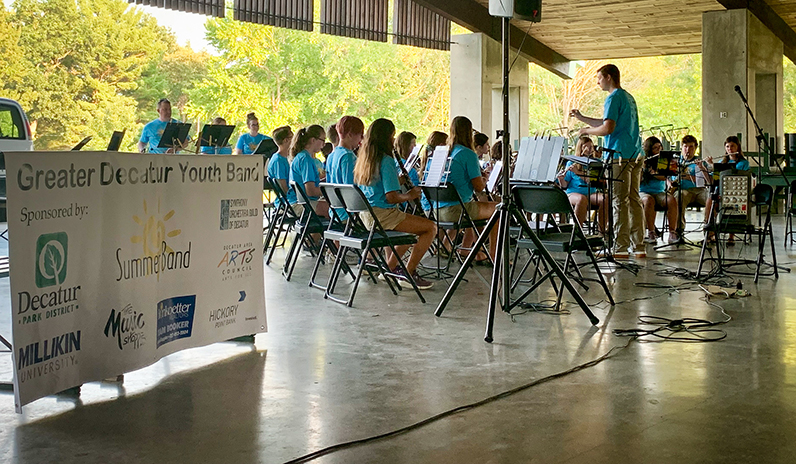 McDorman hopes to become a band director as well as teach and conduct music at the middle or high school level.
"This was my second year with the program. When I first started, and I was in front of the band, it was that moment that I knew music education was the field I wanted to go into – it was really fulfilling," said McDorman. "This opportunity has shown me that I'm on the right path."
The Youth Band is under the administration of the Decatur Park District which works with Millikin University's School of Music to provide equipment and a space for practicing.
"We want them to learn some good basic musical skills, but more than that, we want them to have fun in musical context here at Millikin, and associate Millikin with making music and having fun while they're making music," said Smith.