Dr. Jeff Butts '92 one of four finalists for National Superintendent of the Year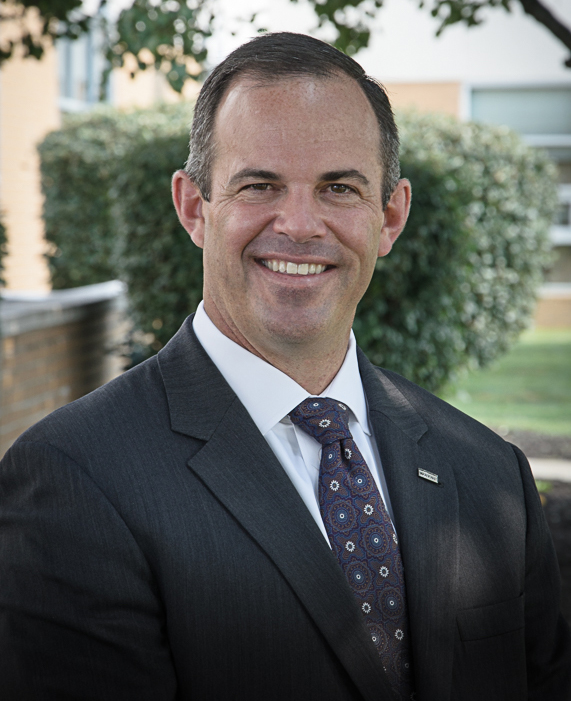 Millikin University alumnus Dr. Jeff Butts, Class of 1992 and superintendent of the Metropolitan School District (MSD) of Wayne Township in Indianapolis, Ind., is one of four finalists for the 2019 National Superintendent of the Year Award.
The American Association of School Administrators (AASA) released the names of the finalists for the prestigious award Dec. 17. The organization will name the National Superintendent of the Year at its National Conference on Education Feb. 14.
Dr. Butts will travel to Washington, D.C. for final interviews in the competition in January. He and the other finalists will also be part of a news conference at the National Press Club. The three other finalists are superintendents in school districts in Texas, Georgia and Idaho.
"I am extremely humbled to be chosen as a finalist for this award," said Dr. Butts. "This is a reflection of the support I receive every day from our amazing staff and community. I will be very proud to represent the MSD of Wayne Township and Indiana on this national stage, and to share the story of our many successes."
Earlier this year, the Indiana Association of Public School Superintendents named Dr. Butts its 2019 Indiana Superintendent of the Year. He then became a candidate for the AASA's National Superintendent of the Year award.
Dr. Butts earned a Bachelor of Science in Physical Education from Millikin University and went on to earn a Master of Science from Illinois State University and his Ph.D. from Purdue University. He began his career as a public educator teaching at Prairie Central High School (Fairbury, Ill.) in 1992.
Dr. Butts is a fourth generation Standardbred horse trainer, and although he grew up in Bloomington, Ill., the majority of his family was from the Decatur, Ill., area. His grandfather and two great uncles all have farms in Decatur where they raised horses near the Macon County Fairgrounds. Much of his family benefited from the educational resources at Millikin University as his grandfather and father are both Big Blue graduates.
"When I was growing up as a child, my Dad would bring me to Millikin football games – I grew up loving the Big Blue," said Dr. Butts. "When it came time to make a decision regarding college, Millikin was the only school I applied to."
While a student at Millikin, Dr. Butts was a member of the football and track & field programs. One of the greatest benefits he had while attending Millikin was his one-on-one interactions with faculty. His freshmen advisor was Lori Kerans '85, former Head Coach of the Big Blue Women's Basketball program and current director for alumni engagement at Millikin.
"The faculty knew me and there was the right amount of accountability for me at Millikin University," said Dr. Butts. "Lori (Kerans) made sure that we all felt comfortable on campus and staying in step with what we needed to be doing to be successful. The intentionality that Millikin has to ensure students have the support they need is indicative of the culture that exists at Millikin."
Dr. Butts says the relationships Millikin has with surrounding school districts to provide students with student-teaching opportunities has made a difference. "To be able to experience different things, whether I was at a magnet school or a middle school in Decatur, those were all great opportunities for me to experience different demographics of students, different grade levels and be with some phenomenal practitioners who could help me along the way," he said.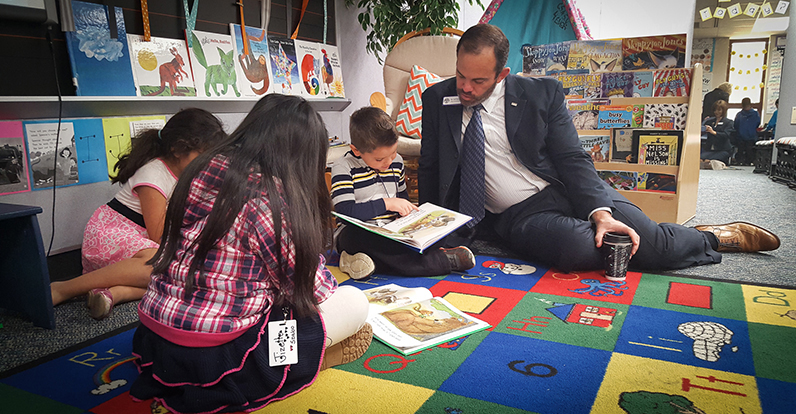 Dr. Butts became the fifth superintendent of the MSD of Wayne Township on the west side of Indianapolis Jan. 1, 2011. Prior to becoming superintendent, he served as assistant superintendent in MSD Wayne. Before he came to MSD Wayne, Dr. Butts served as a middle school principal in the Tippecanoe School Corporation in Lafayette, Ind. He has also held administrative or teaching positions in the Delphi Community School Corporation, along with school districts in Illinois.
Dr. Butts' community and civic involvement complements his numerous achievements within the MSD of Wayne Township. During his time in MSD Wayne, Dr. Butts has facilitated strategies that resulted in a 34 percent increase in the district's graduation rate. He has also overseen the development and opening of Indiana's first public virtual high school, Achieve Virtual Education Academy. He has collaborated with area colleges to provide more than 27,000 dual college credits each year for the district's students. In addition, Dr. Butts led the district to the successful passage of a $66.5 million operating referendum designed to continue student support and services.
"I think educators, by their very nature, are servant leaders who are trying to make a difference in this world and trying to make a difference by helping young people and providing them avenues to success," said Dr. Butts. "After being named Indiana Superintendent of the Year, I was humbled that my peers recognized the work I was doing. You don't expect to be acknowledged in this way when your focus is on doing what's right for children."