Millikin alum becomes first Illinois National Guard Military Judge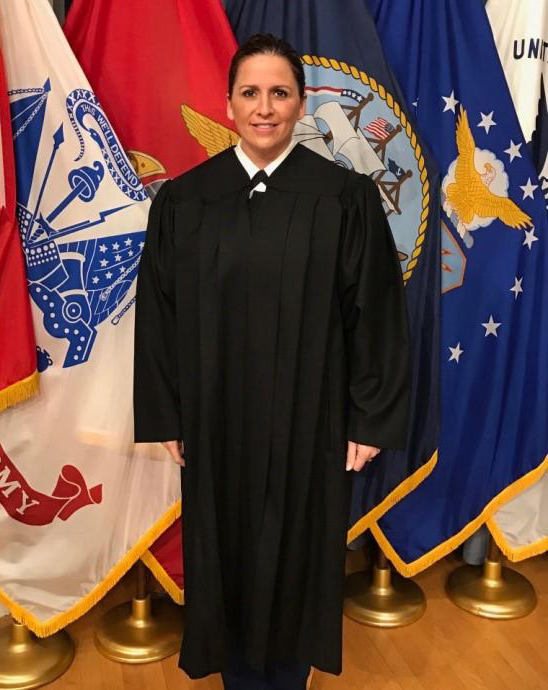 ​Millikin University alumna Sarah Smith-Raschen '98 recently graduated from the 60th Military Judge Course at the Judge Advocate General's Legal Center and School in Charlottesville, Va. Smith-Raschen is the Illinois National Guard's first Military Judge under the Illinois Code of Military Justice.
"I honestly could never have imagined that 22 years ago, when I enlisted in the army as a mechanic, that I would be selected for this position," Smith said in a recent interview with the Madison-St. Clair Record.
Smith-Raschen serves as an Associate Judge in the State of Illinois judicial system and presides in the Family Division in Madison County. She is a member of the Illinois Judges Association and has been nominated to serve on its Board of Directors for a three-year term.
As a military judge, she will preside over courts-martial of members of the Illinois Army National Guard who are charged with offenses under the Illinois Code of Military Justice (ICMJ), which parallels the Uniform Code of Military Justice. Certain types of court-martials can only be adjudicated by a military judge who is separate from the military command structure and therefore, cannot be influenced in their decisions.
The Edwardsville, Ill., native graduated from Millikin University in 1998 majoring in political science and made arrangements with the service to attend the Regent University School of Law.
Judge Smith has earned multiple service awards, including the Bronze Star Medal; Meritorious Service Medal with one oak leaf cluster; the Kosovo Campaign Medal, the Afghanistan Campaign Medal with two campaign stars; and the Joint Meritorious Unit Award; among others.
In addition to her courtroom duties and her military duties, Smith is an active veterans' rights advocate in her local community. She is a member of the National Guard Association, the National Guard Association of Illinois, and the local American Legion. Most recently in April 2017 she was elected Senior Vice Commander of VFW Post #5691.
"Judge Smith is a credit to the legal system and the judiciary and the Illinois Judges Association is proud to announce her certification as the first Illinois National Guard Military Judge," said Israel Desierto, president of the Illinois Judges Association.