MmX. A first of its kind for Millikin College of Fine Arts
The planning process began in March, and what followed was seven weeks of hard work from Martin Atkins and his students to put on an event that was the first of its kind through Millikin University's College of Fine Arts – the Midwest Music Expo.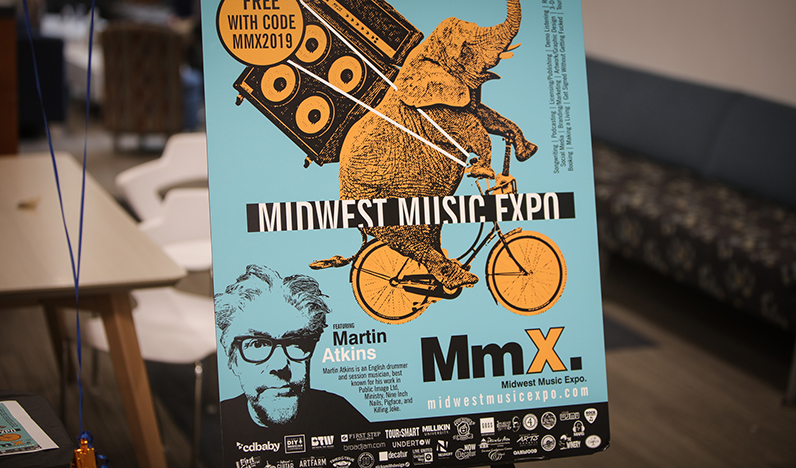 The idea was to create a hub for the exchange of ideas, connections and opportunities for singers, musicians, producers, DJs, managers, podcasters, bloggers, designers and artists. The end result was a two-day conference hosted at the University Commons on Millikin's campus May 3-4.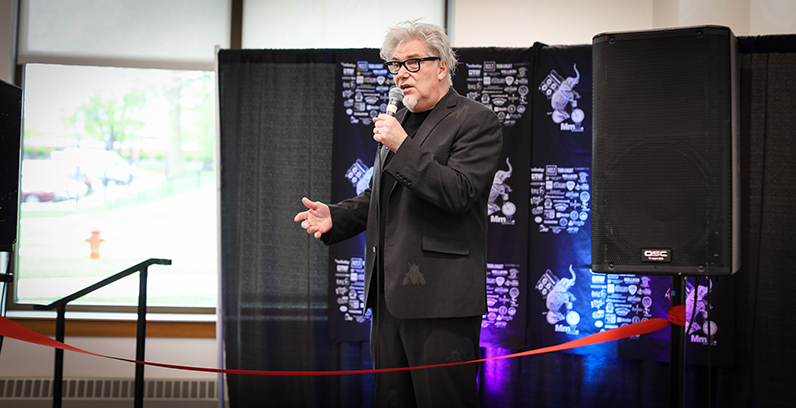 "It's absolutely ridiculous that in seven weeks, we went from an idea to the realization of this expo," said Atkins, coordinator of music business at Millikin. "We plan to do two expos a year with the next one in Chicago. We want to promote the city of Decatur, Decatur businesses and Decatur art."
While addressing the audience on the first night of the expo, Atkins noted, "The thing that has struck me over the past few weeks has been the connections we've made between us all – the creativity is real. For me, this expo is about intellectual property, connections and community."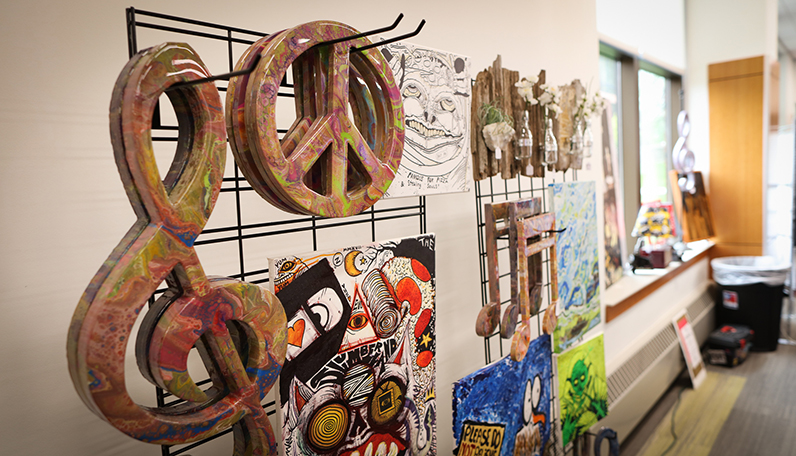 Senior music business major Thomas Berthelon, of Middleton, Wis., was among the students who developed the expo as part of a senior capstone project.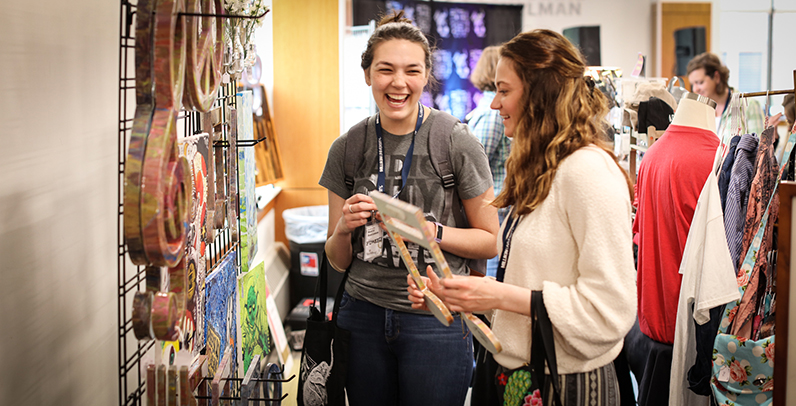 "We tried to get a very wide variety of panels, because we wanted as many people to be involved as possible and not just music people who want to do business or just (visual) arts," Berthelon said in an interview with the Herald & Review. "We wanted to get as many people involved because the industry is so do-it-yourself style now. We need everyone with so many different skills."
Just over 200 people registered for the event and 52 speakers were on hand to share their knowledge, time and experience with attendees. During the expo, panels of professionals helped artists develop their passions while successful employers talked about their unique paths.
Some of the topics during the panel sessions included: vinyl, touring, the record industry, live sound/performing, social media, public relations, mental health in the creative industry, publishing, booking, mixing/mastering/production and song writing.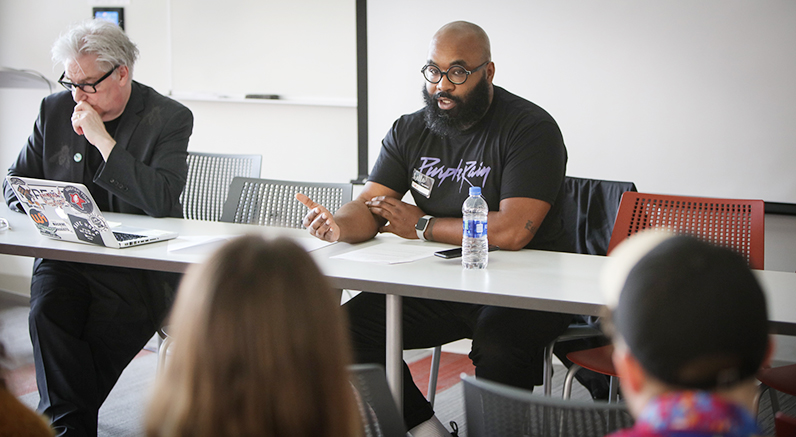 Atkins, along with Eddie Sanders, founder of Chicago-based Freshly Baked Records and a practicing attorney with a focus on entertainment law, shared their expertise on record contracts. "The questions you have to ask yourself before signing a contract are: Who am I signing to? How long does this last? What am I giving up? And how do I get paid? Those are the things you have to figure out when you are reading over a contract," said Sanders.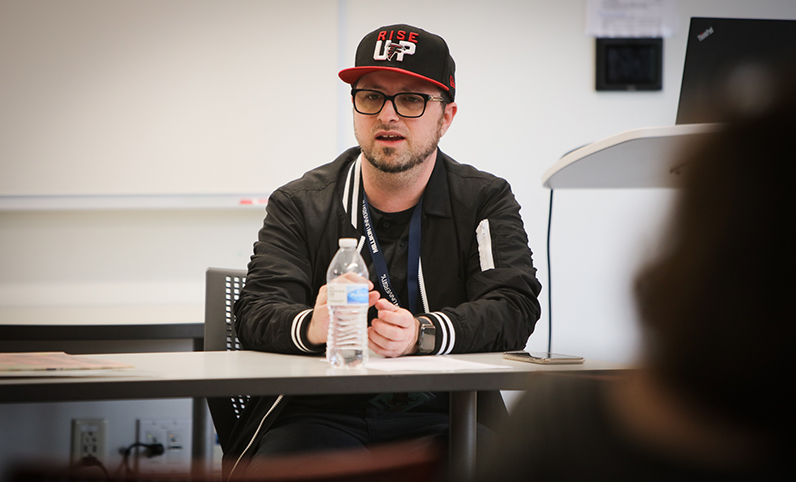 Next door in a collaboration space at the University Commons, artist Nick Beery, Shani and Tronnie Goss of Goss Advertising, and graphic designer Nick Smith all shared their artistic experiences. "You can make your work live with the editing tools and technology that we have today," said Smith. "There are so many different levels of creativity."
Brian Galecki, owner of Dumb Records, a record store and venue in Springfield, Ill., and 2014 Millikin graduate Jayne Ballantyne, artist manager and Living Room Tour coordinator for Undertow Music Collective in Champaign, Ill., spoke on booking and management. Ballantyne shared details of Undertow's Living Room shows.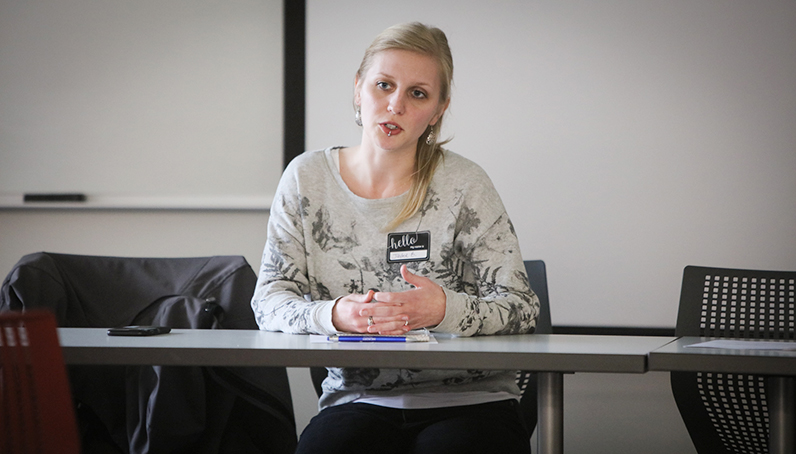 "You put the word out to the artist's fans asking them to host shows and you put together a tour for all submissions that get sent in – sometimes these are houses, a coffee shop or an art space," said Ballantyne. "We sell tickets on our end and then we direct deposit as much money as possible to the musicians at the end of the tour. On the night of the show, we email the guest list to the host – the guests show up, the artist shows up and it all comes together like magic."
2001 Millikin graduate Kevin Daly, vice president of marketing and business development at National Foodworks Services; Jesse Blunt, owner of Tried & True Tattoo; Debbie Bogle, executive director of the United Way of Decatur & Mid-Illinois; and Ricky Bright, owner of The Upper Bout, a retail music store in Champaign, offered insight into community engagement.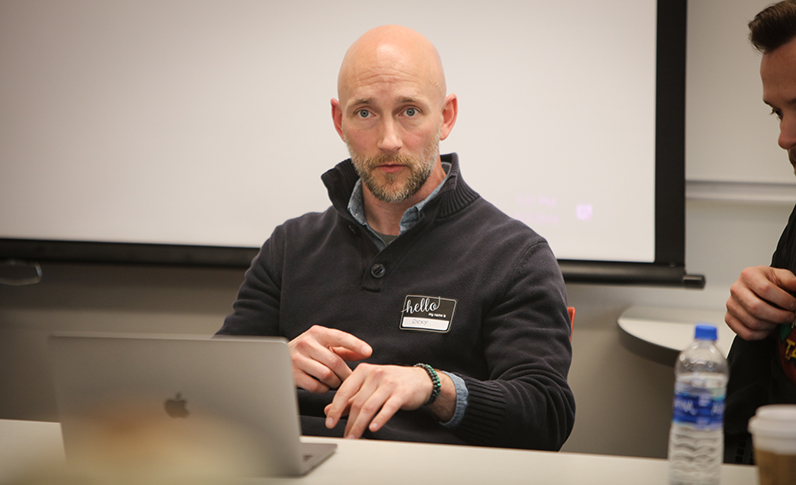 "When you're thinking about a community and what you can do, I think there are two basic things – you're the person that either creates the event or you're the person that helps support the event," said Bright. "Both are equal. Go out and find it, and if you can't find something that engages you then make your own thing."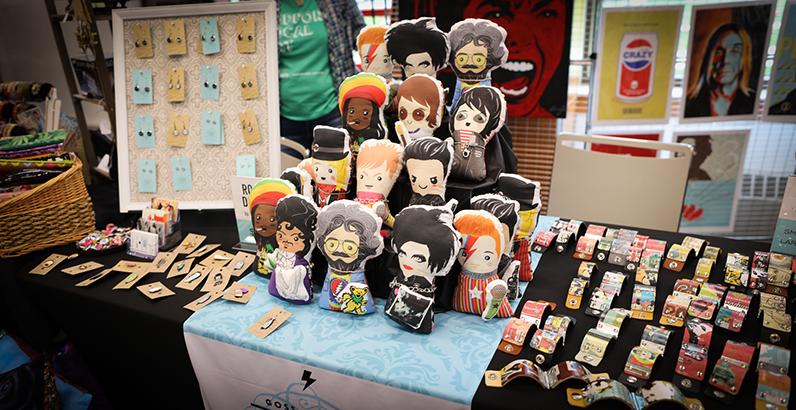 While panel sessions were in full motion, the 1st floor lobby of the University Commons was active with over 25 expo exhibitors greeting attendees, discussing their businesses and career paths. Among the exhibitors were First Step Records (Millikin's student-run record company), Speakeasy Records & Oddities, Blue Rock Records, Broadjam.com and Millikin Creates.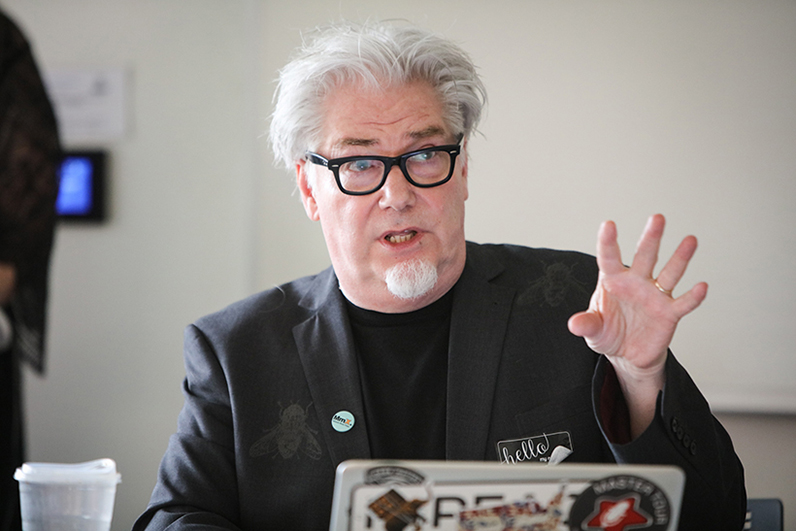 "It is a music industry creative conference. We are shining the light on the creative community in Decatur," said Atkins. "It's a lesson in community involvement. There is so much potential in Decatur and everybody can help each other."