Millikin mathematics professor brings active learning to classroom
Millikin University is an institution that values hands-on, experiential learning. Dr. Emily Olson, Millikin's new assistant professor of mathematics, is one of several new faculty members on campus embracing this value in the classroom by focusing on the real world applications of mathematics.
"Mathematics is an important part of our world and that's what I try to showcase to the students," Dr. Olson said. "How the students interact in the classroom has been exactly what I've been looking for, especially at a school that values Performance Learning."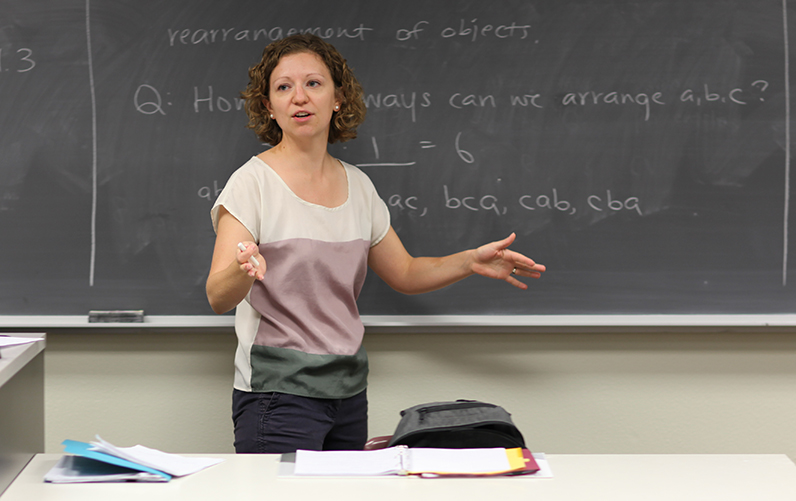 Dr. Olson earned a Bachelor of Arts in Mathematics from Saint Louis University in 2010, a Master of Science in Mathematics from the University of Nebraska-Lincoln in 2012, and recently completed her Ph.D. at Michigan State University in 2017.
Her research focuses on a branch of mathematics called combinatorics, which is about combinations of objects belonging to a determined set in accordance with certain constraints, such as graph theory, coding and probability.
"In math, there are two branches, real mathematics covers calculus and analysis, and the other branch is discrete mathematics, and that's where I focus my research on," Dr. Olson said. "I look at interesting questions such as what can we count."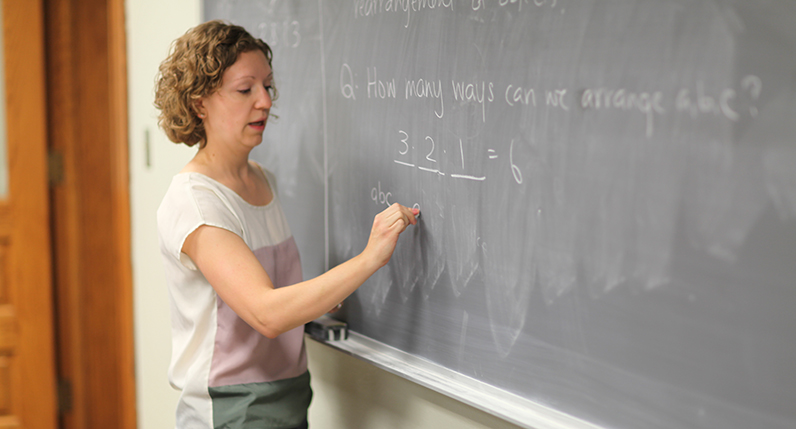 In reference to her teaching style, Dr. Olson says she uses many active techniques. During her lectures, Dr. Olson talks in a way that the students are still thinking.
"I'm asking a lot of questions, and sometimes not needing a response, but wanting the students to think through the process of where it makes sense and where we could go with this," Dr. Olson said. "I'm trying to approach many topics in a way that the students can think through it. Math is a big process and I try to emphasize that."
Mathematics is an important part of our world and that's what I try to showcase to the students.
During her Discrete Mathematics course, Dr. Olson has her students work in groups on Fridays to solve problems. The idea of the activity is to have the students understand the difficulty of the problem in class rather than on their own and to solve it together as a class.
"I think it's a good way to learn both from me and from each other," Dr. Olson said. "Another activity I will use next semester is clicker-based questions. It's learning through lots of multiple choose questions throughout lectures, and having students see the learning process. I want the students to understand that it's alright to fail and you learn from it, and that's a valuable part of mathematics."
Another course Dr. Olson teaches is Finite Mathematics where students look at math in the real world.
"The course has a lot of business and communication majors," said Dr. Olson. "The students might look back on the class and say that they may not need to use a lot of math in their careers, but they can see where it is everywhere."
From a career aspect, teaching mathematics is one of the more popular positions for math majors, but Dr. Olson says many opportunities in different fields are available, including data science or government-based positions.
"In data science, every company needs someone to analyze numbers and information," said Dr. Olson. "It's a very stable job and many companies need someone in that particular role."
Dr. Olson noted, "In the math education world, we use the phrase 'active learning,' which means keeping everyone engaged as much as possible. That's true across the board and not just mathematics. That's been my style and I'm very happy the Mathematics Department at Millikin has been able to embrace that and to make sure the learning is as active as possible."