Master's Entry into Nursing Practice program welcomes largest class
The Master's Entry into Nursing Practice (MENP) track at Millikin University has become more than a program; it's a career-changing opportunity. Started in 2010, the track is designed for students who already hold a non-nursing bachelor's degree and are interested in entering the nursing field.
The level of success for the program reached a new height this July as the Millikin School of Nursing welcomed its largest MENP class of 15 students.
The MENP track is an intensive, fast-paced curriculum delivered in the classroom and clinical and practical settings five days a week, providing the opportunity for entry level nursing practice into the graduate level. Beginning in July 2017, the program can be completed in 26 months.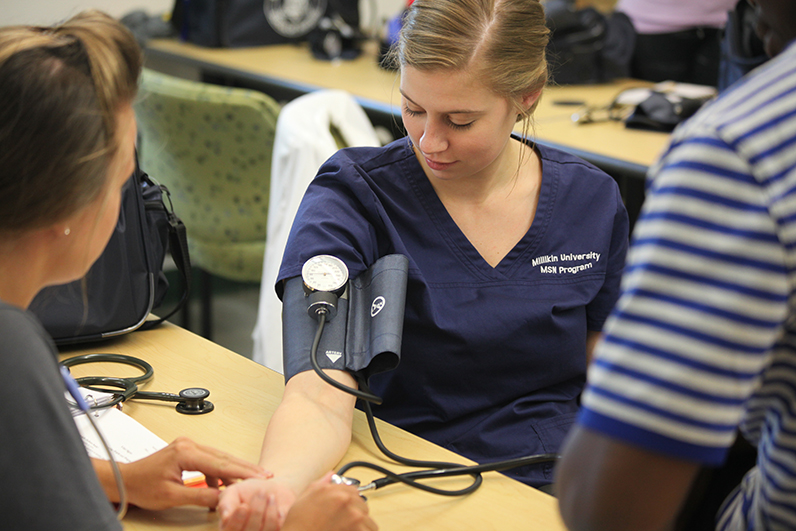 "To enter the program, students must have a bachelor's degree in a field other than nursing," said Dr. Pam Lindsey, director of the School of Nursing at Millikin. "We have students from all kinds of different educational backgrounds in the program."
During the MENP program, students complete the clinical courses that students would normally complete in Millikin's traditional undergraduate nursing program. Additionally, they are completing master's level courses.
"The students are doing two programs at once," said Dr. Lindsey. "Monday through Thursday, they do pre-licensure clinical courses and on Fridays they are taking their master's courses."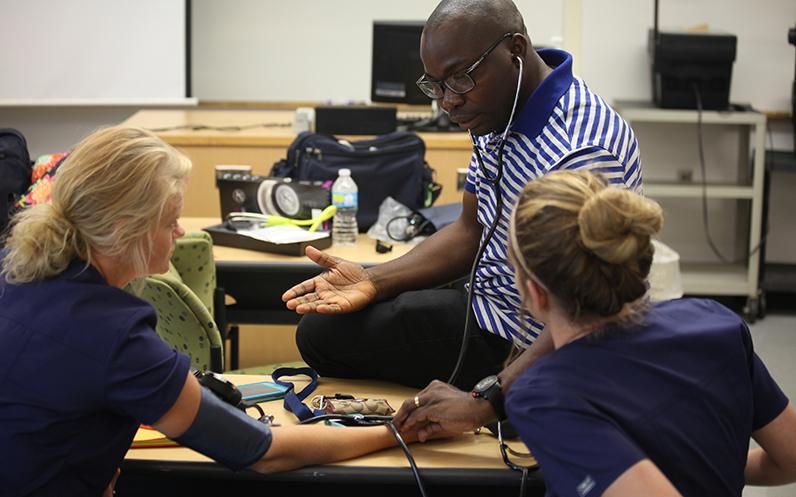 Successful students are awarded a Master of Science in Nursing (MSN) upon graduation and are prepared to take the professional registered nurse licensure exam (NCLEX-RN) as well as the Nurse Educator Certification exam.
Current MENP student Heather Wiegand, from Decatur, Ill., earned her bachelor's degree in restaurant/resort management from Colorado State University, but she always had a passion for nursing because her parents worked in the medical field. Wiegand and her family moved to Decatur a few years ago and she found the Millikin MENP program to be a good fit.
Millikin MENP students have earned a 100 percent pass rate for the professional registered nurse licensure exam every year since 2010.
"I had always debated about going into nursing," said Wiegand. "About a year and a half ago I started working at St. Mary's Hospital (Decatur) as a nurse tech and I found the job to be really enjoyable. I enjoy meeting new people and the medical field, so I knew this program would be a good fit. This program is going to prepare me for the real-world aspect of critical care."
In addition to its successful enrollment numbers, Millikin MENP students have earned a 100 percent pass rate for the professional registered nurse licensure exam (NCLEX) every year since 2010.
Reflecting on the program's largest class, Dr. Lindsey said, "We're very excited – the first group in 2010 was 10 students. Last year we used an online-centralized application process through the American Association Colleges of Nursing and that partly helped increase the number of applications and awareness of the program. These types of programs are becoming better known throughout the U.S., so people who have a degree and decide to make a change in their career are learning more about these programs."
Millikin MENP student Cory Conner, from Argenta, Ill., joined the Army in 2007 and spent eight years in the service. Conner developed an interest for the medical field and went on to earn bachelor's and master's degrees in biology. Not wanting to spend time away from his family in order to become a physician, Conner decided to pursue a career as a nurse practitioner. He was informed about the Millikin MENP track and saw it as a good fit in terms of class size and the fast-paced curriculum.
"There's a lot of hands-on clinical work in the program," said Conner. "Here at Millikin, there's an open-door policy with faculty and they're very helpful. Everybody wants you to succeed and the program fits my schedule because I can do clinicals during the day and work full-time in the evening."
According to Dr. Lindsey, the majority of students from this year's cohort want to move on to advance practice roles after they complete the MENP track, most commonly nurse practitioner and nursing anesthesia.
"One thing that is unique, because of the small class size, is that the students get a lot of individualized attention and they build strong relationships with faculty," said Dr. Lindsey. "The students like the idea that they can be in a small class, get to know their classmates, get to know the faculty and build that comradery."
The Graduate School of Nursing at Millikin is renowned for excellence in education, clinical practice and research while creating a uniquely integrated academic experience in which faculty and students engage in a culture of discovery. For more information about the MENP track at Millikin, visit millikin.edu/grad-nursing.