"We are just trying to keep it real for everyone and create opportunities."
Best known for his work with artists such as Nine Inch Nails, Ministry and Public Image Ltd., Martin Atkins has been at the center of the music industry for over 40 years. His experience in nearly every aspect of record production and promotion has given him a unique perspective not only on where the music industry is currently, but where it is going in the future, and he has brought that perspective to Millikin University's School of Music as coordinator of music business.
In a recent article from Wild Honey Rock Magazine, Atkins shared insight into the unique work he is doing at Millikin, the most rewarding things to come from his music career and his plans for 2021.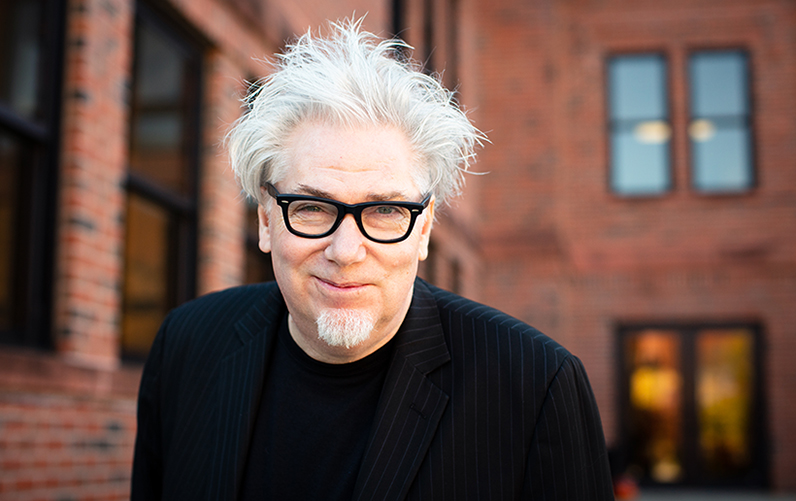 Atkins has been teaching for over 20 years and is now overseeing Millikin's new undergraduate degree offerings for a Bachelor of Science and a Bachelor of Arts in Music Business which will be offered in the fall of 2021.
"I try and keep the classes real because you can study how the record industry used to be and it's important to do that, but I like to let the class know like, 'Look what I was doing this morning, look what happened last week, and look what I think is going to happen two months from now,' and I involve them in those things," Atkins said. "We have a real record label and we just produced something called a lathe cut record. I've taken students on the road with my band on a tour bus. We are opening a museum with students helping. We are just trying to keep it real for everyone and create opportunities."
Touring professionally since the age of 18 with Public Image Ltd., Killing Joke, Ministry and his industrial supergroup Pigface, Atkins' time on the road has been the foundation of his teaching career accompanied by his first book, "Tour:Smart," that has been called "the bible of touring."
(Photo by Kara Hammond courtesy of the Recording Academy, Atlanta Chapter)
"I started to write my memoir almost 20 years ago and then I started to teach which I was teaching about touring and I was like, 'Ok well where is the textbook?' and there wasn't one so I created my own classes, wrote material each week and then expanded on it and made the book for touring called 'Tour Smart.' At first, I thought teaching was the opportunity and then I thought, 'Wait, writing this book is kind of an opportunity,'" Atkins said.
Atkins' book led to a 10-year path of public speaking about the music business. He is currently working on his fourth book.
"I've found I learn the best when something like writing a book causes me to stop, think for a bit, lay out my materials, join the dots together, and then present it for somebody else but I'm actually also learning the lesson as I do that," he noted.
In 2019, Atkins broke barriers and pushed Millikin University's signature Performance Learning to the limits with the inaugural expedition of Tour:Smart – Bus Edition where music business students embarked on an extraordinary journey on the road with the Pigface 2019 Tour. Students learned about tour management in real-time with real people, with real outcomes.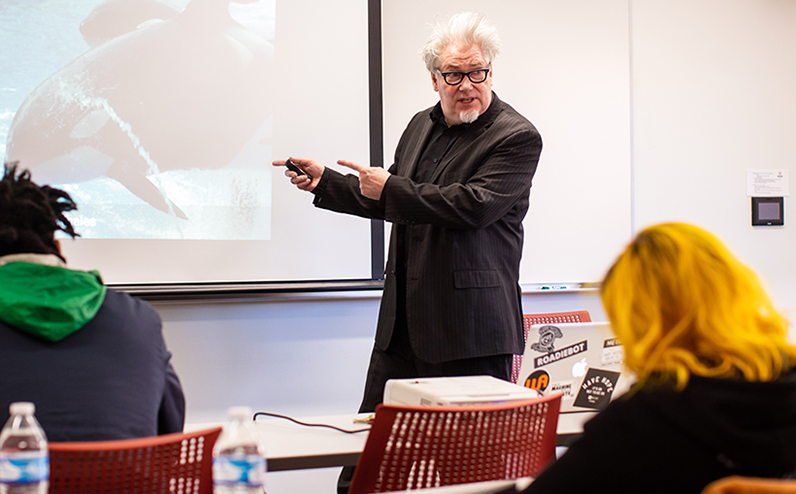 Recently, Atkins announced that he is opening a museum in Chicago called The Museum of Post Punk and Industrial Music. "I have 6,000 square feet in Chicago and it's in the middle of this really exploding area. People are offering to donate their collections and to lend me elements from their collections," Atkins said. "Because we were talking about my classes before, what a great way for students to become an intern, learn how to promote events in a museum, archive material, archive audio and video, create presentations, look at contracts and paperwork. That's the most exciting thing."
In terms of advice for newer bands, Atkins says the journey will be long and there are no quick fixes. "If you start to add skills like social media, video, graphics, screen printing, all of these things to your skillset, that's what will carry you forward," he said.