Nathan Marshall '20 leaves lasting impact
With the COVID-19 crisis bringing an early end to the careers of Millikin student-athletes, the Millikin Sports Information staff is using this opportunity to highlight several Big Blue seniors. While you will not find his name in any boxes scores, senior athletic training major Nathan Marshall of Oreana, Ill., has definitely left his mark on Millikin athletics.
After having this story idea suggested by my wife, I was hesitant to write this story because Nathan is my son. I did not want the story to come off as a proud father spouting off about his child. I am a very proud father, but after thinking about it for a while I could not think of anyone who has been more involved in Big Blue athletics in the last four years than Nathan.
In reality, Nathan's has been a part of Millikin sports for way longer than four years. He has been helping me in the Sports Information office since at least junior high and has been a fixture at Millikin sporting events for at least the last 15 years. Since an early age, Nathan has had a passion for all sports, but especially for the Big Blue.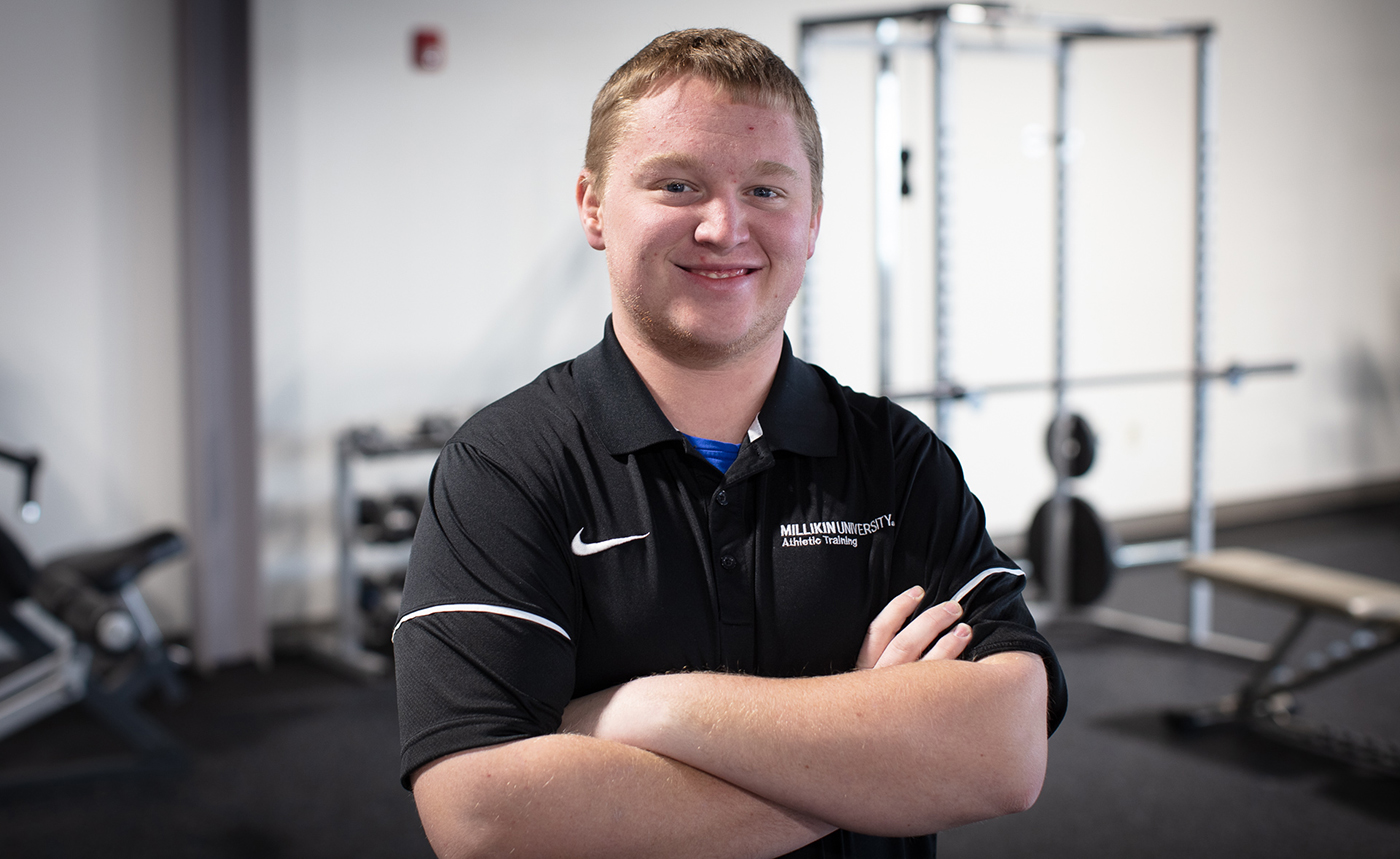 Working in college athletics means long hours and working almost every weekend during the academic year. I have been blessed over the years to have a very supportive and involved family. Along with Nathan, my wife Shannon has worked countless Big Blue events and my daughter Taylor worked in the Sports Information during her four years at Millikin.
Nathan has done just about every job in the Sports Information office. He has kept stats, ran camera, operated the video board at Lindsay Field, announced and produced games on our streaming broadcasts, and is always quick to point out my errors in my game stories. Without Nathan and my stellar crew of student workers, the games and broadcasts would not happen. That crew includes seniors Rebecca Mendenhall and Dalton Collins who have worked for Millikin Athletics for four years.
Nathan spent his freshman and sophomore years working as a student coach for the men's basketball program. He was at every practice and every game and worked behind the scene to help the coaches make sure everything was running smooth. Former head coach Matt Nadelhoffer let Nathan suit up for a couple of junior varsity games his freshman season with Nathan draining two long three pointer for rack up six career points.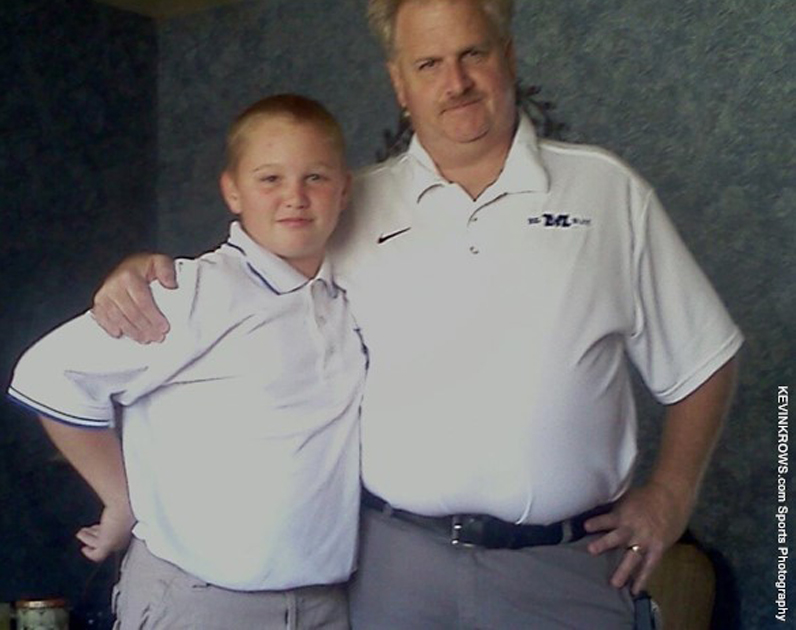 This spring, Nathan is finishing up his degree in athletic training. The Millikin athletic training majors are truly the unsung heroes of Big Blue sports. These students put in hundreds of hours each year helping our professional athletic training staff keep our athletes healthy and ready for game action. These students not only attend countless practices and games, but they put in work before and after each event. Nathan's assignments have included working with Big Blue men's soccer, softball, men's basketball and football along with staffing the Athletic Training room. The contributions of the all athletic training students are great, and I want to recognize this year's graduating seniors for their contributions who are all expected to graduate in May 2020.
"I have developed a lot of great friendships at Millikin," said Nathan Marshall. "I am disappointed that I am not getting to finish classes, watch them compete and work alongside them the rest of this semester."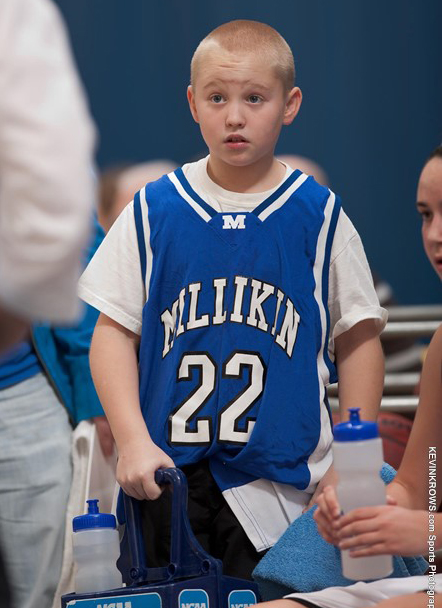 To fully understand Nathan's passion for sports and the Big Blue, a little background prospective might be helpful.
Nathan was born with a form of Cerebral Palsy. While we were blessed that his condition was mild, there were physical limitations. At an early age we were told that Nathan would never play competitive sports or be able to keep up with other children when doing physical activity. Despite the physical limitations, Nathan quickly developed a great knowledge of and passion for sports. Nathan never accepted that he could not be involved in sports playing baseball, basketball and football in elementary school. As he got older, we found other ways to be involved in athletics and began to work incredibly hard to overcome his limitations.
In junior high, he was a student manager for both the middle school and high school teams. Thankfully he had some great coaches along the way like Silas Pogue, Ryan Bosch and Tim Young. I will never forget the day at the start of his eighth grade year when Nathan called me saying he needed a physical because Coach Young told him he could not be the manager this season because he was putting him on the team.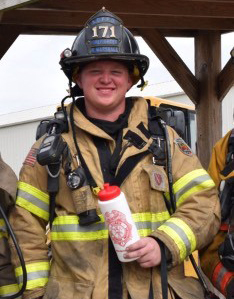 Junior high was about the time his love for the Big Blue started to grow and Nathan attended every game possible. The Millikin coaches were always great letting Nathan be a part of their programs. When high school rolled around, Nathan's hard work paid off with him earning spots on the varsity basketball and baseball teams by the end of his career and serving as a student coach\manager for the football team. Despite becoming fully involved in Argenta-Oreana Bomber Athletics, Nathan always found time for the Big Blue.
In high school, Nathan joined me on the Argenta-Oreana Fire Department and is currently a firefighter/emergency medical responder. He is finishing up his EMT-Basic class and continues to make me proud everyday as he works with other great volunteers to protect our community.
I will miss working with Nathan this spring in his final semester at Millikin, but we have spent lots of quality time at home stuck in the house together.
Nathan's last contribution to Millikin Athletics came on March 8 working as the streaming announcer for Big Blue baseball, but something tells me that will not be the last time he will be a part of Millikin athletics.