Millikin students host soup supper fundraiser for Peacemaker Project 703
The digital media marketing curriculum at Millikin University offers a hands-on learning approach where students not only learn the core concepts of marketing, but they can build their skills through initiatives such as learning to create an integrated marketing communication campaign, designing a social media strategy or planning an event.
Marketing students from Millikin's Event Planning course used the tools they learned throughout the fall semester to successfully plan and host a soup supper fundraiser on Nov. 16 in the University Commons on Millikin's campus.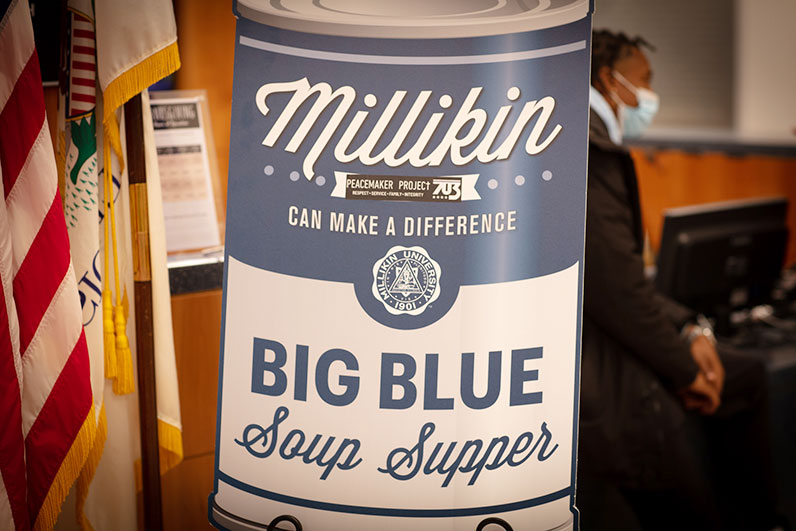 The soup supper fundraiser gave the students a "behind the scenes" perspective of how to organize and execute an event starting from the initial planning stage, to the budget preparation, to the marketing, and to the end product.
Proceeds from the event went to Peacemaker Project 703, a foundation created by the widow and family of Champaign Police Department Officer Chris Oberheim who was shot and killed while on duty on May 19, 2021.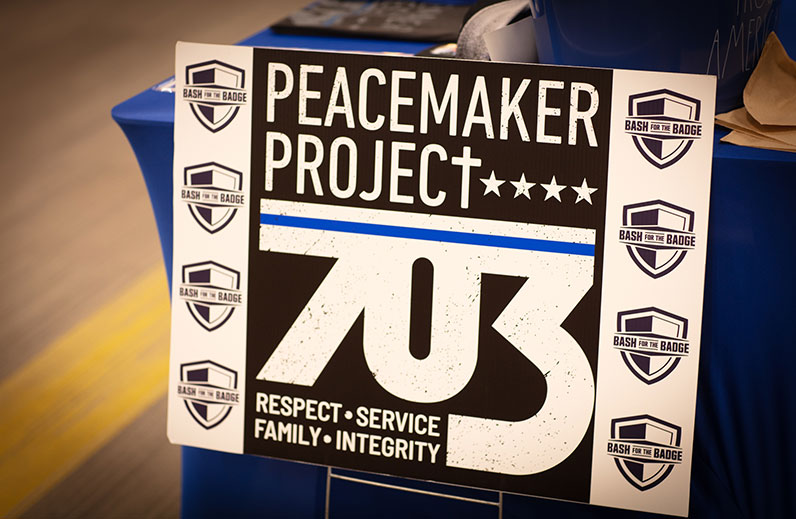 Officer Oberheim left behind his wife, Amber, and four daughters, Hannah, Avery, Addison and Aubree. On the day of his funeral, they made a commitment to all police officers. They committed to defend their name, their purpose, their honor and their badge. Peacemaker Project 703 proactively supports law enforcement officers and their families through community outreach, reform and education.
Students sold tickets for $6 apiece leading up to the grab and go event. Purchasers could come by to receive a pint of one of the following three soups: roasted red pepper and smoked gouda served with a Tuscan dinner roll; gumbo served with a brioche dinner roll and Skeffington beer cheese soup served with a dark rye dinner roll. Dessert included a mixed berry cobbler with a sweet crumb topping. Quart containers of the three soups were also available for purchase at $11 each.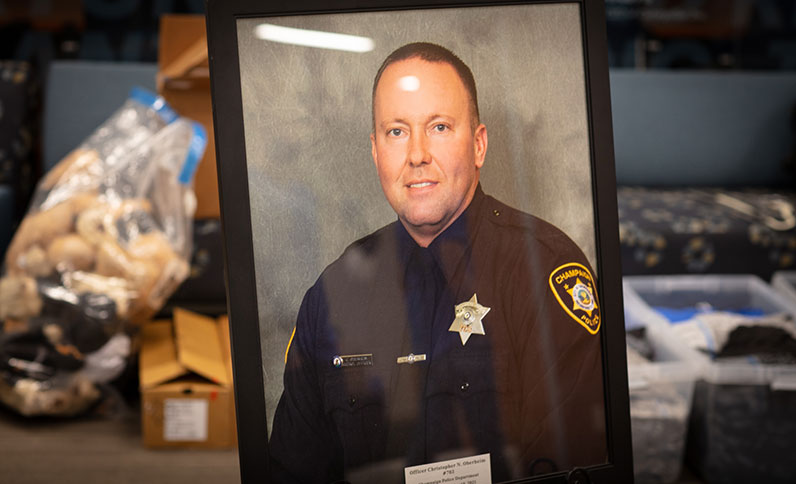 Maddie Kauffman, a 2014 musical theatre graduate from Springfield, Ill., and Bailey Benton, a junior from Argenta, Ill., served as co-chairs for the project. Kauffman returned to Millikin to earn her certificate in Digital Media Marketing.
"Normally this event is a big sit-down event, but because of COVID we made it a grab and go event. In general, to be able to fundraise for any type of organization is very important, especially for Decatur [Ill.] and especially for organizations who are not well known," Kauffman said. "It raises awareness, and for college students, as we get acclimated into the real world, it's important to learn about that process."
In addition to a special giveaway, Peacemaker Project 703 merchandise was also available for purchase at the event.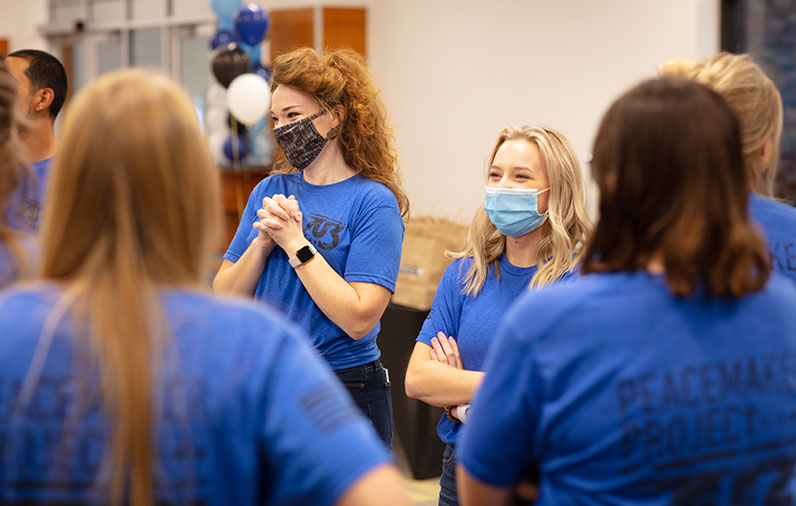 From left to right: Maddie Kauffman and Bailey Benton
Kauffman noted that the students gained an understanding of how to market an event utilizing various public relations tools coupled with good financial management. They had a long list of organizations to choose from in terms of fundraising but hearing more about Amber Oberheim's story and her husband touched the students' hearts deeply.
"Being able to help her and other families that have been affected by this type of situation, we automatically jumped to Peacemaker Project 703 … this is a great cause," Kauffman said.
The students would meet weekly with their professor Marilyn Davis, Class of 2000 and MBA Class of 2011, who serves as chief of staff and board secretary at Millikin, to develop a path sheet of how they wanted to construct the event. They then worked with Millikin Chef Brian Pehr on choosing which soups would work well along with prepping the soups for the event.
Of the 160 tickets that were available for the event, at least 90 were purchased from local community members.
Hear from Marilyn Davis, Bailey Benton and Maddie Kauffman
"This event taught us a lot in terms of team building, especially for the juniors and seniors. Being able to utilize the skills we've collected and acclimate them into an actual event was really eye-opening for us," Kauffman said