Senior business management major lands post-grad job with Amazon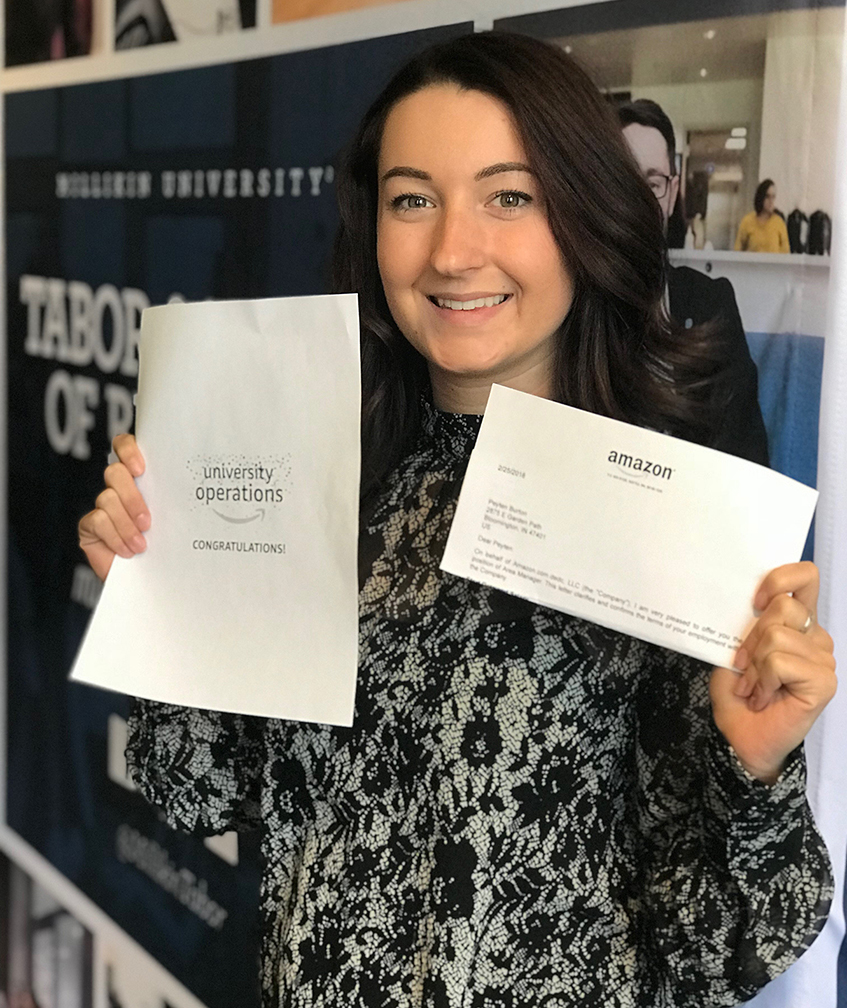 Business management major Peyten Burton has not always taken the traditional route during her educational career.
After graduating a year early from high school and now Millikin University, Burton has always stayed ahead of the game. The 20-year-old Ann Arbor, Mich., native has already applied, interviewed and accepted a job with Amazon.com, Inc., one the Top Ten Most Powerful Companies according to the World Economic Forum. Burton will serve as an area manager at the Amazon Fulfillment Center in Whitestown, Ind., a job she says that Millikin has meticulously prepared her for.
"Professor Kimmie Mungaray made a huge impact in helping me prepare for interviews; we spent hours going over every detail of the interview process," said Burton. "She helped me take a deeper look into my experiences at Millikin and the various organizations I have been a part of, and how the different internships I have held make me stand out as a candidate, specifically my internship with Soy Capital Bank where I interned in the areas of wealth management and marketing."
Burton added, "Throughout my entire college career, Professor Mungaray has been a huge support system for me. She pushed me to do things that I otherwise would not have considered and then helped me see a variety of different solutions in a new light. By the time I made it to the final round of interviews for Amazon, I knew I was prepared."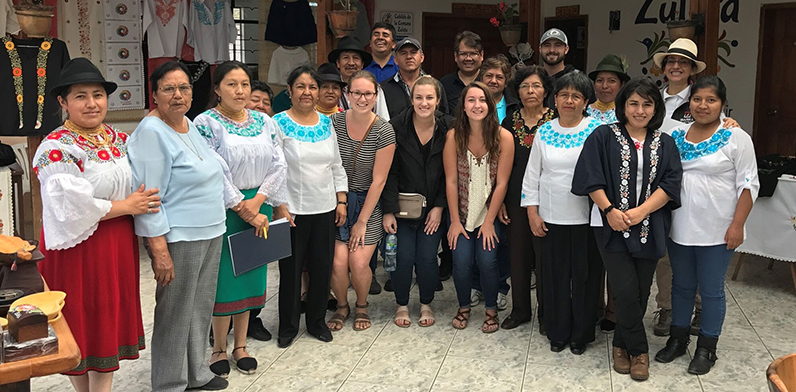 Before the application and interview process had started for Burton, she knew that her experiences at Millikin shaped her into not only a student leader, but also a confident applicant. Her time as a student was not just spent on classroom projects, she recently took part in a real-world consulting project working with the government of Ecuador to develop a U.S. market entry strategy for Ecuadorian handicrafts.
The Ecuador project was the culmination of Millikin's International Business Consulting course led by Dr. J. Mark Munoz, professor of international management. The course provides an opportunity for students to take part in real life projects for companies, and sometimes governments, in various parts of the world. The project allowed Burton, along with three other business students, to travel to Ecuador to present their strategy and learn more about the handicraft industry. The opportunity to travel and work on projects such as these was the main reason that Burton initially chose to make Millikin University her home.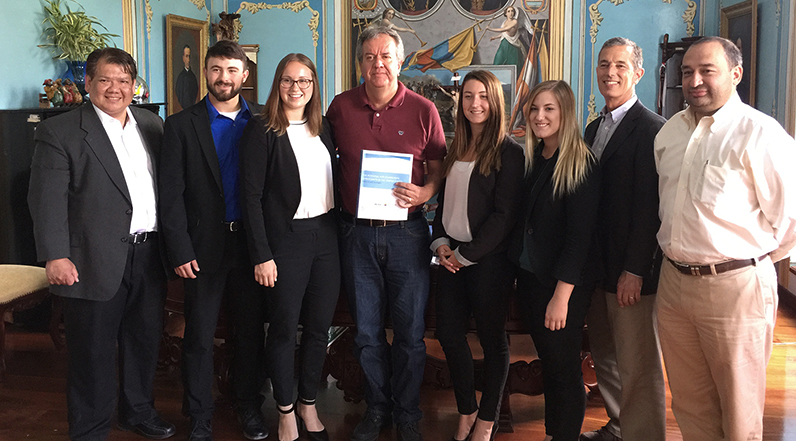 "I was very skeptical about coming to a small school, especially a small school in Illinois, but once I came to campus for a visit and spoke to Dr. Mark Munoz, I was sold," Burton said. "I had a meeting with Dr. Munoz to discuss the different international programs Millikin offered and he began to tell me about a class called International Consulting. After listening to the details of the project and the class, and then learning about how Performance Learning works at the Tabor School of Business, I decided that there was no way I was not going here."
Burton explains that the impact of Performance Learning at Millikin is so much more than what outsiders may perceive, it is the reason that Millikin students are able to prepare for successful careers.
Aside from traveling outside of the country to expand her business experiences, Burton found a home within the student-run venture, Blue Brew. Blue Brew, a downtown Decatur, Ill., coffee shop is a thriving business operated by Millikin students. Blue Brew opened in the fall of 2017 and Burton served on the team, an experience that she says will influence her professional career.
"Working with Blue Brew during the first few months that it was open was an incredible learning opportunity and it was the one that I feel made the most positive impact on my life and future career," said Burton. "Being involved with starting a business is messy and you and your team have to deal with a multitude of situations that are completely unexpected. It is crazy, it is hectic, and it teaches you how to always be on your game and to always be thinking ahead."