Commercial music major advancing his own success
Commercial music major Jonathan Williams landed at Millikin University thanks to some inspiration he received from his high school music teachers. After learning his teachers were graduates of Millikin, Williams decided he wanted to become a part of the Big Blue community. Flash forward to the present; Williams is writing his own music, learning about studio work and the music industry.
"I'm also attending classes on music theory and ear training, and I frequently practice piano at the Perkinson Music Center on campus," Williams said in a recent student spotlight story from the Associated Colleges of Illinois (ACI).
A native of Alton, Ill., Williams is part of ACI's Peer Mentoring Program at Millikin where he worked with a peer mentor who helped him during his first year in college.
"It's a big transition from high school," said Williams. "We have to learn to be more independent. My peer mentor always counsels me, offering advice on topics such as music theory and piano, plus guidance on college life in general."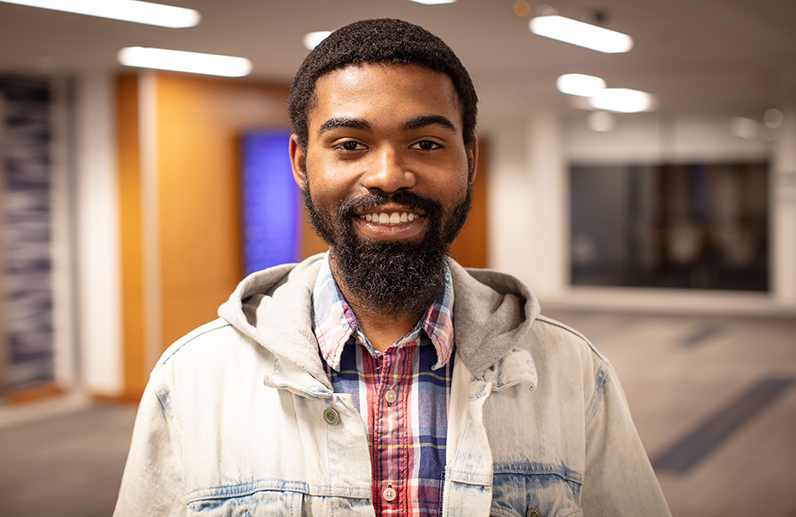 The peer mentoring program, as well as Millikin's EDGE program, which teaches first-year students the best ways to achieve academic and personal success before classes start, have helped Williams develop confidence to advance his own success and engage in many activities on campus such as performing his own music for a talent show.
"I was able to perform a song that I had written myself, from the composition to the lyrics," said Williams. "Everything was mine. I wasn't as nervous as I would have been a long time ago. I got up and did everything myself. It was humbling not being afraid to step out on your own."
In addition to being a member of the Collegiate Chorale and Multicultural Voices of Praise at Millikin, Williams is also part of the leadership team for Black Student Union, the oldest standing non-Greek student organization on Millikin's campus.
"I'm here by grace. I'm glad that I was able to come here," said Williams. "I was one of those kids who needed a chance, and I got a chance. I want other kids to have a chance like I did."