Millikin senior finds success in the classroom and on the football field
Senior year, for most students, can end up being a crazy roller coaster. The moments these seniors experience can be a scary, yet exciting new step in their lives. Cal Pohrte, a senior sports management major from New Lenox, Ill., will forever remember the friends and memories made at Millikin.
"My ability to make connections throughout my four years here has been a true blessing," he said. "The people I have met along the way have helped me pave the road to where they believe is the right path and one that will allow me to grow more as an individual."
The choice to come to Millikin was easy for Pohrte. He chose Millikin for a number of reasons, including the cost of attendance, the diversity of the student body allowing him to meet new people from across the world, being able to play football, in his opinion, in the best NCAA Division III conference and most importantly the ability to grow as an individual.
During his time at Millikin he was able to find success both in the classroom and on the football field. Being a student-athlete at Millikin has played a huge part in Pohrte's life.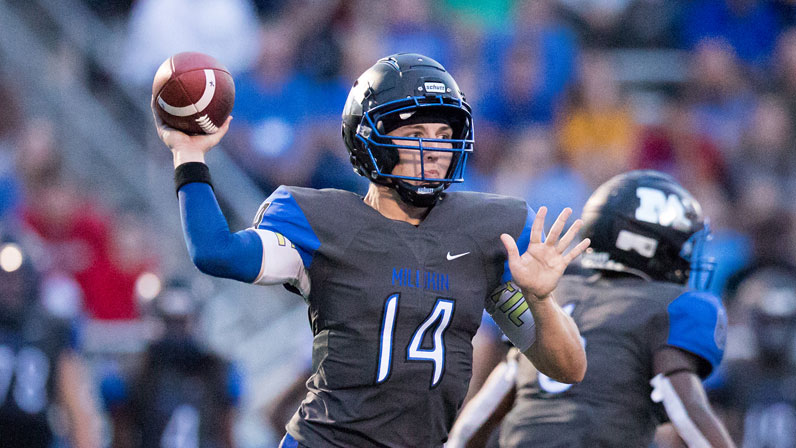 Cal Pohrte
When asked what being a Millikin student-athlete meant to him, he said, "By representing Millikin the best way I can. That would be helping out whenever I can with our athletic department or even playing to the best of my ability. I'm proud to be a Millikin student-athlete and glad I was able to wear the Blue and White across my chest, every time I stepped onto that field."
Looking toward his future after graduation in May 2022, Cal wants to attend graduate school to further his education in sports management. From there, he wants to continue his involvement with collegiate sports, and share his knowledge with those who love sports as much as him.
With graduation approaching, Pohrte will be able to relive moments at Millikin with his teammates, classmates and friends that will last a lifetime. His most memorable moment was during the Big Blue Soup Supper in fall 2020.
"It was great to help the Millikin community when COVID-19 was at its peak and people were starting to see how life would be in the winter months. We thought it would be best to allow our community to pick up the soups and enjoy them at home where they can stay safe," he said.
Pohrte added that the highlight of his career as a student-athlete came in spring of his senior year. "The best moment in football was defeating Illinois Wesleyan back in spring 2021. It was the first time that Millikin defeated IWU in over 11 years and to do it on our home turf in that atmosphere was truly special."