Millikin student aspires to become registered nurse in Chicago
Millikin University nursing major Brian David has been gaining real-world nursing experience since the moment he stepped on campus his freshman year. While this instantaneous interaction might fear some first-year students, it only solidified David's decision to become a registered nurse (RN).
The senior from Naperville, Ill., and graduate of Neuqua Valley High School, knew that his ideal university would be one with small class sizes where the professors would know his name and his peers would become his friends. His high school population was 4,000 where Millikin has a population of approximately 2,000, an asset that attracts many students such as David.
Although David knew that he wanted to become an RN, he did not know what field of work within nursing would be his niche until he met Professor Vicki Caldwell, instructor of nursing, and Dr. Sheila Jesek-Hale, associate professor of nursing at Millikin.
"Professor Caldwell and Dr. Jesek-Hale introduced and reinforced my love for taking care of the pediatric population as well as sparking a new interest in labor and delivery, postpartum and mother-baby nursing," said David. "They played a major role in teaching me how to become a leader and role model within a division of nursing where male nurses are not often seen."
David added, "They have influenced me to become a better leader, mentor and advocate for other male nurses or nursing students interested in pediatrics or obstetrics."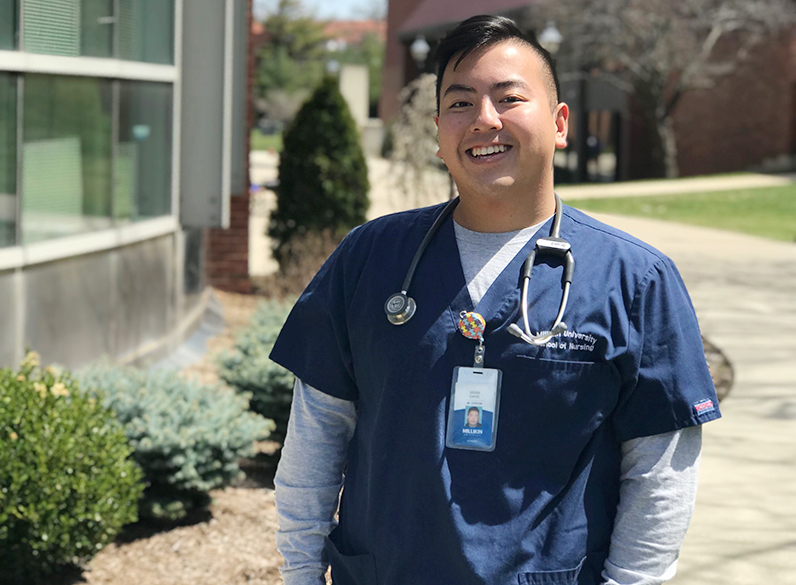 Recent studies have shown that the number of men in nursing remains low, but David is not deterred by it as he strives to become a full-time nurse in the city of Chicago. He is more excited to continue his hands-on learning with future co-workers, no matter what gender they are.
Following graduation, David plans to move back north where he will take the NCLEX-RN, the national licensing exam that all nurses must take in order to obtain the coveted title of RN.
Although nursing students at Millikin have a reputation for having little to no time to spend outside of studying, David managed to expand his horizons past the library and become involved in other organizations on campus. The first organization that he joined was the fraternity of Alpha Tau Omega (ATO).
"When I began my college career, I knew that I wanted to be a part of a Greek organization where I could grow exponentially, find a tight-knit group of people to call family and positively impact the lives of others through service," said David. "I found my home in Alpha Tau Omega because I connected deeply with its members and their values that inspired me to want to become a leader myself."
David is not only a leader within ATO, but he is also a Long-Vanderburg Scholar and remains an active member of MyCollege Buddy. These programs allowed him to put his leadership abilities to the test and develop lifelong connections with not only the Millikin community, but also the Decatur (Ill.) community.
"Through ATO, I was able to obtain leadership positions within the fraternity such as secretary, recruitment chairman and social chairman," said David. "These experiences that I obtained vastly improved my skills as a leader and allowed me to network beyond the School of Nursing."