New Millikin startup connects students to need-based work and internships
When Bryce Kapitzky entered Launch Weekend during the fall of 2017 at Millikin University, he had no idea that his winning business model would form into a fully operating student-owned startup. Fast-forward to the present day and his business, BluePoint Connections (BPC), is making a difference by connecting businesses to qualified Millikin students to fulfill need-based work and internships.
The essence of a Millikin education centers on Performance Learning; something Kapitzky, a junior business management major from Hawthorn Woods, Ill., and his team exemplify every day. The initial driving force for BluePoint Connections was when Kapitzky and his team recognized the need for businesses all over central Illinois to have an efficient medium between qualified students and the work those businesses needed to be completed. However, Kapitzky knew he needed additional reinforcements to allow BPC to continue to flourish. Enter Gabriel Gil, Meghan Miller and Ryan Sikora; three Millikin students who are BluePoint Connections summer interns for 2018.
Students learning from students to deliver quality content and results to fully operating businesses is the epitome of Performance Learning. Gabriel Gil, a native of Caracas, Venezuela, chose to leave his hometown and home country to attend Millikin and study international business. His long journey from home to originally play soccer led Gil to becoming more involved on campus. When Gil was offered an internship with BluePoint Connections, he knew that this was another opportunity that he did not want to pass up. Gil's internship is geared towards business development and international relations. The opportunities that he has been given through his education at Millikin are countless and he encourages all students to take advantage and say "yes" to every opportunity that is presented.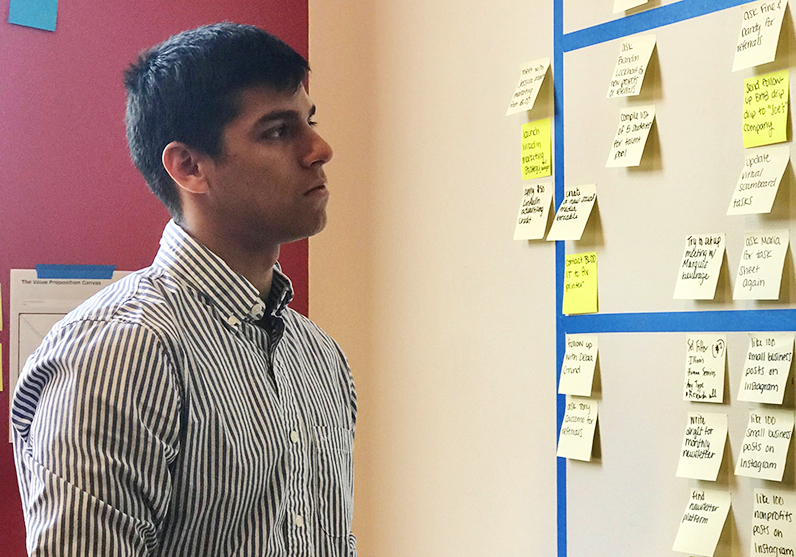 "My advice for incoming Millikin freshmen is to get involved and stay involved on campus," said Gil. "Do not let anything deter you from reaching your goals and staying involved. By joining agile teams and hopefully starting your own student-run business you will learn so much about what it means to be a business professional."
Gil praises his time at both Millikin and his internship with BluePoint Connections as the reason that he will be a confident applicant in the workforce.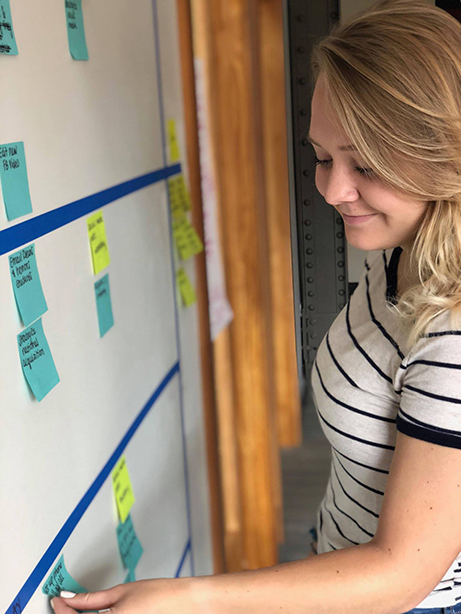 Meghan Miller, of Morris, Ill., will be a senior this year at Millikin where she is studying psychology. Her role with BluePoint Connections covers marketing and business development with an emphasis in social media targeting. Her previous experiences in the classroom with Julie Shields, director of Millikin's Center for Entrepreneurship, prepared her for this internship.
"Professor Shields introduced me to agile methodologies such as SCRUM – something that I use to improve my work efficiency every single day at not only my internship but also in the classroom," said Morris.
Ryan Sikora, of Hickory Hills, Ill., will also be a senior at Millikin this upcoming year where he is studying mathematics and computer science. His role this summer is focusing on business operations and development. Sikora became familiar with BluePoint Connections when he and Kapitzky were classmates. Kapitzky approached Sikora after recognizing his strong leadership and intellectual ability during their class. After explaining to Sikora what BluePoint Connections was, Sikora was instantly interested.
Sikora knew that going into the internship that he had a lot to learn about business development, but that made him even more excited to learn something of such value that would undoubtedly benefit him.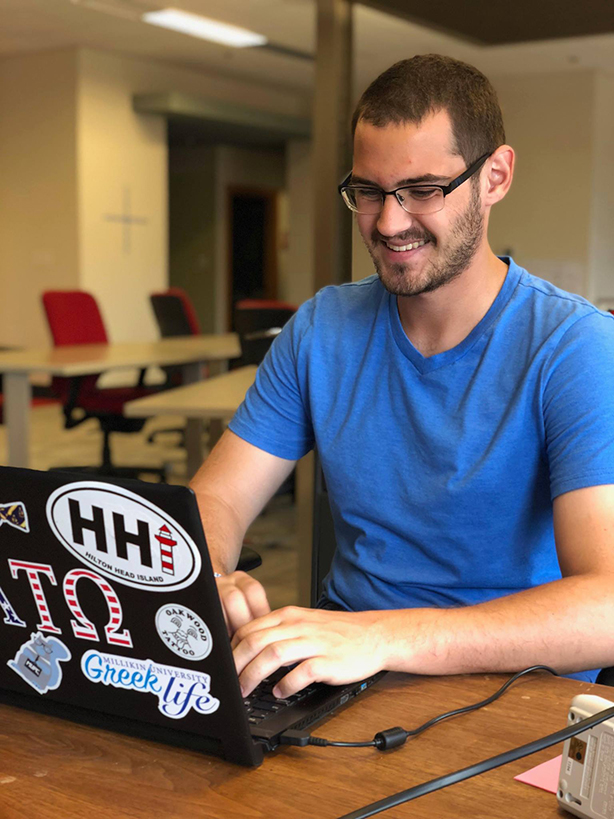 "My advice to any student at any university is to always be looking to step out of your comfort zone," said Sikora. "This means reaching out to professionals in your field to expand your network, finding ways to expand your skill (whether this is taking a class or even learning online), or taking on a role, even though you may not know everything about it, in hopes that you will learn a lot from the experience. Also, nothing will ever substitute hard work."
BluePoint Connections is a fully operating student-owned business that came to fruition through Millikin's Launch Weekend business competition. The students work every day of the week to build their clientele and deliver quality content to central Illinois. Some of BluePoint Connections clients include Joe Joe's Salad Dressing, Fine and Dandy and a variety of nonprofit organizations across the state.
For more information about BluePoint Connections, or to work with the company on obtaining qualified and specialized students to tackle business projects, contact Bryce Kapitzky at bryce@bluepointconnections.com or follow BluePoint Connections on social media @bluepointconnections.