Alumni Profile: Zach & Kirsten Uttich, Class of 2007
Zachary "Zach" Uttich and his wife, Kirsten Williams Uttich, both Class of 2007, have made a name for themselves as custom clothiers. Owners of Chicago's BLVDier, the Uttichs' business model has been guided by the mantra, "make it better." But how do you improve on a custom clothing experience that's existed for centuries?
"Plenty of stores nowadays are concerned with getting you to purchase something quickly and getting you out the door even quicker. Whereas our business is predicated on spending an hour going over your wardrobe, your build/physique, your likes/dislikes and building garments that compliment your features and add depth to your closet."
Using this guiding principle has paid off — in 2020, BLVDier opened a new storefront nearly double the size of its previous space. At the same time, they dramatically expanded the clothing and accessory options they offer, all while continuing to focus on adding non-traditional customers to their growing clientele.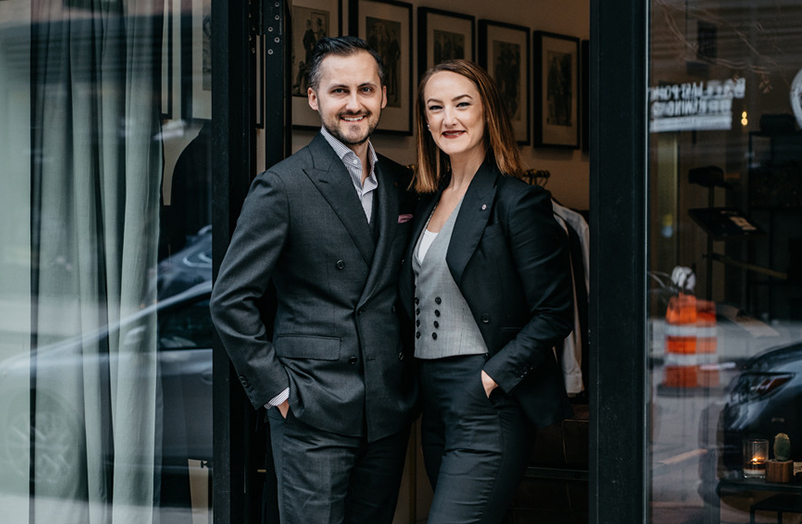 "We're still the most accessibly priced, canvassed custom suit made from Italian fabrics in Chicago. But we've just expanded our outerwear options five-fold; collaborated on a limited-edition watch; and added overshirts, T-shirts, drawstring trousers and an array of accessories for clients who don't wear suits as often as others. … I'd tell anyone looking into custom clothing to know that it is less expensive and more approachable than they think it is. It's also a more sustainable way to shop."
Like many business owners in 2020, though, the Uttichs found "business as usual" put on hold as they were forced to navigate the new normal created by COVID-19.
"We moved into our new storefront on March 12. Nine days later, the city mandated retail stores close to the public. … Ultimately, the shift from working in an office to working from home has been bizarre for most people. Our clients won't be working from home forever, and we often remind them that we don't just make clothes for their workplace. We are in business to outfit clients for special occasions (weddings, charity events, etc.) as well as when they go on a date or a vacation. … [and] who's to say you can't wear a tweed sport coat to a local restaurant's patio in the mean time?"
The Uttichs also used the demands of the pandemic as an excuse to get creative.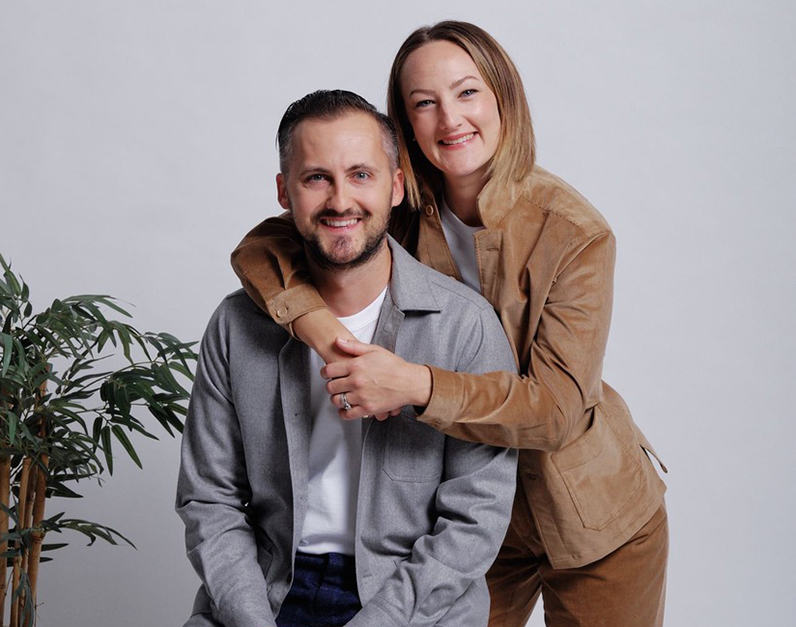 "We already had a small web store built out, but we hired our friend Alex Maier to be our creative director and went to town building out more robust social media content and planning new product. We launched the drawstring trouser option in April and cheekily called it the WFH [work from home] pant. … We had clients order clothing via email, FaceTime, Zoom, text, etc."
As part of the larger business community in the City of Big Shoulders, the Uttichs also stepped up to help colleagues in need:
"Chicago has had an interesting year. Along with the multiple peaceful protests there were several days where looting occurred. We were fortunate enough to not have incurred any damage to our store, but there were a number of retailers who [did]. We reached out to some of our colleagues to offer our storefront in case they needed to conduct business while fixing up their spaces."
When asked which experiences at Millikin have contributed to their success, Zach had a characteristically custom answer:
"Kirsten and I often joke that we have no idea what we're doing as small business owners. Neither of us took advantage of the plethora of business classes at Millikin (which we regret in retrospect). But we've made over 7,000 garments for 3,000 clients in the last 5 1/2 years. We purchased a storefront, hired employees, pay our taxes and support our local economy."
"I often think of our time at Millikin as being well rounded. I cherished my time in the theatre department (and subsequently as a working actor in Chicago), but I also appreciated my time on the Homecoming Committee, as a Delta Sig, working in the Admission Office and other extracurriculars. As small business owners, we have to wear a lot of hats. My time at Millikin was about wearing as many hats as possible so that I could not only become efficient at wearing multiple hats, but open my eyes to ones I didn't know existed. While I'm partial to President [Douglas] Zemke, as he served MU for the four years I was there, that last line was in honor of President [Patrick] White and his love of hats."