Millikin graduate's belief in trust, commitment and love has led to a winning culture at Army
Nov. 23, 2013. For college football fans at Georgia Southern University, it's a date that will go down as one of the most memorable in recent time. That year, Georgia Southern was coached by 1989 Millikin University graduate Jeff Monken. The team was wrapping up their season with a match-up against in-state powerhouse Florida in a hostile environment at Gainesville, Fla. But on that particular day, Monken's team shocked the sports world by defeating the University of Florida 26-20.
Why was it shocking? For the first time, Florida, a four-touchdown favorite at the time, lost to a Football Championship Subdivision (FCS) team, with some considering that loss for Florida to be the worst in program history. As for Monken, this achievement was just a small dose of what was to come in his coaching career.
Flash forward to Dec. 22, 2018. The No. 22 Army Black Knights, led by Monken, finished another impressive season with a convincing 70-14 win over Houston in the Armed Forces Bowl. The Black Knights recorded 11 wins in a season for the first time in program history, including winning nine consecutive games after losing to Oklahoma in overtime earlier in the year. Army also earned its first national ranking in 22 years.
It was a breakthrough season to say the least and the commitment from the players made the difference, says Monken, who was named the George Munger Coach of the Year this past January. Army also received the historic Lambert Trophy for the first time since 1958 which is given to the best college football team on the east coast.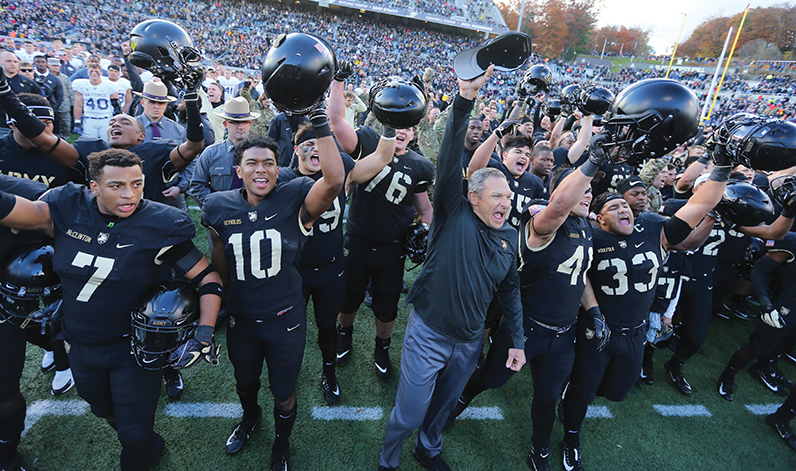 "I am most proud of the daily commitment that our players, and all of our Cadets, make to this great nation," said Monken. "It is incredible to be a part of an institution where our guiding principle is to train leaders of character, to protect and defend the freedoms of the American people and all those around the world who are denied their human right to live free."
Before Monken arrived on the scene in Dec. 2013, Army had only one winning season since 1996. Since then the Black Knights have had three straight winning seasons, including a 2017 campaign where Monken led Army to its first 10-win season since 1996, including a win over Navy and a bowl win over San Diego State in the Armed Forces Bowl.
Monken says the program's quick turnaround came because of effort and attitude. "I believe that when an organization is comprised of tough-minded, committed people who are determined to give their all for the good of the team, anything can be accomplished," he said. "A positive attitude and great effort will win more battles and accomplish more than any amount of talent."
Monken's teams at Georgia Southern and Army had the good fortune of having visits from legendary coach Lou Holtz. Holtz was influential in helping shape the team's coaching philosophy and core beliefs into powerful messages that Monken and his staff could share with the team daily.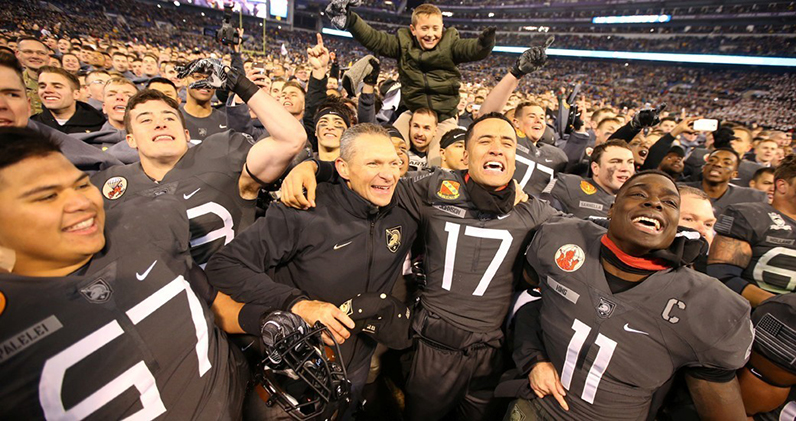 "I have always admired Coach Holtz, not only for the success that he's had on the field but in the way he built teams and developed individuals into groups of people who were committed to the organization more than their personal accolades or accomplishments," said Monken.
Monken says his program is built on three core beliefs: trust, commitment and love.
"We ask each member of our organization to demonstrate a commitment to the team in a way that would compel every other member of the organization to answer 'yes' (about that member of the team) based on the following three questions: Can I trust you? Are you committed to excellence? Do you care about me?" he said.
Monken adds, "To fully have a team, in every sense of the word, the answer should be 'yes' to every one of these questions for every member of the Army football program. And I challenge that we will never gain the trust of our peers in any organization unless those other members can answer yes to those three questions about each one of us."
As a Millikin student, Monken was a wide receiver on the football team and he lettered twice in track and was co-captain of the 1989 track team. Monken was inducted into the Millikin University Athletic Hall of Fame in 2013.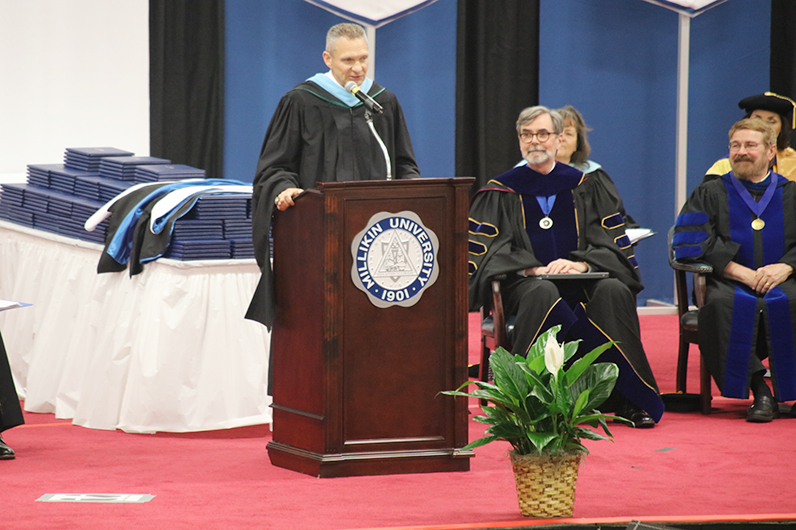 Last spring, Monken returned to his alma mater to deliver the commencement address at Millikin's 114th graduation ceremony. He encouraged students to pursue their passions in a speech properly titled "Back in Blue."
"Whatever you dream, just chase it," said Monken. "The Millikin University community is proud of its academics, athletics and public service, and the accomplishments of our alumni are noteworthy and remarkable. Millikin is a special place, and many people encouraged me to pursue my passion, and I'm certain Millikin has done the same for you."
Army recently signed Monken to a contract extension through the 2024 season – a well-deserved extension for the winning culture he's brought on and off the field.