New Millikin graduates told "Now is Your Time"
Gabby Catlin stood at the podium in front of a packed Decatur Civic Center, overlooking more than 300 graduates at Millikin University's 115th commencement ceremony and asked, "What legacy are you leaving behind?"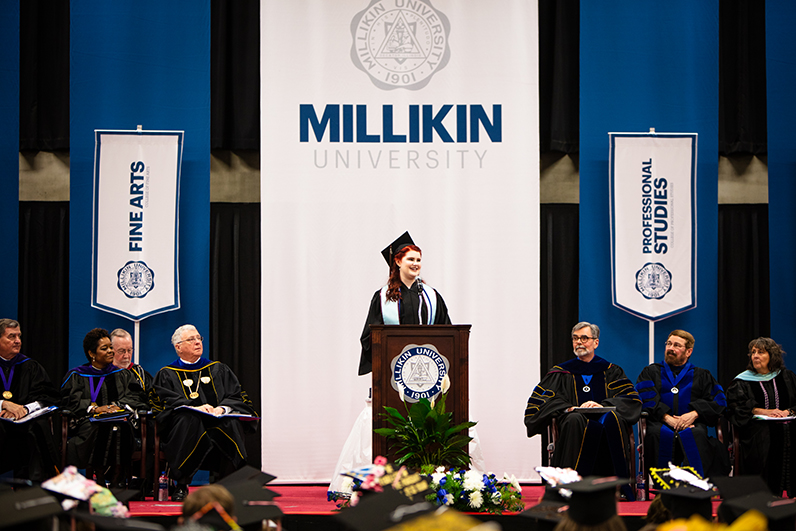 Serving as the student speaker for commencement, Caitlin and the Millikin Class of 2019 walked across the stage to earn their degrees on May 19. For Catlin, she graduated with a Bachelor of Arts in Theatre with a minor in Communication, and will be attending Kent State University in the fall to pursue a master's degree in higher education administration and student affairs.
The Noblesville, Ind., native was homeschooled prior to attending Millikin where she became the first female resident assistant in Aston hall, an all-male residence hall. When referring to her legacy, Catlin said she wants to be remembered for her resiliency and caring for others.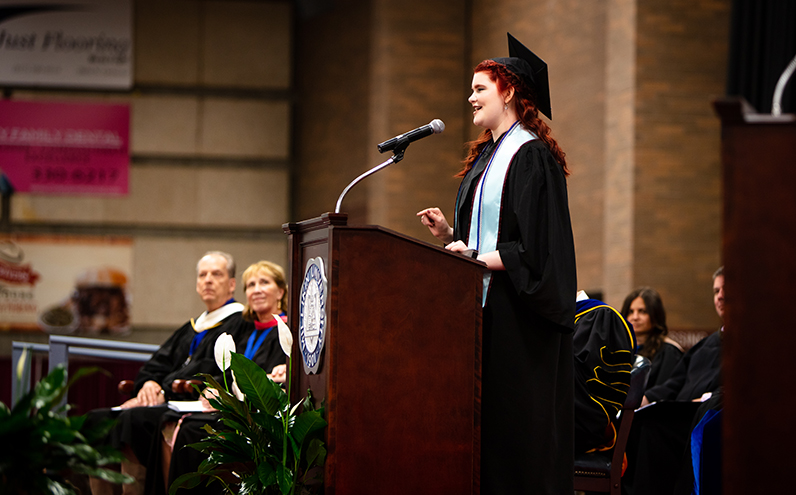 "I wanted to fit in and be normal – little did I know that normalcy is not what success looks like," Caitlin said. "At Millikin, I leave behind a legacy of firsts – not only as the first female resident assistant in Aston Hall, but more importantly as the first person to have shown public care for some of these gentlemen."
Many of the residents in Aston Hall are student-athletes, and Caitlin made it a point to attend at least one game for each of the sports represented. "I wanted them to see me on the sidelines cheering them on, saying their name – people want to be acknowledged," she said.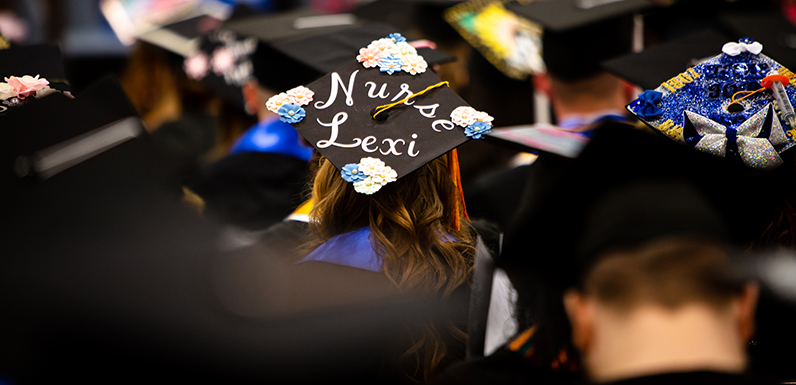 Caitlin then asked the audience another question, "Do you know how much it costs to care about someone? Nothing," she said.
"It costs nothing to care for people and it's worth everything. I've been at Millikin from 2015 to 2019, and I've seen a lot of growth and change. You have the power to change your life and take it in whatever direction you want."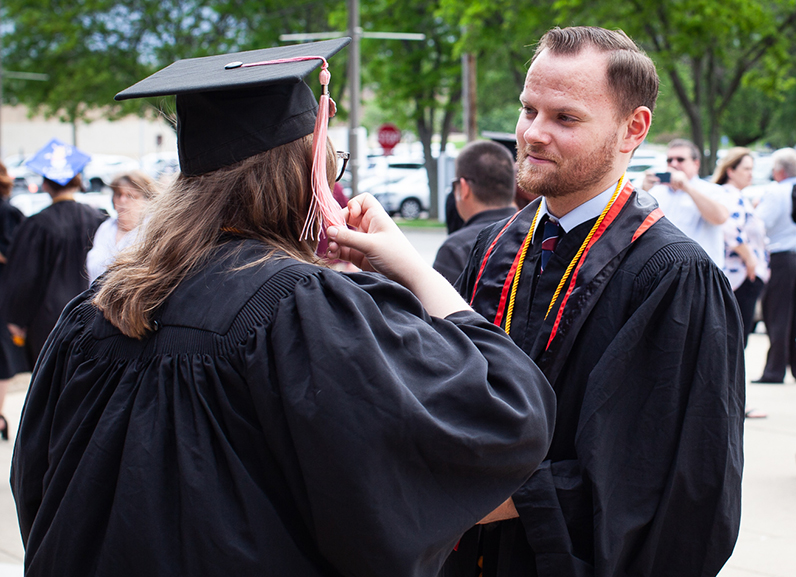 Among the graduates was Trevor Stout, of Decatur, Ill., who earned a Bachelor of Music in Music Performance. A trumpet player, Stout plans to attend the University of Illinois at Urbana-Champaign to earn a master's degree in jazz studies.
"You try not to look at college in a negative way, because it's the time where you grew and the time where you really became an adult," Stout said in an interview with the Herald & Review. "I think for me, it was kind of like managing social time, money, all that kind of stuff."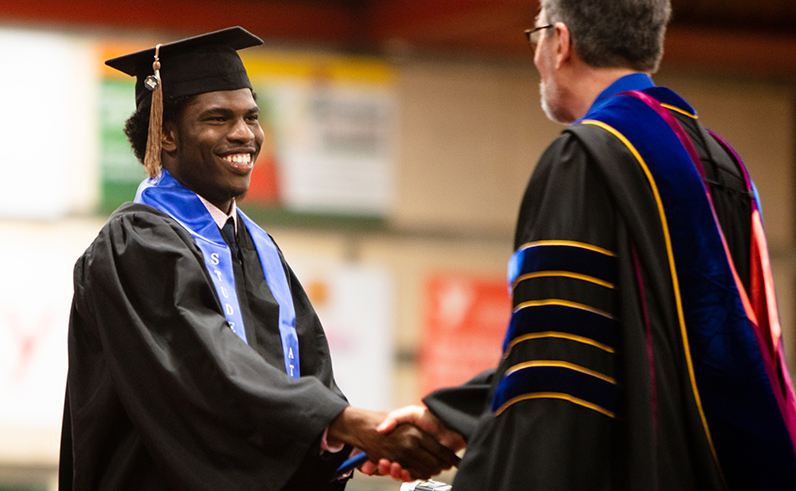 Breana Bagley, also of Decatur, earned a Bachelor of Arts in Communication and plans to attend law school this fall at Southern Illinois University in Carbondale. Bagley is interested in practicing disability law.
"My mother was diagnosed with a chronic illness, and that's when I decided I wanted to do disability law," said Bagley. "I want to help people, like my mother, and give back."
Decatur native Judge Lisa Holder-White, appellate justice for the Fourth District Appellate Court, also delivered some words of wisdom for the audience during her commencement address titled "Now is YOUR TIME." Holder-White emphasized the pivotal role the newly minted graduates would have in shaping and determining the direction of the country and the world, and the importance of serving others in their community.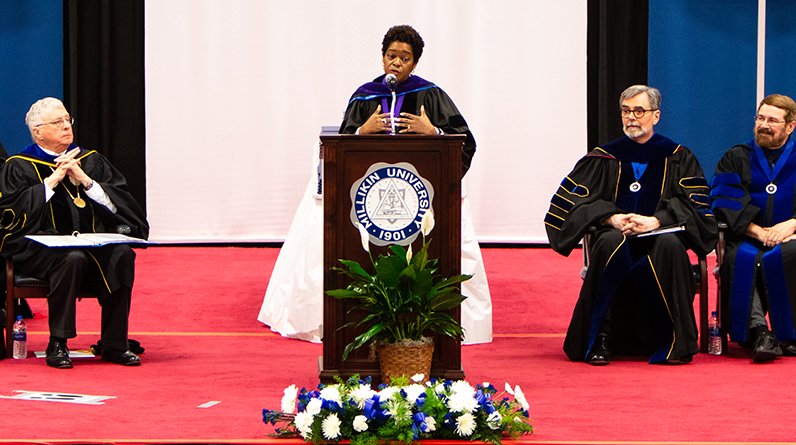 "Serving as the commencement speaker is a personal highlight that I will forever treasure," said Holder-White. "In this community, Millikin University stands as a beacon of knowledge, a beacon for transformation – a place for hope and opportunity."
In her view, Holder-White told the graduates why they are uniquely qualified to make a difference. She also offered advice on how to avoid a common pitfall and a secret to "making the best of life."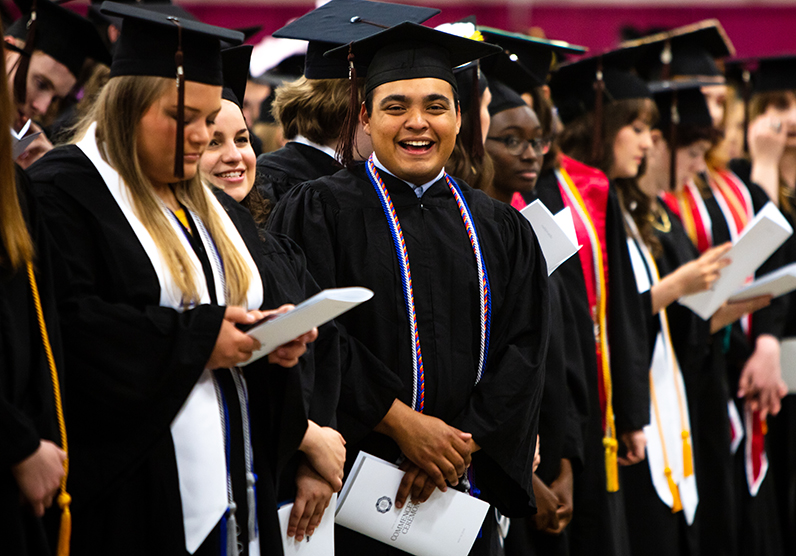 "You are ready and able to lead us, and we need you to do just that," Holder-White said. "Your extensive racial and gender diversity, along with your willing acceptance of others, creates the perfect environment to solve the current climate of divisiveness that threatens to destroy our fundamental core values of human decency and respect."
Holder-White added, "As you go forward, now is your time to draw on connections, those relationships, and the lessons learned during your time at Millikin to guide you as you make your impact on society. Now is your time to utilize intrinsic, unique qualities of your generation to make the world a better place."
Congratulations, Millikin Class of 2019