Millikin students, alumni offer insight into leadership development at Commons Celebration
Millikin University's celebration for its University Commons showcased a variety of events dedicated to "Leadership in Action through Performance Learning."
Following an opening night concert on March 19 that put student artists in the spotlight, Millikin business graduates took the stage the following day to share their experiences.
Millikin's connection with Caterpillar Inc. has spanned over several decades. On March 20, Millikin hosted a panel discussion comprised of Caterpillar Employees, with varying years of experience, who all attended Millikin University. The panel consisted of graduates Kyle Risby '06, MBA '09, project manager for Caterpillar Inc., and Jason Jarosz '05, accounting manager for Caterpillar. Both discussed their careers and how their time at Millikin helped shape them into the workforce leaders they are today.
"It's really exciting to come back and share my experiences, and hopefully help the next generation of Millikin graduates," said Jarosz. "I think it's important to go outside your comfort zone while you're in school because you're going to have to step outside your comfort zone in the real world."
That same evening, HSHS St. Mary's Hospital President and CEO Joan Coffman was the keynote speaker during Millikin's Institute for Science Entrepreneurship Speaker Series event.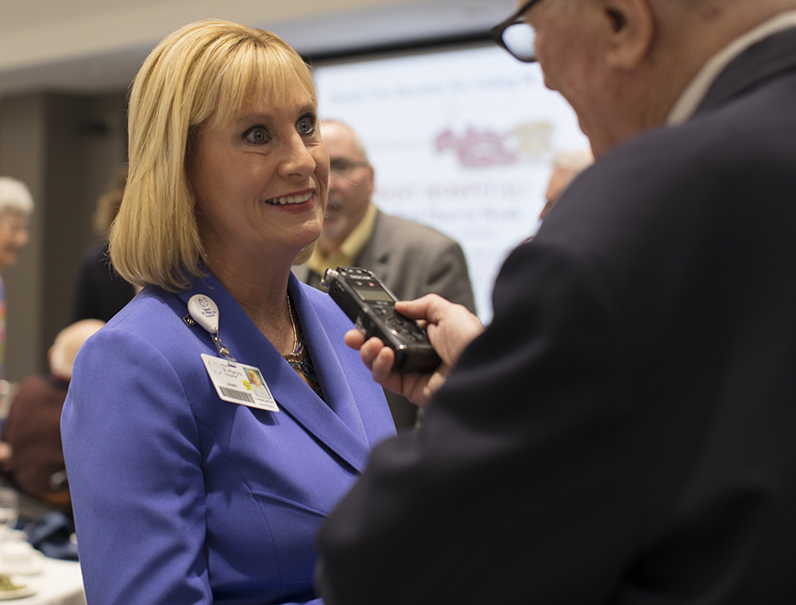 Coffman delivered a riveting speech entitled "Leadership and Service to Others." Coffman shared her experiences as CEO including supervising more than $50 million in revitalization projects, and how Hurricane Katrina affected her personal and professional life while she served as the assistant administrator of Lindy Boggs Medical Center in New Orleans in 2005.
On March 21, Millikin student leaders took over the University Commons for the Oberhelman Student Leadership Conference. The conference provided opportunities for students to showcase their leadership knowledge and skills gained through experiences. The conference featured 15 student panels that provided audiences insight into what it means to lead within their discipline.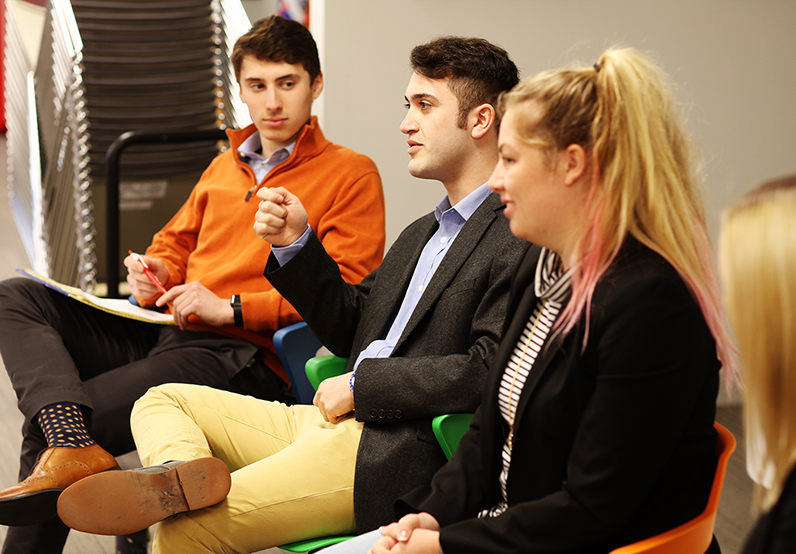 Among the first presentations was Agile 4 Entrepreneurship (A4E), a student-run organization that utilizes agile to promote the spirit of entrepreneurship at Millikin University. The students discussed their current endeavors such as the Idea-to-Incubator summer program which provides students with the opportunity to develop their own venture while working closely with the A4E team and receiving $1,000 in financial support.
"A good leader is someone who is capable of seeing everyone's perspective," said Sydney Doherty, a senior graphic design major from Lake Saint Louis, Mo. "It's important to lead in a way that best benefits others and enables them to unlock their potential by interacting with them."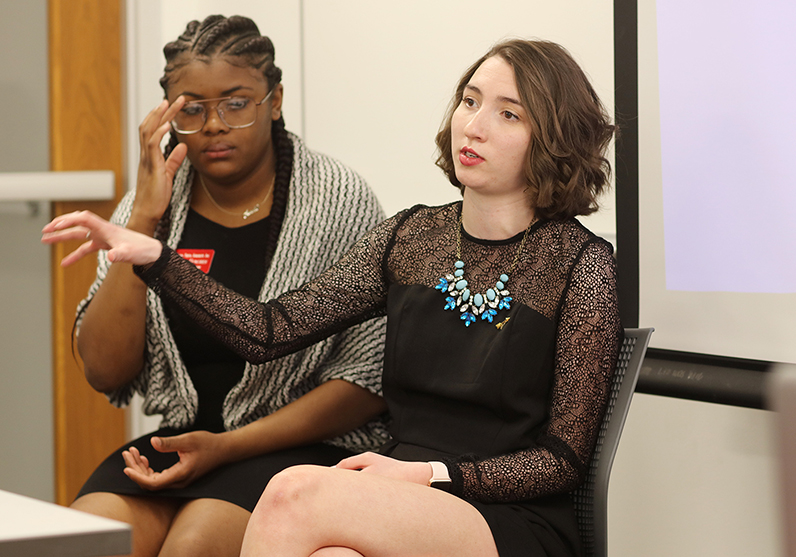 A Greek Life student panel was also held entitled "Navigating the Tightrope of Values Congruency and a Greek Leader." Students elaborated on how becoming a Greek leader gave them a completely new level of delivering Performance Learning within their organization and their future careers.
"Being a Greek leader has given me opportunities to develop interpersonal communication skills as well as leadership skills that will carry into my life after graduation," said Tom Emola, a senior business management major from Frankfort, Ill., and president of Alpha Tau Omega fraternity.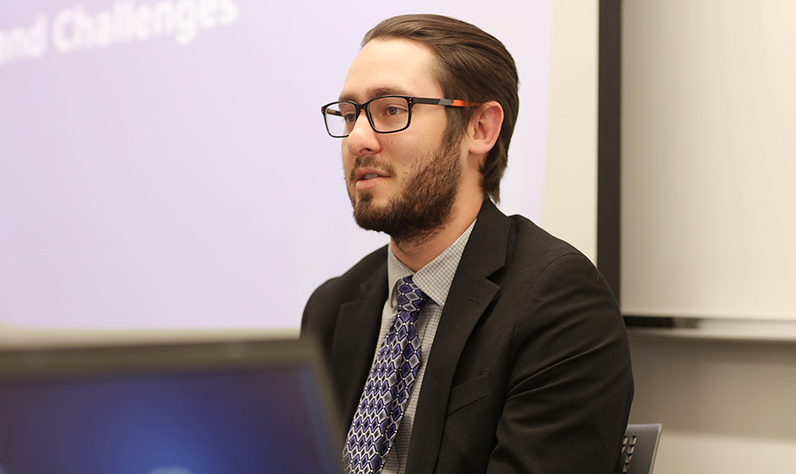 Future teachers from Millikin's School of Education took part in a panel that reviewed the different aspects of learning and internships that all education majors must complete in order to graduate. Students shared their first-hand experiences as student-teachers for schools in Macon County. Professionals from the Chicago Public School District were also in attendance for the panel discussion.
The Student Leadership Conference featured keynote speaker and Millikin alumna Karla Miller '88. Miller is the director of marketing and communications at Hickory Point Bank where she oversees the bank's advertising, public relations, communications and marketing activities.
"We all have the potential to be a great leader, but it is ultimately our decision whether or not we chose to unlock it within ourselves," Miller said.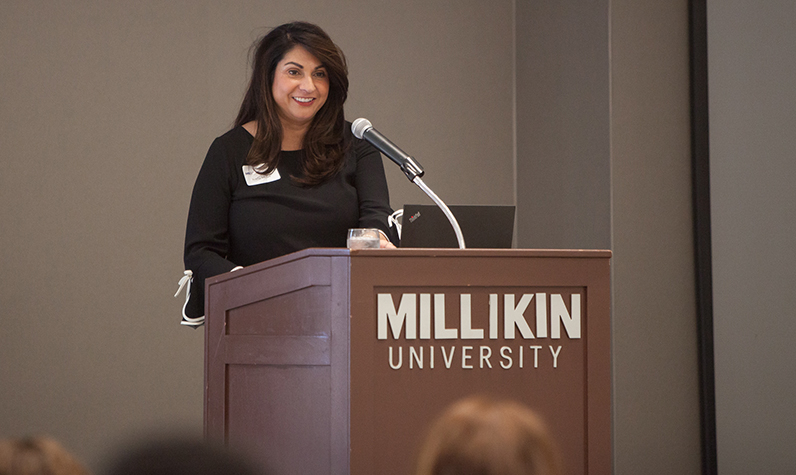 Miller went on to share how her time on campus as an English major and president of Delta Delta Delta sorority played a vital role in the development of her leadership skills. After graduating from Millikin, Miller went on to serve as the vice president of public relations and company spokesperson for Archer Daniels Midland Company (ADM).
Prior to working at Hickory Point Bank, Miller served as the director of advancement at St. Teresa High School, and in 2007, founded the Rodney T. Miller Lakeside Triathlon, a nonprofit annual triathlon event for adults and children that commemorated the life and spirit of her late husband. She chaired the event for 10 years and raised over $80,000 for area children's sports activities and programs.
View Coverage