Chris Kimura named Head Men's Volleyball Coach for Big Blue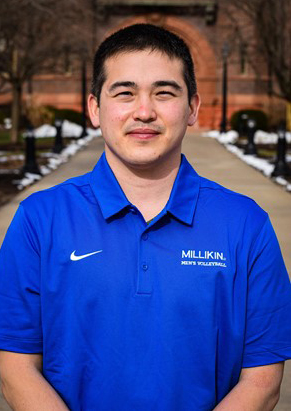 Millikin University Director of Athletics Dr. Craig White is pleased to announce that Chris Kimura has been named Head Men's Volleyball Coach for the Big Blue.
"We are excited to have Chris join our staff," said White. "I believe his experience, enthusiasm and knowledge of volleyball clubs in Illinois will allow him to be successful leading our second year of the men's volleyball program."
Most recently, Kimura served as master coach\head coach for the Energy Volleyball Club in Niles, Ill. In 2020, Kimura led the Energy's 15-year-old boys team to a third place finish at the Dennis Lafata National Championships.
Kimura spent three years at Pfeiffer University coaching for the men's and women's programs. From 2014-17, Kimura was the associate men's and women's volleyball coach and recruiting coordinator. In 2017, Kimura served as the interim head women's volleyball coach at Pfeiffer leading the program to its highest win total in four years.
"I feel blessed to get the opportunity to coach at such a fine institution as Millikin University," said Kimura. "I can't wait to help mold this young program into a top-tier program in the College Conference of Illinois and Wisconsin (CCIW)."
Prior to Pfeiffer, Kimura coached for five years on the club and high school level.
Kimura earned a bachelor's degree in elementary education from Western Illinois University in 2007.
Kimura replaces Dylan Lasher who returned to his alma mater Thiel College to serve as head coach of its men's volleyball program.