Kerans transitions to new opportunity at Millikin
Millikin University Head Women's Basketball Coach Lori Kerans and six Big Blue seniors closed out their careers in style with an 85-66 win over North Park University on Feb. 20 in front of a packed Griswold Center in Decatur, Ill.
After 32 years leading the Millikin University Women's Basketball program, Head Coach Lori Kerans is retiring to become the Director of Alumni Engagement at Millikin.
Millikin's all-time winningest coach, Kerans ends her coaching career with a record of 556-276. In her 32 years she has had 24 winning seasons and owns a .670 winning percentage. Through the 2016-17 season, she ranks 11th nationally among active Division III coaches in career wins. Among all-time Division III coaches, Kerans ranked 23rd in wins.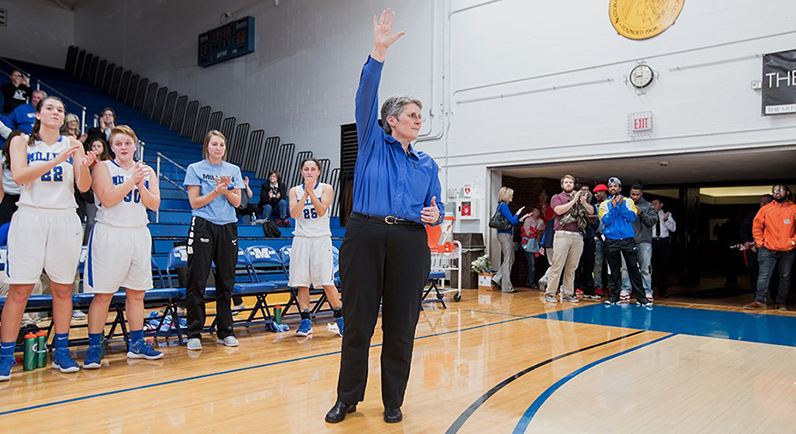 The night belonged to the Big Blue as they led the entire game. Millikin was up 25-15 after the first quarter and 42-28 at the half. Millikin shot 47 percent from the field and went 8-16 (50 percent) from three-point range. North Park was limited to 34 percent from the field and went 4-10 (40 percent) from three-point range. Millikin won the rebounding battle 44-39.
"This decision has been difficult because I have been a part of Millikin women's basketball as a player or coach for nearly four decades," said Kerans. "I am standing on the shoulders of my Coach, Harriett Crannell, the pioneer of Millikin Women's Basketball, and the student-athletes on this team are standing on the foundation built by the many women who have 'worn the blue' with great pride since 1970, during 48 seasons of Big Blue Women's Basketball."
Early in the 2017-2018 season, Kerans began to think about stepping away from coaching, but wanted to stay at Millikin in a position that would benefit the University. Throughout the year, she has consulted with Director of Athletics Dr. Craig White, then met with Millikin President Dr. Patrick E. White to explore ways the University could leverage her experience, passion, and relationships to benefit Millikin.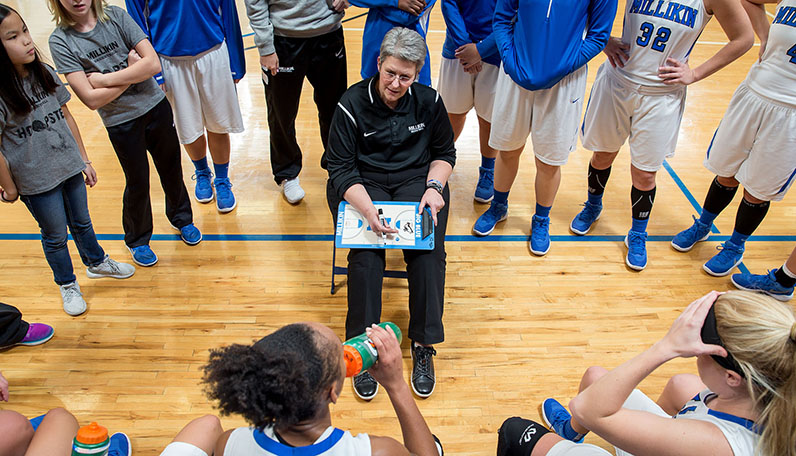 "Coach Kerans has meant a great deal to Big Blue Athletics during her 32 years of coaching," said Craig White. "She and the women's basketball program have had many great accomplishments over the years, including winning Millikin's only team NCAA National Championship. I understand and support her decision to take on a new position, and I am excited she will be continuing with the University in a role that will benefit Millikin and Big Blue Athletics."
During her career at Millikin, Kerans has served the University in a variety of positions. Kerans has been Millikin Senior Women's Administrator since 2008. She served as Athletic Director from 1996-2000 and from 2002-2008. Kerans served as the Vice President for Student Development from 2000-02. Kerans has been a part of committees across the Millikin community.
"For 32 years, Lori Kerans has been the embodiment of what we value at Millikin University. The impact she has made in Decatur and Macon County, and her passion to help students succeed on the court and in the classroom has made a lasting mark on the Millikin community," said Millikin President Dr. Patrick White. "In addition to her achievements on the basketball court, many students have had the privilege to learn from her teachings throughout her coaching career, and she will continue to make a positive difference in people's lives in the local community and beyond. We look forward to her new role at Millikin."
Kerans noted, "My passion for my family, the Millikin family, and the Decatur community has not changed. I look forward to joining the Alumni Engagement team to nurture existing relationships and develop new ones with Millikin alumni and friends and in the Millikin and Decatur communities. I want to be a champion for Millikin, and be a part of the future of the Big Blue. I will be very engaged with students, faculty, alumni, and friends of Millikin University; I want to make a difference because that is what my parents have taught me is the Kerans way, and that is what so many people have shown me is the Millikin way."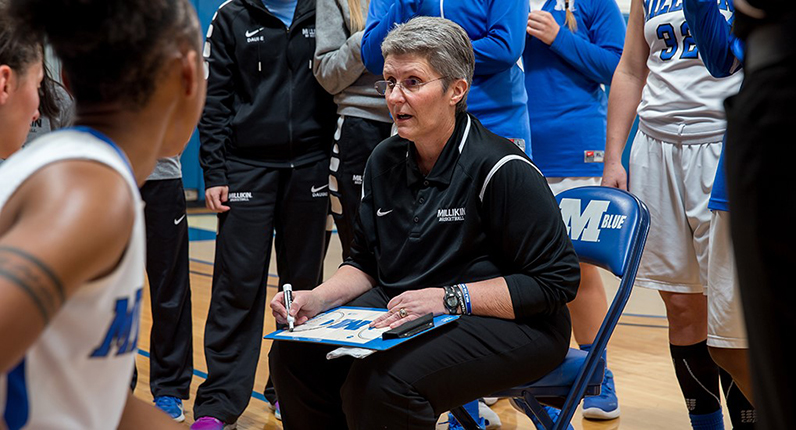 Kerans has led the Big Blue to 13 20-win seasons. In 2004-05, she guided Millikin to its 14th NCAA appearance and its first-ever NCAA Championship. That season, the Big Blue earned Kerans her 11th career NCAA playoff berth and 11th College Conference of Illinois and Wisconsin crown in route to the program's first-ever national title. She has been named CCIW Coach of the Year seven times. She has been honored by the Illinois Basketball Coaches Association as its Women's Division III Coach of the Year 10 times, including 2004-05 and was named the Molten/Division III News Coach of the Year in both 1997-98 and 2004-05. After her team's NCAA title run in 2004-05, she was also named the WBCA's Region 7 Coach of the Year. In the 2004-05 Championship season, Millikin was ranked second in the country in team grade point average.
Kerans is a 1991 inductee into the Millikin Athletic Hall of Fame and was inducted into the Decatur Athletic Hall of Fame in June 1998. In 2017, the Illinois Basketball Coaches Association (IBCA) inducted the 2005 Millikin Women's Team into its Hall of Fame. Kerans will be inducted as a coach this year.
Dr. Craig White adds that the search for a new head coach will begin immediately. White believes there will be strong interest in the position and that Millikin hopes to have a new coach in place in a timely fashion.
View Coverage