Millikin students get firsthand look at South African culture and wildlife
This summer, a group of Millikin University students traveled to South Africa for the final stage of their spring semester course called the Ecology of Southern Africa. If you asked each student about the trip, you would get the same answer over and over: life-changing.
Ecology of Southern Africa is a travel course designed to help students become familiarized with the principles of ecology in the southern African environment. Students spent the semester working on research projects and learning about the many different types of animals, plant life and cultures of South Africa, then traveled across the globe to see all those aspects firsthand.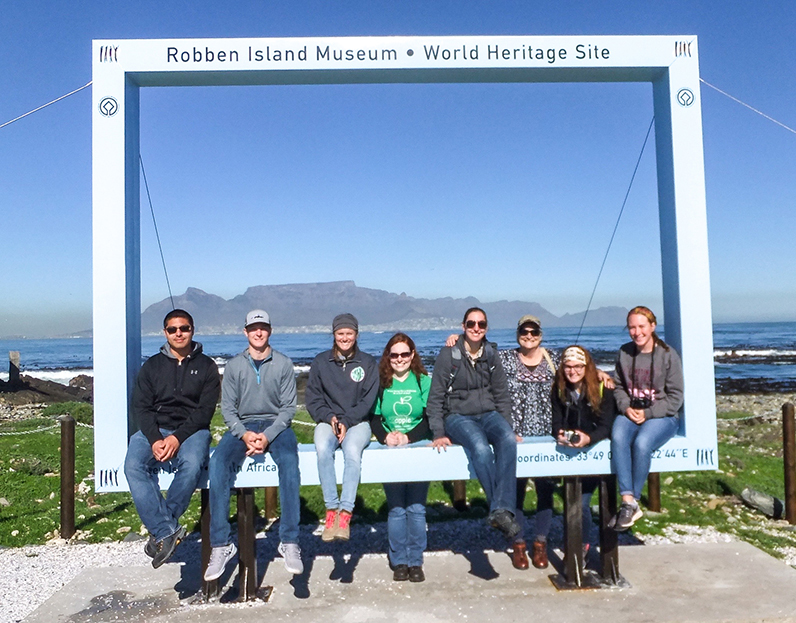 Dr. Judy Parrish, professor of biology, and Dr. Laura Zimmerman, assistant professor of biology, teamed up to teach the course. It was Dr. Zimmerman's first time instructing the class.
"The students spent an hour and a half per week during the semester studying the desert, the savanna and different types of habitats," said Dr. Parrish. "I think the students were surprised about how much history and culture they learned in addition to the science."
The three-week trip to South Africa was divided into three sections with visits to Cape Town, Johannesburg, and safari tours. The class spent nine days in Cape Town and were on safari in South Africa and Botswana.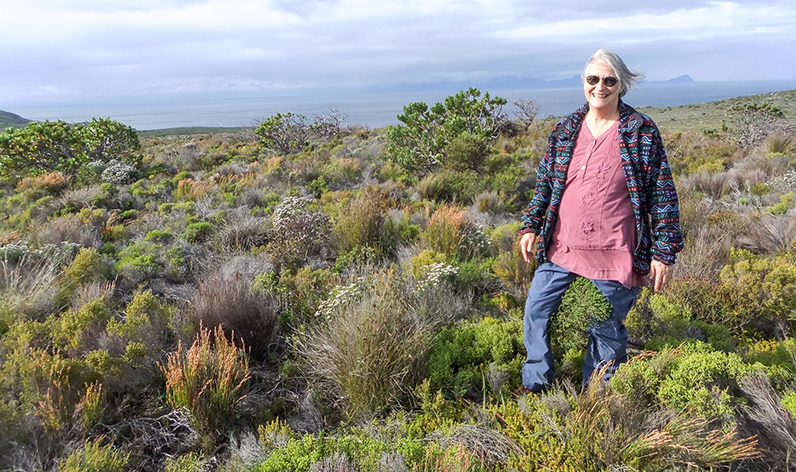 Dr. Zimmerman says the students learned about different types of environments and animal adaptations. "They had an idea before the trip and then they saw those environments up close. We also visited three different botanical gardens and the Kalahari Desert."
"It was a decision I was contemplating for a while before committing to the trip," said Mackenzie Dixon, a sophomore biology major from Edwardsville, Ill. "I've always wanted to go to South Africa and I came to the conclusion that going on a trip, especially with a professor as experienced as Dr. Parrish, was going to be extraordinary."
Throughout the trip, students witnessed endless amounts of wildlife, including elephants, giraffes and lions, and spent time studying plant life and birds.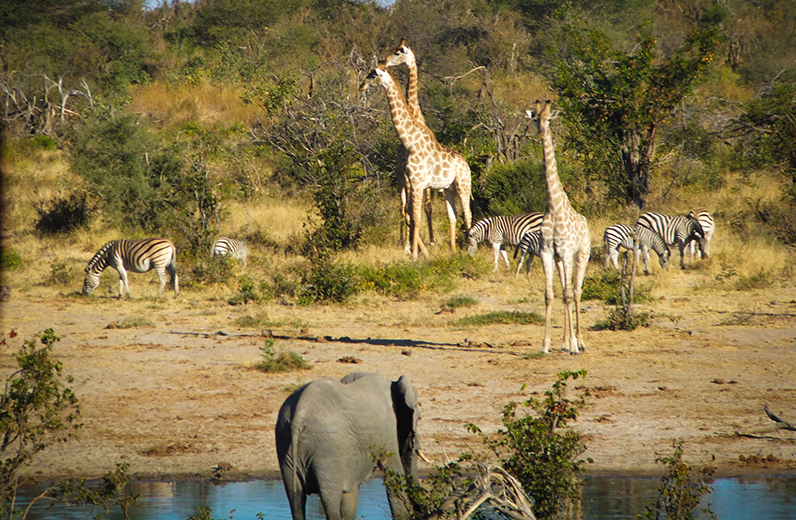 "It was important to understand the animal behavior as well as why certain plants grew in different climates," said Dixon. "We also visited a cultural village to get an inside look at an African tribe."
Claire Weers, a junior biology major from Minonk, Ill., researched different tree species with different sized leafs in both South Africa and Botswana, and studied the differences in leaf temperature as well as fluorescence.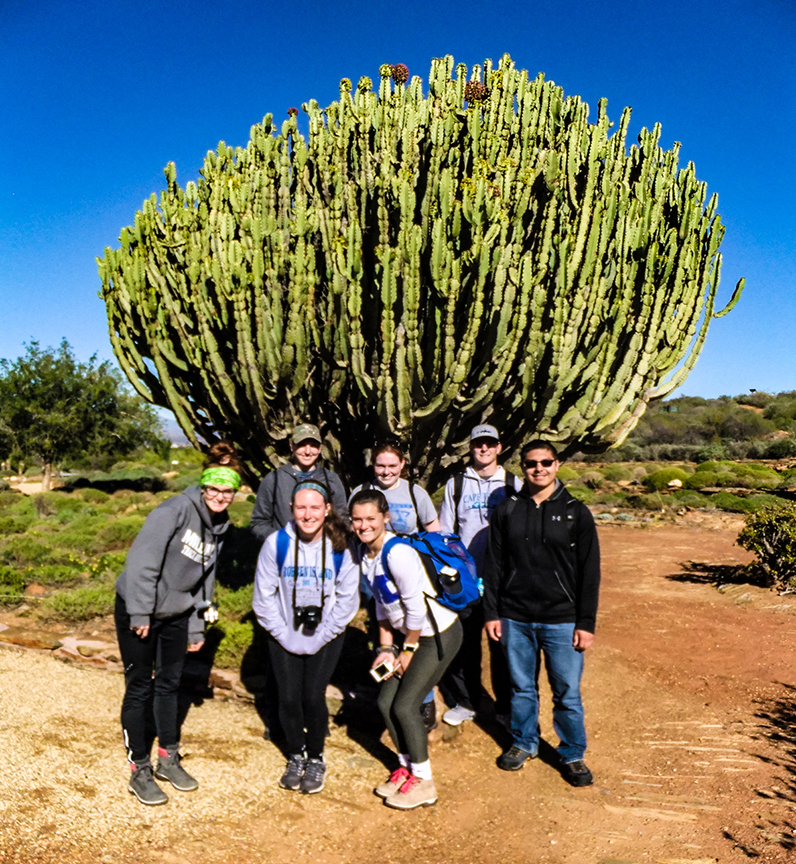 "I decided to enroll in the course simply because I found it to be such a great and unique opportunity that may only come once in a lifetime," said Weers. "We were able to visit Table Mountain, which oversees Cape Town, and see amazing animals, birds and vegetation. The trip was a unique experience that I will be forever grateful I had the opportunity to go on."
Gillian Card, a sophomore biology major from Mattoon, Ill., also studied tree leaves and the correlations between different traits. Card says the class came across more cultures than they originally thought they would.
"We witnessed many different African cultures, on top of the cultures of the people that we saw and met along the way from different countries," said Card. "This included people we met at the camps and people throughout our traveling days."
Dr. Parrish noted that it was interesting to see how the students went from being excited to witness the wildlife to how much they learned about South African history.
"There were many things that we discussed in class that our travel guides in South Africa would talk about," said Dr. Parrish. "Our guides spent time talking about interactions, and that was a big part of our course – the interactions between the animals, between the plants and animals, and how certain species respond."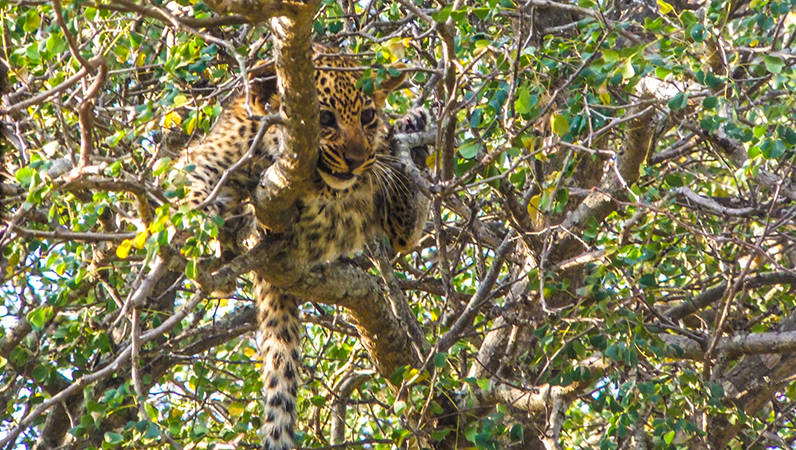 Card says having that "first moment" when she saw each animal is something she will never forget.
"Learning everything I did about not only the ecological point of view, but also the cultural and personal lessons, will always be a memory I will have and cherish," said Card.