Future teachers interview with superintendents and principals
The more you prepare, the more confident you will feel during a job interview; and the best way to prep for that all-important interview is practicing and reviewing any potential questions that might come your way.
Millikin University's School of Education has made it a priority to help aspiring teachers prepare for the job search by hosting an Interview Boot Camp each February. This year's boot camp, the 8th annual, was held on Feb. 25 in the University Commons where 25 superintendents and principals, representing school districts throughout Illinois and Indiana, interviewed future teachers.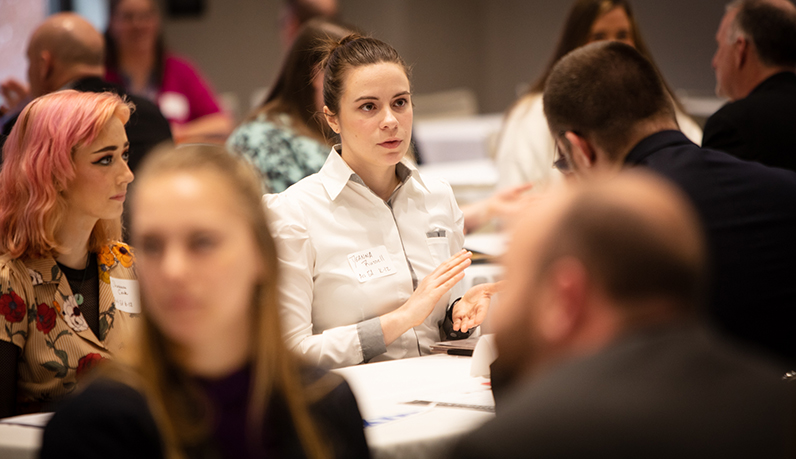 The unique connection behind the boot camp is that the superintendents and principals are Millikin alumni.
"The interview boot camp has been a long-standing event. It's essentially speed interviewing where each interview lasts for 20 minutes," said Dr. Pamela Barnes, director of the School of Education at Millikin. "Administrators interact with students by asking a variety of questions. After 15 minutes, administrators will debrief the students and provide them with tips and constructive criticism on their interviewing skills."
Millikin's Interview Boot Camp was started by alumni as a way to give back in their own way to the university. More than 45 students participated in the boot camp which included four rounds of guaranteed interviews.
"I think this is great practice and there's a special connection you can have during the interview because that person is a Millikin graduate. They are coming from a very similar educational background," said Amber Johnson, a senior social science secondary teaching major from Decatur, Ill. "There's not too much pressure with the interview questions and they provide us suggestions on ways we could improve our interviewing process."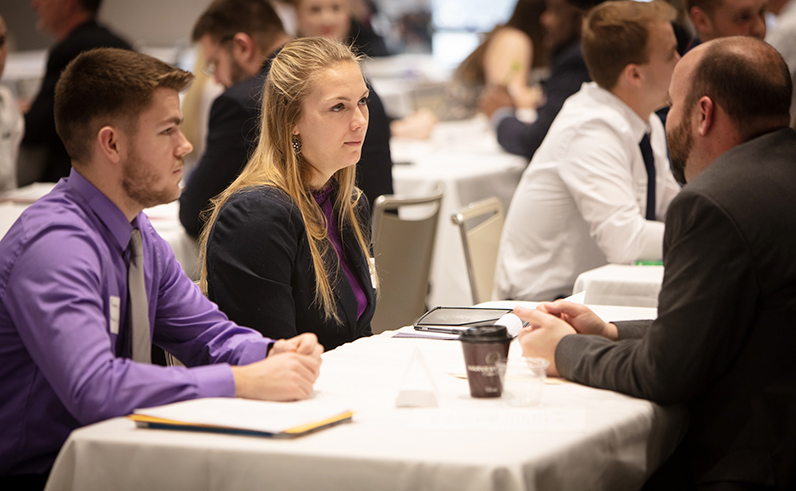 Johnson added, "My overall goal was to have a lot more interviewing experience and to get more comfortable with answering questions that I didn't anticipate. It definitely provided that comfortability."
New to this year's boot camp was the opportunity for administrators to do callbacks with specific candidates after the four rounds of interviews.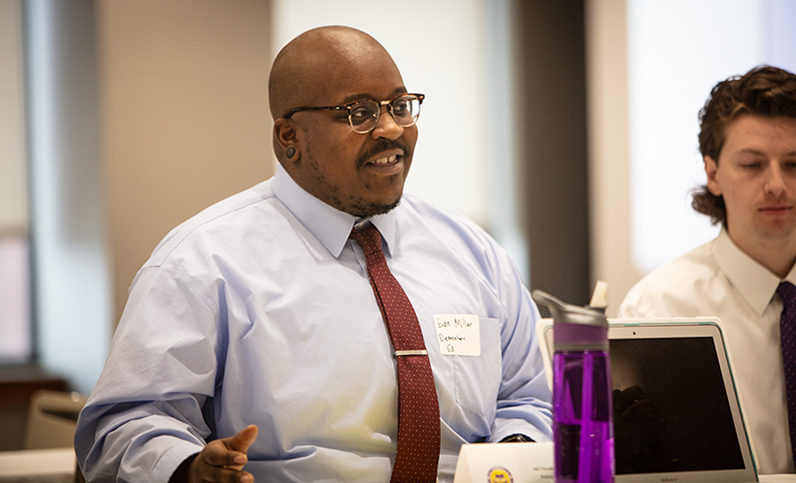 "Practicing for interviews is very important. Just being able to know where I shine, where I need to develop more, but also getting to know different schools," said Evan Miller, a senior education major from Springfield, Ill. "You're essentially going shopping for different school districts and administrations, and getting a feel for what would work for us."
Miller added, "I like it because I get feedback at the end of the interview and they can tell me what I need to work on, and then at the next interview I get to do the exact same thing and learn from that feedback."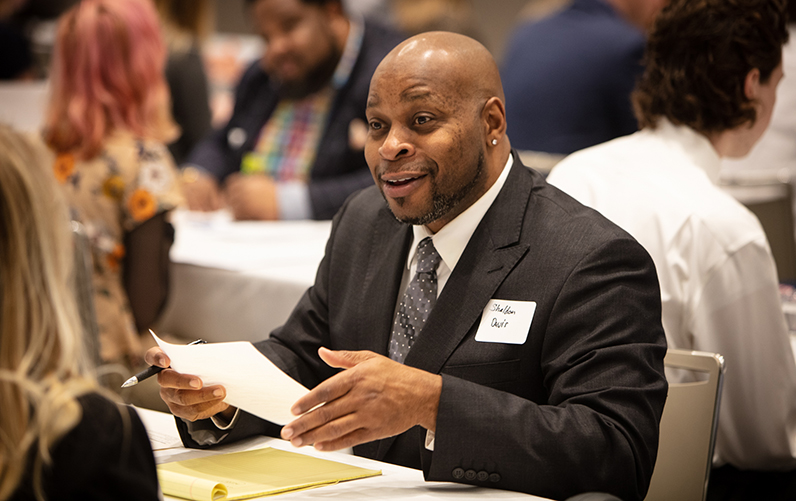 Before the interviews, Millikin alumni hosted a panel discussion on topics such as the common challenges during the first year of teaching; the differences when considering employment at large or small school districts; what stands out about great hires; and the use of social media for teachers. The panel included Niki Fenderson '99, principal at Robertson Charter School in Decatur; Jamie Craven '89, superintendent of DeKalb School District 428 in DeKalb, Ill.; Nancy Rosenbery '89, principal at Washington Elementary School in Monticello, Ill.; and Dan Cox '98, superintendent of the Staunton Community Unit School District in Staunton, Ill.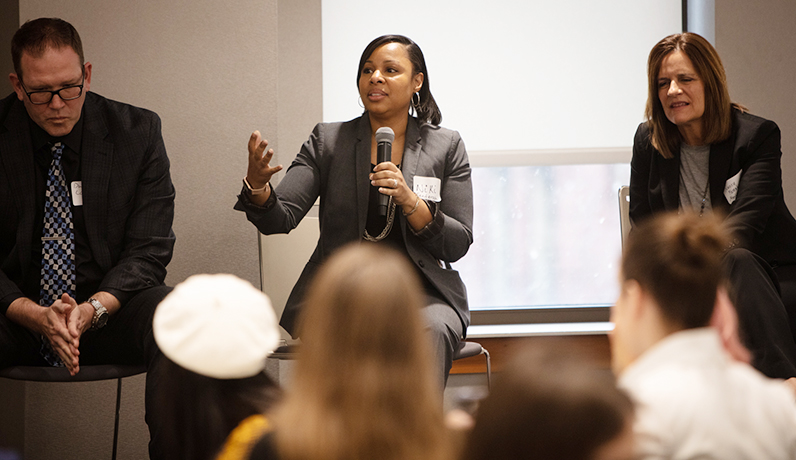 When it comes to standing out as a teaching candidate, Niki Fenderson says it's vital to sell your passion and energy. "There is nothing worse than interviewing someone with no passion for teaching. Find those things that you are excited about teaching and share those experiences because we will be able to see your energy."
Dan Cox says it's important to start working on soft skills right away in order to make a good first impression. "Your day is going to be based on how you meet and greet your kids, and how you make them feel when they walk through the door. The next piece is knowing why you're in the profession and you have to know how to talk about that. It's a teachers market and there are a lot of great jobs out there."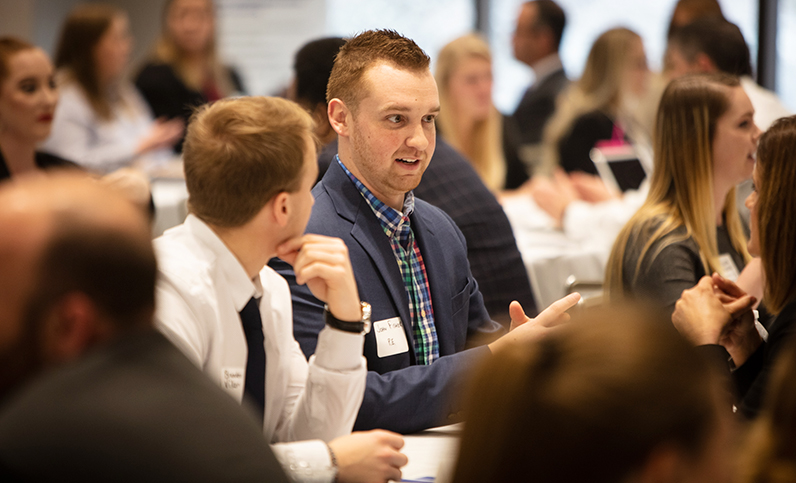 Barnes says events like the interview boot camp are helping address teacher shortages that are being felt across many states and school districts. "The fact that the number of administrators who return to campus each year gets larger, that says a lot for the potential to find a suitable employee for their district."