The Guiding Hand
Ryan Birt joined Millikin University in January 2015 as the Big Blue wrestling coach. He was selected to restart the Millikin wrestling program that had been dormant since 2008. In five years, Birt has taken the wrestling program from nonexistent to a College Conference of Illinois & Wisconsin (CCIW) championship.
"Celebrating five years means a lot of hard work from a lot of people," Birt said in a recent interview with the Herald & Review.
Birt has been the guiding hand for the program through five seasons and through the hard work of his early teams. He saw the wrestling room transform from an empty auto parts store to one of the premiere facilities in Division III wrestling.
In Millikin's return to competition in 2015-16, Birt led the Big Blue to a 9-6 record in dual meets. Millikin had six wrestlers earn CCIW All-Conference honors including junior James Buss winning the CCIW Championship at 285 pounds. Flash forward to 2019-20, the Big Blue won Millikin's first ever team CCIW Championship. The Big Blue also had four individual CCIW Champions and qualified four wrestlers for the NCAA Division III Tournament.
The Big Blue's first recruiting class impressed Millikin Director of Athletics Dr. Craig White, who said he knew he had something special starting in the program.
"(Birt) has exceeded all expectations," White said. "He built the program from scratch, and I think this was both very challenging and also very gratifying for Ryan."
White added, "Like most coaches, Ryan is extremely competitive. This competitiveness comes out in everything he does, and it begins with recruiting. Ryan recruits well, cares about his student-athletes, and his wrestlers would go through a brick wall for him. And he wins. The guy just gets it done."
Birt noted, "In the last couple of years, we felt more comfortable about our shot (at the conference title). It's a team scoring event with 10 individual weight classes, and so each individual wrestler has to do their job. This year we felt that everything had to be perfect and it wasn't perfect, but it was enough by one point. I was extremely excited for the guys and the coaching staff and everybody. It was an explosion of emotion and it was awesome."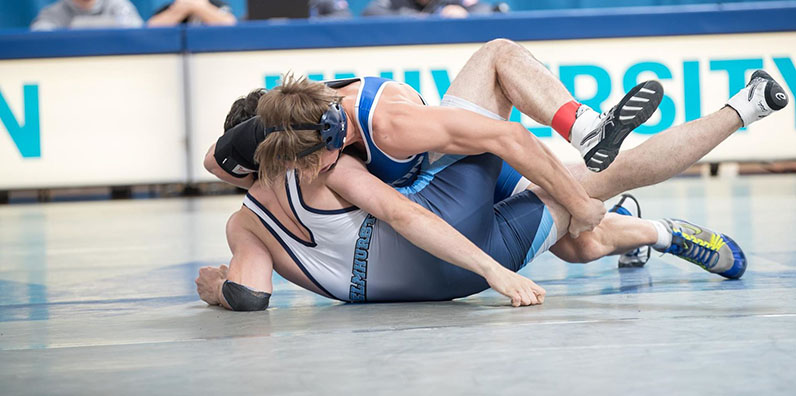 This past year, Big Blue wrestlers — Bradan Birt (165 pounds), Zac Blasioli (125), Taylor McGiffen (174) and Logan Hagerbaumer (197) all advanced to the NCAA Championships. They were the largest group the program had advanced to nationals, but they never got to compete when the event was canceled due to COVID-19 precautions. The four All-Americans from last year's team will return this season.
"Theoretically, having four returning All-Americans, that should be our best year ever," Birt said. "I think we have risen each year with our level of expectations. I think we have talked about development every year and a lot of the guys that are going to be stepping into the lineup this year are guys who have developed behind some other people, and our faith is that they continue to grow just like the rest of them."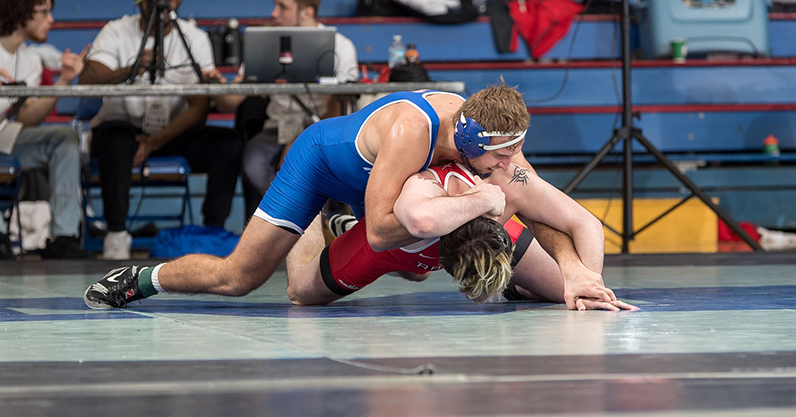 In addition to the success on the mat, the program has also become a staple in the local community with the creation of the Decatur Public Schools' middle school program, which is run by former Big Blue wrestler Dieonnte Honorable '18.
"One of the coolest things we've been able to do here is that over a three-year period, we did close to 50 (wrestling demonstration) assemblies in the schools and we got the youth club in the middle school started and I think that has been huge," Birt said. "I think it's something that's really going to help the Decatur community over a long period of time. I think for (MacArthur wrestling coach) Alvin Jackson and (Eisenhower wrestling coach) Jerry Seeforth it's going to be huge for them when they get kids for the first time who will have wrestled for three or four years."