"Each individual being recognized has given much of themselves in the pursuit of academic excellence."
Each year, Millikin University's campus community gathers together at the end of the academic year to honor faculty, staff and student accomplishments during the University's annual Honors Convocation and Distinguished Faculty Lecture. However, due to the ongoing COVID-19 pandemic, this year's events were both presented virtually, recognizing the outstanding work of students and faculty from the 2020-21 academic year.
"The importance of recognizing the many academic, scholarly and professional achievements of our faculty, staff and students is central to our mission as a university," said Millikin President Dr. Jim Reynolds. "Because of this devotion to honoring those among us who have strived for excellence, we choose to continue a long and proud tradition of Honors Convocations, even though we can't be together in person."
Over 90 awards were presented to Millikin students and faculty who were honored for their commitment to the pursuit of academic excellence. Many of the awards have been created to honor men and women of Millikin's past.
Among the awards is the Scovill Prize, the most coveted recognition of Honors Convocation. Scovill Prize winners are selected on the basis of high academic achievement, demonstrated leadership, service and scholarship. This year, seven students were named Scovill Prize recipients.
"Each individual being recognized tonight has given much of themselves in the pursuit of academic and professional excellence," President Reynolds said. "We take time tonight to offer not just our congratulations but our deep respect for their work. They have left an indelible mark on our University and our work here is more purposeful because of their commitment to our mission."
Each year, the Millikin faculty vote to select one of their own as the Distinguished Faculty Lecturer. This honored faculty member delivers the keynote address at Honors Convocation. This year's Distinguished Faculty Lecturer was Dr. Michael Hartsock, associate professor of philosophy and director of the Honors Program. Dr. Hartsock's lecture, presented April 21 (see below), was titled "Nothing Matters."
In addition to announcing the Scovill Award winners, Millikin Provost Dr. Jeff Aper had the honor of announcing the prestigious faculty awards.
"The faculty and students named here represent so much of what is best about Millikin — a community of thinkers and doers who reflect courage, caring and commitment in everything we do," Dr. Aper said. "I hope that this recognition reminds everyone of the extraordinary community we share as part of Millikin University."
Congratulations to all the honorees.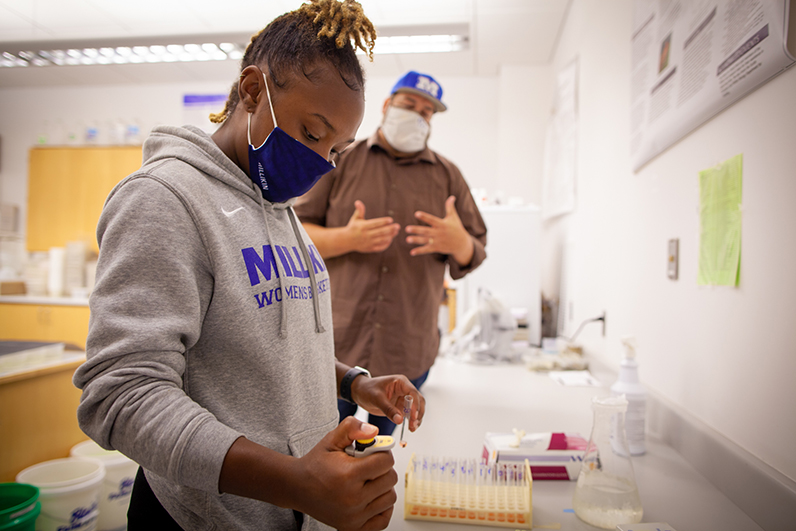 College of Arts & Sciences
Behavioral Science Award: Merrick Eddington
Henry F. Gromoll Service Award: Joycelyn VanAntwerp
Biology Honors Award: Niah Bevolo and Kyle Kane
Dr. Neil Baird Biology Lab Assistant Award: Erika Castanon, Jared Chapman and Jerome Wheeler
Clyde Dennis Award: Kimberly Christnacht
George/Rick Glasscock Memorial Biology Award: Claire Weers
John/Ula Leighty Research Award: Alyssa Vignos
Alpha Epsilon Delta Award: Madalyn Bochantine, Emily Reeves and Claire Weers
American Chemical Society Award: Victoria Ade
American Institute of Chemists Award: Zephaniah Greenwell
Ed & Lucy Acheson Award for Chemistry: Quincy Collings, Sophie Dorgan, Micka Iteka, Madeline Klinger, Jensen Mast, Nikol Obradovic, Jessel Prabhu, Aidan Schlichting, Ashlyn Sturdy and Hannah Warfel
Dr. & Mrs. William F. Henderson Prizes: Victoria Ade, Greta Jacobson and Chloe Herbert
Carl & Lucile Weatherbee Chemistry Award: Zephaniah Greenwell, Chloe Herbert, Miranda Rueff, Saamia Salik, Binny Tamang, Joey Davies, Zephaniah Greenwell and Saamia Salik
Dr. Clarence and Carol Josefson Award for Excellence in Chemistry: Sydney Griggs and Sarah Ingabire
Dr. Everett J. Brown Prize: Caleb Kelch
Dr. & Mrs. W. J. Darby Prize: Jordan Diver
Dr. Grace Patten Conant Writing Award (Creation): Kendra Steele
Dr. Grace Patten Conant Writing Award (Interpretation): Sophia Nicholson
Contant English Department Award: Kionah Flowers
Contant Society Achievement Award: Johannah Comish, Kionah Flowers, Linnea Nordstrom, Sydney Sinks and Maria Hernandez
Marybeth Drechsler Sharp Outstanding Journalism Award: Athena Pajer and Sydney Sinks
J. Graham Provan History Award: Shelby Jones
Albert T. Mills Prize: Savanna Prasun
John Vrooman Prize: Madison Roberson
Sigrid A. Stottrup History Award: Beau Kallanbach
Mathematics & Computer Science Award: Sydney Rudny
Lavern J. Meyer, Ph.D. Math Ed. Award: Morgan Wendt
Linda Weatherbee Mathematics Award: Greta Jacobson
Department of Modern Languages Linguistic Excellence Award: Astrid Calixto
Department of Modern Languages Literary Criticism Award: Nichole Binder
Margaret Burkhardt Johnson Award: Valeria Chavez Roncal
Thomas W. & Mary R. Adney Memorial Award: Goeffrey Diver and Oluwafunke Odufuwa
Dr. Robert McIntire Political Science Award: Aimable Ngabo
T. W. Samuels Award: Christina Hoving, Hannah Prochnow and Reena Riley
Outstanding Political Science Major Award: Nash Oldenettel
Alice Ambrose Lazerowitz Philosophy Award: Alexander Bergland
Rev. Robert S. & Doris Stewart-Religion Award: Valeria Chavez Roncal, Eliana Simon, Kiley Stevenson and Kawai'ola Wong
Outstanding Physics Award: Marshall Youngblood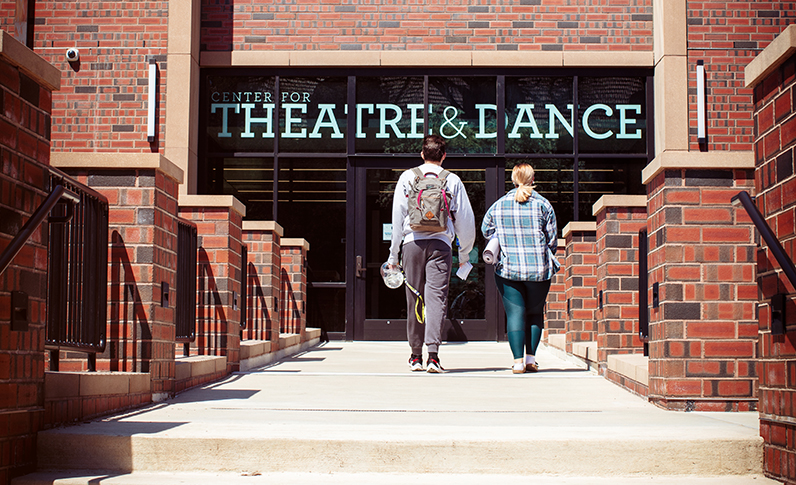 College of Fine Arts
Pi Kappa Lambda Outstanding Senior Award: Valeria Chavez Roncal
Presser Award: Max DiPasquale
Alice Herren Ayars Award: Austin Shaw
Wilna Moffett Award: Austin Shaw
Mary B. Merris Award: Paula Mustea and Nicholas Orth
Winifred St. Clair Minturn Award: Nicholas Orth
Thomas. A. Johnson Memorial Achievement Award: Bradley Perry
Dr. Russell Tiede Award: Jenny Tullis
Percussion Achievement Award: Megan Devine
Dr. Maria Klott Memorial Award: Austin Shaw
Handler Award for Excellence, Bachelor of Arts in Music: Caleb Kelch
Joan & Melvin Grabowski Memorial Award: Zachary Cary and Nicholas Dunk
Dr. L.C. McNabb Memorial Award: Sophie Kibiger, Louisa Nickel and Eliana Simon
Michelle Chartier Memorial Award: Thomas Ferro and Cori Lang
Kathryn Paige Torp Theatre Award: Amanda Pohrte and Katelynn Watkins
Ron Smith Award in Musical Theatre: William Koski and Sarah Obert
J. Ben Wand Prize: Courtney Klein, Anais Morgan and Michael Santos
Andrew Strand Memorial Theatre Award: Collin Bradley and Ethan Lupp
Marvin Klaven Art Award: Kaitlynn Haskell and Tessa Laslo
David S. Monroe Art Award: Nelideisy Fernandez, Taylor Linville, Leah Paxton and Magdalyn Strubhar
Dorothy Sellers Art Award: Casey Bolt, Shannon Cook, Lacey Edwards, Stephanie Oliver, Courtney Schudel, Lindsay Thompson and Sydney Wilson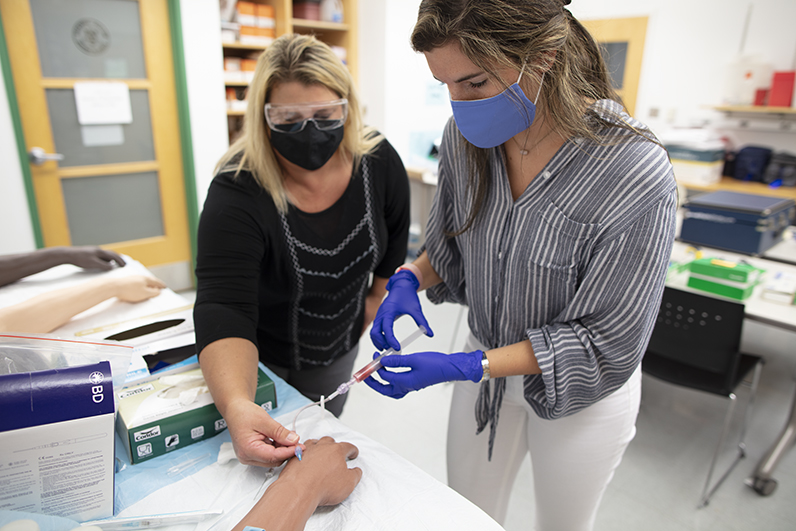 College of Professional Studies
Robert and Barbara Byrkit Award in Education: Kelle Knopp and Abby Smith
Dr. Jerald Hunt/Dr. Darlene Hoffman Award for Excellence: Maggie Baltz
Jola Kuntz Education Award: Mackenzie Ruot
The Smith/Orlandini Award: Justin Gionet and Brandt Williamson
Walter Witt Award: Alexus Coleman, Peyton Jackson, Nicholas Nemeth and Alexander Vogt
Alpha Tau Delta Honorarium Award: Allison Horton
Decatur Memorial Hospital Cleland Award: Sarah Weller
James Millikin Theory & Practice of Nursing Award: Jordan Brandt
Dorotha F. Dean Nursing Award: Rebecca Wellman
The Dr. Mary D. Shanks & Dr. Linda K. Niedringhaus Award: Rachel Fox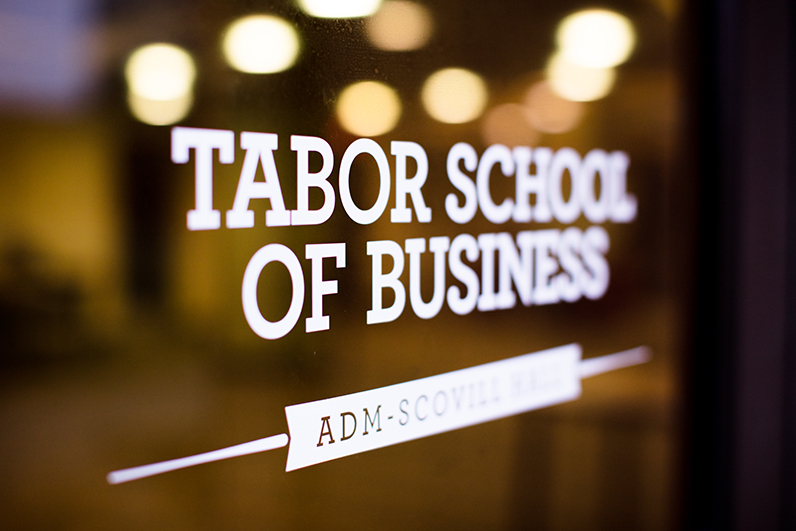 Tabor School of Business
Glen R. Smith Award: Skielyr Trenkle
Margaret Sparks Award: Lan Dao
Judy Lederbrand Day Accounting Award: Jessica Green and Madeline Holland
Linda Weatherbee Human Resource Management Award: Morgan Greene
Paul R. Winn Memorial Award: Brittany Bourne and Danielle Williams
Podeschi-Landacre Management Information Systems Award: Sydney Rudny and Clarence Velasco
Excellence in Information Systems Award: Isabella Voss

University Awards
Maria Leonard Senior Book Award: Morgan Wendt
The JoAnne Trow Award: Sydney Finch, Miranda Fox, Sean Griffin, Jarius Ingram, Emily Kemp and Bryn Sentnor
Sigma Alpha Epsilon, Illinois Delta Chapter Award of Excellence: Connor Foley, Erik Labroo, Andrew Tufano and Jacob Ziman
C.W. Barnes Memorial Award: Shae Giovanni
Major Thomas G. Storey Citizenship Award: Claire Weers
Jere C. Mickel Human Relations Award: Eva Anthony
Daniel J. & Elinor Gage Student Activities: Adam Hayes
Helen Moffett Russell Community Service: Kei'Von Evans and Madeline Wilson
Eshelman Family Award: Johannah Comish and Nicholas Orth
The Dr. Jan Devore Award for Excellence: Jada Miller
The Dr. J. Roger Miller Leadership Award: Sophie Kibiger
Alpha Lambda Delta Outstanding Teaching Award: Dr. Anne Matthews, professor of English
Teaching Excellence Award: Alex Miller, professor of theatre & dance
Faculty Research & Artistic Achievement Award: Dr. Laura Dean, professor of political science
Dr. Ralph A. Czerwinski and Dr. Deborah L. Slayton Teaching Excellence & Campus Leadership Award: Rachel Bicicchi, Staley Library associate professor and director of Online Learning
Outstanding Adjunct Award: Dr. Bob Sampson, history professor

Scovill Prize
Baylee Baxter
Class of 2021
Elementary Education - Special Education Endorsement
Phi Kappa Phi Honor Society
Ashley Galloway
Class of 2021
Organizational Leadership
Greta Jacobson
Class of 2022
Chemistry and Mathematics
Shelby Jones
Class of 2022
Social Science Secondary Education
Sydney Sinks
Class of 2022
English – Writing
Aubrey Staton
Class of 2022
Entrepreneurship with minors in Criminal Justice & Political Science
Isabella Voss
Class of 2023
Management Information Systems with a minor in Pre-Law