Nursing doctorate program underway at Millikin
Millikin University's School of Nursing offers the opportunity for the Professional Registered Nurse who holds a Bachelor of Science in Nursing (BSN), or is prepared at the Master of Science in Nursing (MSN) level as an Advanced Practice Nurse, to complete the Doctor of Nursing Practice (DNP).
The Doctor of Nursing Practice is a practice-focused doctorate designed to prepare advanced practice nurses to lead practice changes based on evidence to improve patient outcomes in complex health care systems.
In a recent interview with the Herald & Review, Dr. Pam Lindsey, director of the School of Nursing, said, "It's a clinical doctorate, similar to a Ph.D. There's a variety of degrees in nursing. You can have an associate degree, a bachelor's degree, a master's degree of nursing, we have different specialties, and this is beyond the master's."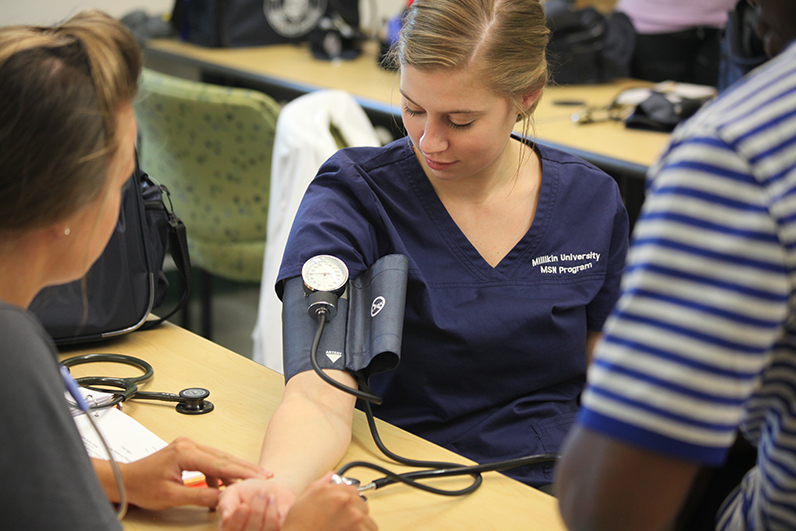 Natalie Strope of Decatur, Ill., earned her bachelor's degree in December 2014 and is working toward her doctor of nursing. She chose nursing because of the hands-on care and the opportunity to help others.
"I knew back in 2014, when I graduated, that Millikin had a program that was becoming much stronger and I wanted to be a part of that," said Strope. "As a graduate, I already knew the standards that were set for Millikin, and I knew that if I wanted to go and obtain my doctorate degree, Millikin's one of the best places for it, because they will challenge you. I have a background working in the operating room, roughly eight years, so I knew that I wanted to come back to the operating room, but in a different capacity."
In Spring 2014, Millikin University launched the DNP program. The program has two tracks; Track 1 (Nurse Anesthesia) is for individuals who are BSN or MSN prepared nurses and want to become nurse anesthetists. Track 2 (DNP completion for MSN-prepared advanced practice nurses) is for advanced practice nurses (APNs) who want to complete the practice doctorate as their highest earned academic degree.
"The anesthesia program has a separate accrediting body," said Dr. Lindsay. "The accrediting body, several years ago, mandated that all nurse anesthesia programs go to the doctorate. So when we actually first partnered to bring the program here in 2010-2011, it started out as a master's degree, but when we got the approvals for it, the accreditors had already said you have to move programs to the doctorate by a certain year."
Students in the Millikin University and Decatur Memorial Hospital Nurse Anesthesia Program (NAP) are also enrolled as a cohort in the Doctor of Nursing Practice program. Students do their clinical rotations at the hospital and work under the direct supervision of a doctor.
"You're really asking students already to do what is comparable to a doctorate in other fields," said Dr. Rhonda Gee, director of nurse anesthesia at Decatur Memorial Hospital. "It's recognition for having the preparation that is comparable for other professions in health care."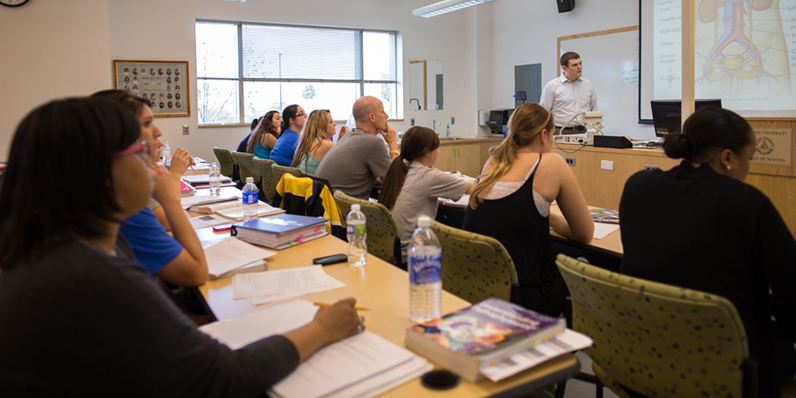 Dr. Gee noted, "They have to work in critical care for at least a couple of years, which gives them a strong clinical foundation for independent critical thinking. They're having to make high-level decisions, so they have that foundation."
The Commission on Collegiate Nursing Education (CCNE) granted a 5-year accreditation to Millikin University's Doctor of Nursing Practice program in October 2016, extending it to Dec. 31, 2021.
DNP (NAP) graduates are eligible to take the National Certification Examination administered by the National Board of Certification and Recertification of Nurse Anesthetists (NBCRNA).
"You take everything you learn in the textbook, everything you've been told in the clinical experience, and then you keep all that in the back of your mind, and you take everything your CRNA tells you and intertwine it all and you try to ensure that your care is the safest and the smartest way of achieving the goal, which is always a good outcome for your patient," said DNP student Lyndi Myers, from Decatur.
For more information about the Doctor of Nursing Practice program at Millikin, visit millikin.edu/grad-nursing.