How Millikin's Chef Pehr and Adam Hayes are changing the way students think about eating
Junior Adam Hayes, a nursing major from Lockport, Ill., is one of Millikin University's resident assistants. Hayes strives to make sure that his residents not only feel at home at Millikin, but that they have the resources they need in order to succeed during their first year.
Hayes recently put on a program for his residents on Saturday, Sept. 16 in the University Commons Dining Hall, where students had the opportunity to spend part of their lunch listening to Chef Brian Pehr, Millikin's executive chef for dining services, offer insight into healthy eating habits. While students enjoyed lunch, Hayes touched on the importance of having a healthy lifestyle while being a college student.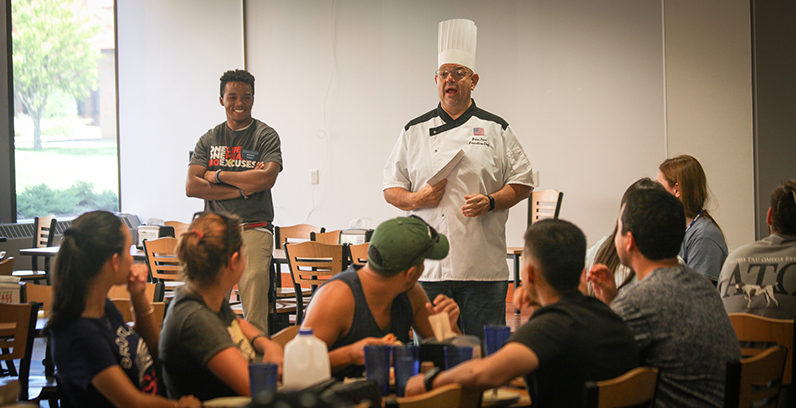 "I want to help students create a healthy lifestyle during their educational experiences at Millikin," Hayes said. "Students need to realize that they don't have to cook Ramen noodles in their room every night; there are great choices at the café that are delicious, healthy choices."
Chef Pehr is making sure that the University Commons Dining Hall is built around the idea of taking food from the farm to the fork, and the way he is doing that is quite innovative. There's obviously no place to have a farm on campus, but Chef is making it works with the space he has.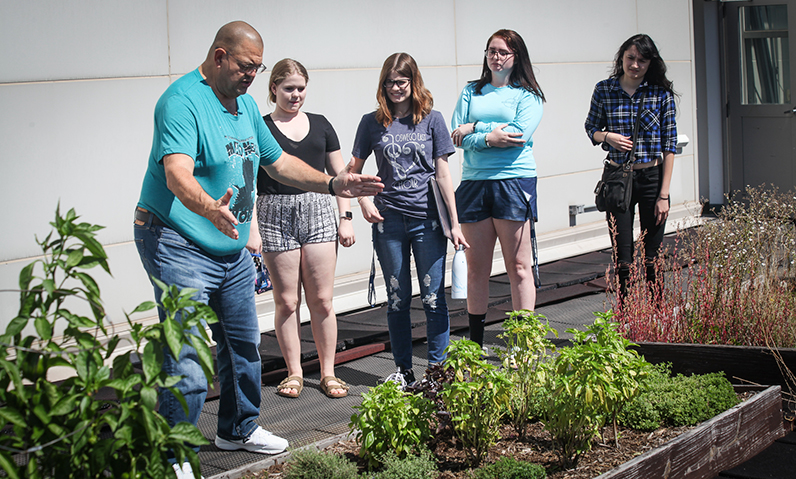 "I can't have a farm, so why not grow crops on the roof of Leighty-Tabor (Science Center)?" said Chef Pehr.
Since last May, Chef Pehr has been growing various crops and herbs on the roof top of Leighty-Tabor Science Center on Millikin's campus. Thus far, the garden has grown to have over 60 pounds of tomatoes, 12 pounds of peppers, and various herbs that Chef Pehr uses to make oils and dressings.
"I want to put out great food, so we have to make sure we have great products to start out which having a garden like this allows us to do just that," Chef Pehr said.
Chef Pehr isn't content with his garden quite yet, he's got big plans to expand it. Within the next year, there will be new additions to the garden like cauliflower, broccoli and carrots. Expanding the garden will bring fresh produce straight to the kitchen, and Chef could not be more excited about it.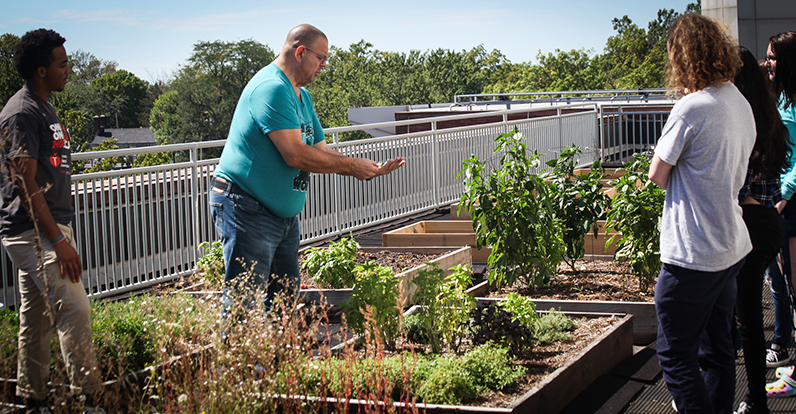 "We help mold young people's minds," Chef said. "If we challenge them to think outside the box, then shouldn't we do the same?"
In an interview with WAND-TV, Hayes noted, "What we're doing in this program is reaching out to students and advocating for the dining hall that there's options in there that will help you have a healthy lifestyle. I just hope to see people come into the dining hall and get food that they like and tastes good, but also gives their body the energy they need for classes, exams and to do well."